'Nightmares are made of': 14-year-old boy shoots, kills mother in Riverview home, according to sheriff
RIVERVIEW, Fla. - A 14-year-old boy was arrested after authorities said he shot and killed his mother at a home in Riverview. 
"The scene behind me is one that nightmares are made of," Hillsborough County Sheriff Chad Chronister said at a press conference regarding the incident Saturday night. "And that is extremely heartbreaking."
According to Chronister, the sheriff's office received numerous 911 calls just after 4 p.m. on Saturday that brought them to the Summerfield subdivision in Riverview. 
READ: Driver hospitalized after car crashes into home, pool in Spring Hill
Hillsborough County deputies responded to find a 14-year-old boy who Chronister said pointed a firearm at his head "at least six times." After what the sheriff said was a 16-minute negotiation, deputies fired a non-lethal projectile at the teenager and took him into custody. 
They were then alerted to a female's body laid out in the driveway of a Riverview home. Authorities attempted to render aid to the woman but realized she had died from a gunshot wound. 
Chronister said deputies then made contact with a family member in the home where the female's body was found. According to Chronister, the family member told HCSO he heard his mother and her boyfriend arguing. He then heard several gunshots and left his bedroom to see his brother shoot his mother.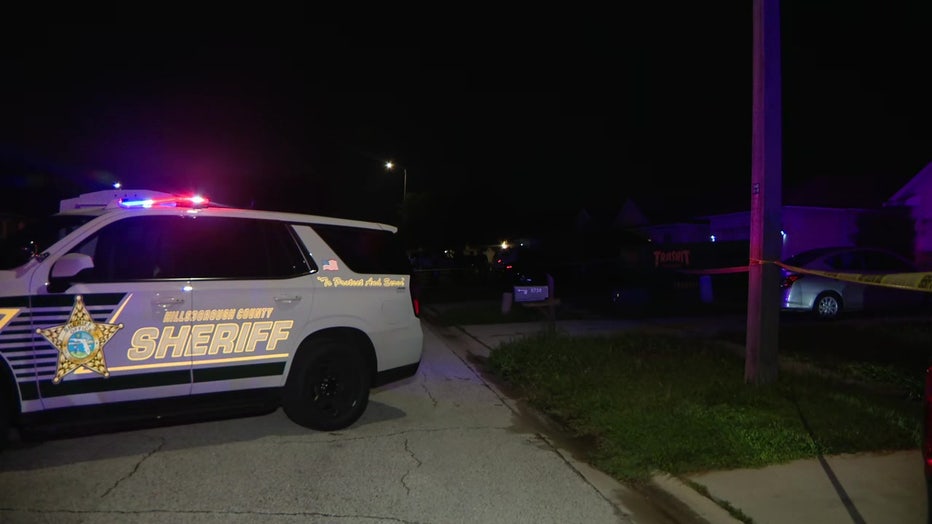 The 14-year-old then pointed the gun at his older brother, leading the older brother to flee the scene. 
Within that same area, the sheriff's office received a 911 call regarding a man who had been shot five times. The man, who Chronister identified as the boyfriend of the 14-year-old's mother, sustained gunshots to the lower torso, hands, and face. 
Chronister said he believes the boy had shot his mother's boyfriend prior to shooting and killing his mother and then left the home to try to "finish the job," which is when deputies arrived on the scene to find him. 
The man who had been shot five times was taken to Tampa General Hospital where he is in critical condition. 
READ: Hillsborough Co. Sheriff's Office executes 'Operation Safe Street' to combat street racing
Chronister said his heart breaks at the entire situation.
"This family's lives have been changed forever. They lost a mother," Chronister said. "This is heartbreaking. Our suspect is only 14 years of age. This 14-year-old young boy's life is over. He will never see the outside of a detention facility."
The older brother, who spoke with authorities, was unharmed in the incident. Chronister also added that the 14-year-old had no criminal history.
The sheriff's office is awaiting a search warrant.