'He tries to divide us': Mattis blasts Trump in letter, suggests president is threat to Constitution
WASHINGTON - Decorated U.S. military veteran and former Secretary of Defense Gen. James Mattis did not mince words when speaking out against President Donald Trump's decision to threaten to deploy the military amid ongoing protests in the wake of the death of George Floyd. 
In a statement released to The Atlantic, Mattis suggested that Trump is a threat to the U.S. Constitution, saying, "Donald Trump is the first president in my lifetime who does not try to unite the American people—does not even pretend to try. Instead, he tries to divide us." 
RELATED: Obama speaks on George Floyd protests, urges mayors to review use-of-force policies with communities
But he's speaking out after this past week's protests in response to the death of George Floyd in police custody.
Mattis had a scathing description of Trump's walk to a historic nearby church Monday to pose with a Bible after law enforcement forcibly cleared Lafayette Park of mostly peaceful protesters.
"When I joined the military, some 50 years ago, I swore an oath to support and defend the Constitution," he wrote. "Never did I dream that troops taking that same oath would be ordered under any circumstance to violate the Constitutional rights of their fellow citizens — much less to provide a bizarre photo op for the elected commander-in-chief, with military leadership standing alongside."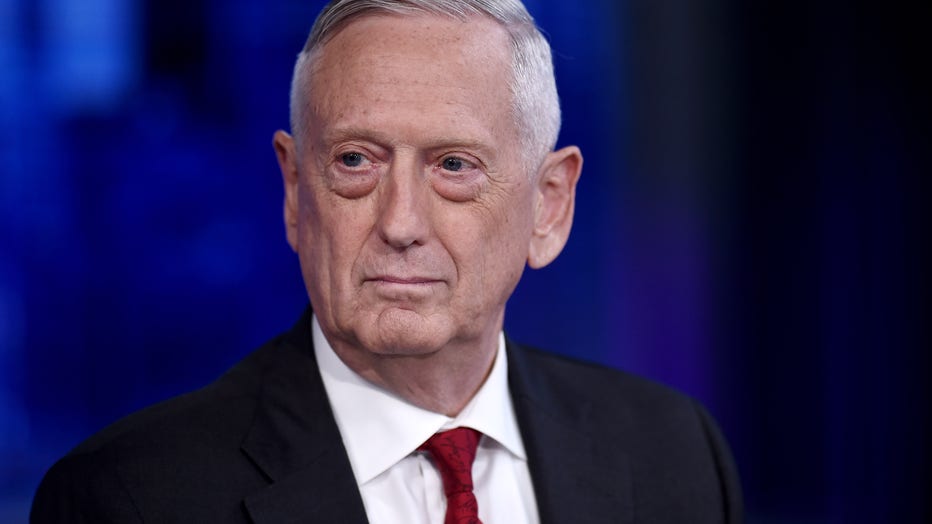 NEW YORK, NEW YORK - SEPTEMBER 03: (EXCLUSIVE COVERAGE) Former U.S. Secretary of Defense James Mattis visits FOX News Channel's "The Story with Martha MacCallum" on September 03, 2019 in New York City. (Photo by Steven Ferdman/Getty Images)
The criticism was all the more remarkable because Mattis has generally kept a low profile since retiring as defense secretary in December 2018 to protest Trump's Syria policy. He had declined to speak out against Trump, saying he owed the nation public silence while his former boss remained in office.
RELATED: 3 other Minneapolis police officers charged in George Floyd's death, Chauvin charges upgraded
Mattis called on Americans to "unite without him, drawing on the strengths inherent in our civil society. This will not be easy, as the past few days have shown, but we owe it to our fellow citizens; to past generations that bled to defend our promise; and to our children."
Mattis said of the protesters that Americans should not be distracted by a small number of lawbreakers. He said they are rightly demanding that the country follow the words of "Equal Justice Under Law" that are on display at the U.S. Supreme Court.
RELATED: President Jimmy Carter: 'The time for racial discrimination is over'
Mattis also criticized the current secretary of defense, Mark Esper, who on Wednesday overturned an earlier Pentagon decision to send a couple hundred active-duty soldiers home from the Washington, D.C., region, amid growing tensions with the White House over the military response to the protests.
"We must reject any thinking of our cities as a 'battlespace' that our uniformed military is called upon to 'dominate.' At home, we should use our military only when requested to do so, on very rare occasions, by state governors," Mattis wrote. 
RELATED: Trump offers 'domination' of DC protests as model for states
"Militarizing our response, as we witnessed in Washington, D.C., sets up a conflict—a false conflict—between the military and civilian society. It erodes the moral ground that ensures a trusted bond between men and women in uniform and the society they are sworn to protect, and of which they themselves are a part. Keeping public order rests with civilian state and local leaders who best understand their communities and are answerable to them."
Trump responded to Mattis' critical remarks by calling him "the world's most overrated General." 
"Probably the only thing Barack Obama & I have in common is that we both had the honor of firing Jim Mattis," Trump wrote on Twitter. 
Tump falsely claimed that Mattis was fired when in fact One day after Trump announced he was pulling all U.S. troops out of Syria, where they were partnering with local Syrians to fight the Islamic State, Mattis tried but failed to change Trump's mind. So, he resigned. Trump soon turned on Mattis, calling him a failure.
"What's he done for me?" Trump said January 2. "How had he done in Afghanistan? Not too good. I'm not happy with what he's done in Afghanistan, and I shouldn't be happy."
White House Press Secretary Kayleigh McEnany called Mattis' statement a "self-promotional stunt to appease the DC elite."
In response to Mattis' harsh critisms of Trump's handling of the protest in Washington, D.C., McEnany added that Trump is the "law and order President," and that under his leadership, "there will be NO burning of churches, looting of businesses, destruction of property, and assaults on civilians and police."
Mattis took particular issue with the use of force to move back protesters so Trump could visit St. John's Church the day after it was damaged by fire during protests.
"We know that we are better than the abuse of executive authority that we witnessed in Lafayette Square. We must reject and hold accountable those in office who would make a mockery of our Constitution," Mattis said.
Read the full statement here: 
The Associated Press contributed to this story.