Florida restaurant group stops selling Bud Light over brand's partnership with trans influencer
The owner of a small Florida restaurant group publicly confirmed Monday he has stopped serving Bud Light at his restaurants. He said it's because he disagrees with the brand's recent partnership with a popular transgender influencer, which goes against his religious beliefs.
"It is true we made the decision to remove Bud Light because of their support of something that is in direct opposition to our Biblical faith," wrote Joe Penovich, owner of Grills Restaurants, in an open letter on his restaurants' Facebook pages.
"There is no judgement in our heart concerning those who believe in these rapidly changing social values. But there is a lie being levied that we and other Christians hate Dylan Mulvaney and the gay community. Nothing could be further from the truth in our hearts and minds," he wrote.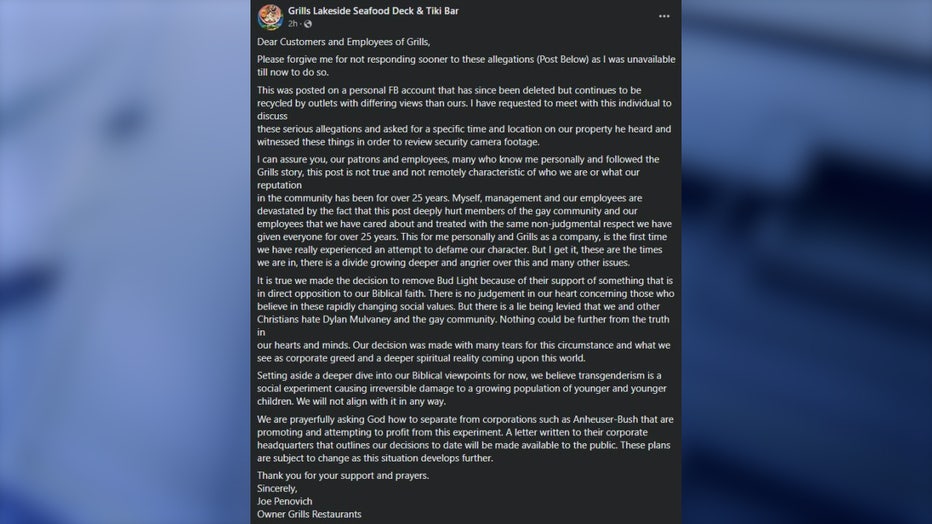 Screenshot of statement from owner of Grills Restaurants
Over the weekend, news of the business' move began to surface on social media. Though, Penovich said some of the allegations in those social media posts were untrue and defamatory, adding that his management staff and employees were devastated over how those posts hurt the LGBTQ community.
"Our decision was made with many tears for this circumstance and what we see as corporate greed and a deeper spiritual reality coming upon this world," Penovich wrote.
Connie Caudill was visiting Florida from Detroit on Monday. Caudill was disappointed by the decision.
"I'm bummed cause that's what I would want to order, is a Bud Light," Caudill said." 
She was joined by two of her friends as she entered the restaurant in Cape Canaveral. Once she confirmed they no longer had her favorite beer, and the reasoning behind the absence, the group left.
"I don't get it. I don't understand what the whole controversy is," she said. "It's very silly." 
RELATED: DeSantis says Anheuser-Busch is too woke, has lost him as a customer: 'Why would you want to drink Bud Light?'
Mulvaney gained immense popularity on TikTok over the last year, where she has documented her transition from male to female, part of her "Days of Girlhood" series.
Bud Light recently sent Mulvaney cans of Bud Light that had her face on it, which quickly sparked backlash against the brand, and reignited the debate over transgender issues and companies' support for – or opposition of – controversial issues.
Since then, some have vowed to boycott Bud Light and its parent company, Anheuser-Busch, including rock star, Kid Rock, who posted a video of him shooting cans of the beer brand.
"This idea of transgenderism is not a real thing any more than cisgenderism is a thing. It's not a belief system. It's a way of being. It's who you are," said Maia Monet, vice president of Come Out with Pride Orlando. "I think the outrage right now is incredibly ridiculous and incredibly dangerous to the trans community."
Penovich told FOX 35 News that he considering whether to drop all of the other Anheuser-Busch products he carries and is praying for direction on how to move forward.
FOX News reported last week that Anheuser-Busch's value had fallen 5%, or nearly $5 billion since the partnership with Mulvaney went public.
In a statement, Anheuser-Busch said it works with "hundreds of influencers across our brands as one of many ways to authentically connect with audiences across various demographics" and that it sometimes sends commemorative cans to influencers as a gift. The cans are not available for purchase by the public.