Flagler Beach starts revolutionary recycling program next week
FLAGLER BEACH, Fla. - Flagler Beach is rolling out a revolutionary new recycling program next week.
A lot of cities and counties contract with private businesses to handle their recycling. In Flagler Beach, their recycling is all city-run, and it's all brought to the same place: the Materials Recovery Facility, or MRF. 
It's run by Sanitation Supervisor Rob Smith, and he'll tell you upfront:
"I'm not an environmentalist. I'm just a normal guy."
But under his leadership, Flagler Beach's recycling has gone through a complete overhaul. 
He says he figured, the City is growing tremendously, so it was now or never to make a change.
The MRF now handles glass, aluminum, and tin.
And thanks to a partnership with a company called NexTrex, they now process thin plastics. 
Do not put those plastic bags in your regular recycling bin. Starting Monday, May 15th, you'll start seeing special bins around town. The first ones will go at City Hall, the library at Wickline, and the Police Department. They have special stickers to mark them.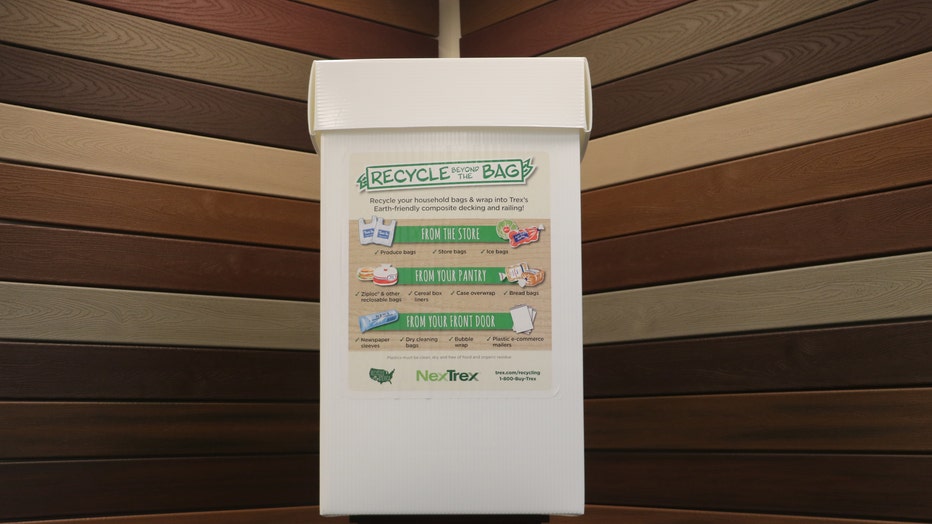 After a while, you'll see those same stickers on traditional recycling bins that mark them as thin plastic bins. 
"Flagler is our first one in Florida and we're really excited," said Kellie Driscoll, the Development Representative for NexTrex's Grassroots program. NexTrex has been working on their material for a couple of decades, but the Grassroots program has been around for less than two years. 
"We up-cycled about 430 million pounds of polyethylene film."
They help partners pay for bailers, where all the plastic material goes to get squished together into clumps.
That's mixed with sawdust and made into a composite material that can be used for things like decks, park benches, and even Flagler Beach's boardwalk.
You can buy it at Home Depot or Lowe's.
Those thin plastics aren't the only innovation Flagler Beach is working on. 
They're also starting to grind down glass into a fine powder that actually becomes sand. That can be used for things like landscaping, filling potholes, or filling up bags during hurricane season.
Because the facility is run by the City, it doesn't work to make a profit. Any savings are handed back down to people and businesses in Flagler.
"If I can keep their trash bill as low as possible but still provide a good service and do something with the material – that I truly know is being done with it, instead of hoping – that's a win/win," said Smith. "That's what it's all about to me."