2 children killed, 1 adult hospitalized after Sanford crash involving dirt bike, pickup truck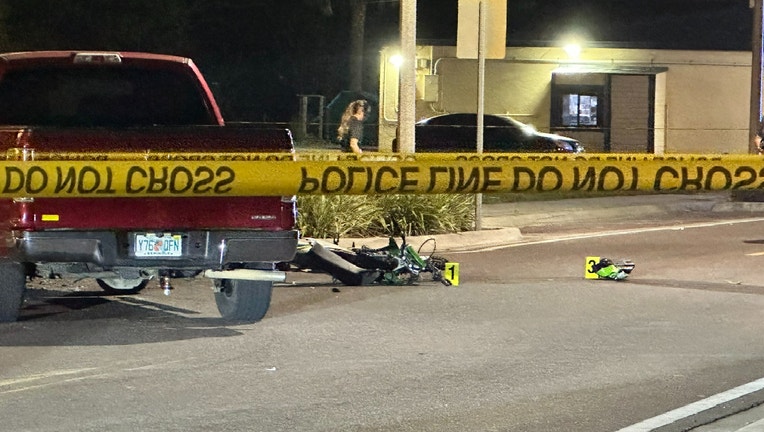 article
ORLANDO, Fla. - Sanford Police said two children were killed, and one adult was critically injured in a crash involving a dirt bike and pickup truck.
Around 7:30 p.m. on Friday, police officers responded to the crash on the 1700 Block of Historic Goldsboro Blvd. The officers located two young children, ages two and five, and a 34-year-old man with life-threatening injuries. All three were transported to area hospitals, but the children later died.
"Based on the initial investigation, it appears that the 34-year-old male was driving an unregistered dirt bike westbound on Historic Goldsboro Blvd. His two children were passengers on the dirt bike. A Ford 150 truck was traveling eastbound on Historic Goldsboro Blvd. and attempted to make a left-hand turn onto Mulberry Ave. when it struck the dirt bike."
"There is absolutely no reason that this should have occurred this evening. Tragic and completely avoidable doesn't begin to describe the loss of these two young lives," said Sanford Police Chief Cecil Smith. "Those children should never have been on that dirt bike, and that dirt bike should never have been on the road. Those little ones should have been home getting ready to be tucked into bed, not speeding down the road in the dark. It is always the parent's responsibility to protect the tender lives of their children." 
According to the Sanford Police Department, criminal charges are pending regarding the dirt bike that was "not street-legal, had no headlight, and was reported to be traveling at a high rate of speed at the time of the crash." 
Anyone with information about this incident is asked to contact the Sanford Police Department or Crimeline at 800 423-TIPS (8477) or visit www.crimeline.org. Calls made to Crimeline remain anonymous, and tips to Crimeline that lead to solving cases are eligible for a cash reward of up to $5,000 dollars.