Bernie Sanders tweets Cardi B 'is right' on comments on FDR, Social Security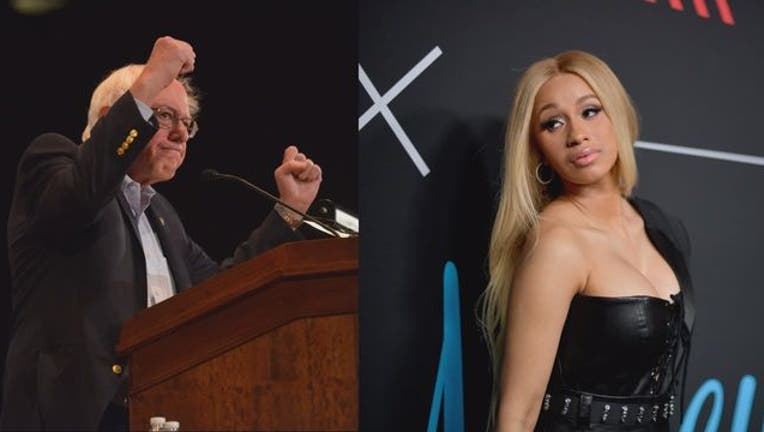 article
WASHINGTON - In a viral tweet posted Wednesday, Vermont Senator Bernie Sanders wrote in support of comments made by popular rapper Cardi B, who remarked in an interview with GQ about late President Franklin Delano Roosevelt's efforts with Social Security.
"He's the real 'Make America Great Again,' because if it wasn't for him, old people wouldn't even get Social Security," said Cardi.
The 25-year-old Latina from the Bronx has become the "it" girl of both music and social media, since her song "Bodak Yellow" came out in 2017. She has become known for her eccentric behavior, sense of humor and honesty on social media and in interviews.
In response, 76-year-old Sanders said: "Cardi B is right. If we are really going to make America great we need to strengthen Social Security so that seniors are able to retire with the dignity they deserve."
His comments were in response to a tweet made by Social Security organization Social Security Works.
Sanders' stance on Social Security was a large part of his platform as a Democratic presidential candidate and has pushed for an expansion of Social Security in his work in the Senate.
The artist, who openly talks about her time as a stripper and growing up the Bronx, geeked out with GQ in her knowledge of politics and the presidents.
"I love government. I'm obsessed with presidents. I'm obsessed to know how the system works," she said to GQ.
She divulged her knowledge on the 32nd president and the New Deal, saying "This man was suffering from polio at the time of his presidency, and yet all he was worried about was trying to make America great—make America great again for real."
Sanders has tweeted about popular artists in the past when it came to politics. In 2016, Sanders tweeted about Jay-Z after the hip-hop artist spoke out on the war on drugs in an interview with the New York Times.