Battle brewing over proposed 50-story high-rise in San Francisco's Outer Sunset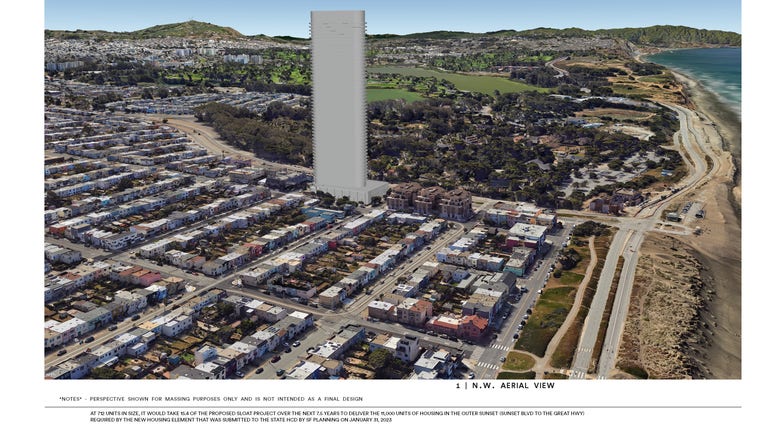 article
SAN FRANCISCO - A Nevada-based developer has submitted plans for a 50-story ocean view high rise in San Francisco's Outer Sunset District, in what's shaping up to be a heated battle with the city's planning department. 
The plans and applications were submitted to the city last week by developer CH Planning LLC.
The mixed-use structure, near Ocean Beach, calls for 712 apartments, including 115 affordable units. In addition, "the project will provide a retail fitness and wellness spa, retail areas, commercial areas, and a publicly accessible community facility," the developer said in its project description.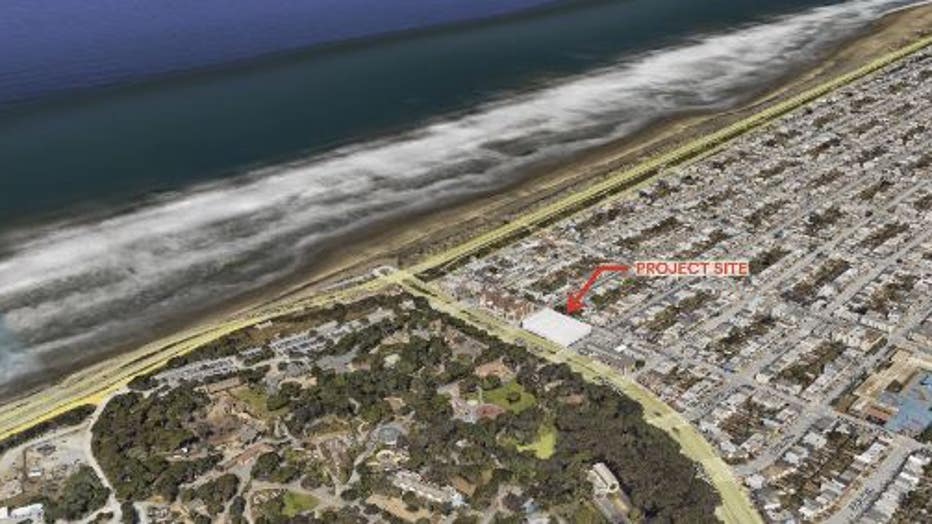 (CH Planning LLC / Solomon Cordwell Buenz (SCB))
It would replace the existing Sloat Garden Center and parking area. 
SEE ALSO: Audit reveals San Francisco has $482M in unspent affordable housing funds
SEE ALSO: How Moms 4 Housing challenged Oakland's housing crisis and won
Recently released renderings of the proposed high rise shows it would be a conspicuous, prominent structure in the area, where most buildings stand no more than two or three stories tall. 
And the plan was expected to face steep opposition from both city planners, as well as many residents. 
A neighborhood group calling itself "STOP 2700 SLOAT BLVD" had launched a petition to try and block the developer's previously proposed 12-story structure plan for the site, calling for supporters to "help preserve the nature & character of San Francisco coastal neighborhoods."
The group described the plan as one that's inappropriate for the neighborhood and among its reasons for opposition, it listed stress on an already taxed infrastructure and negative impacts to the natural light and open skyline of the neighborhood. 
"The good news for the petitioners is that we have no intention of building that 12 story design any longer," the developer's CEO Raelynn Hickey said, adding, that the project will result in increased capacity of infrastructure to help the city meet housing its goals. 
Dan Sider, San Francisco Planning's chief of staff said that while the application review process of the revised project was in its early stages, there were already red flags.
He said the plans and applications "reflect a wholly different project than what was previously submitted" by the group.
"Rather than reviewing a 12-story building, we're now being asked to review a 50-story building, Sider said. "Because the project does not appear to comply with local or state laws, it's tough to see how it could be approved."
He also noted that the developer was told more than a year ago that its initial 12-story building didn't comply with zoning and that despite that, the developer moved forward with the more expansive plan for the 50-story structure. "We'll be issuing a formal response shortly, but because the laws haven't changed our position cannot change," Sider explained. 
The assertion that the plan does not adhere to zoning laws, Hickey said, was inaccurate and accused senior planning staff of "straight up lying about the project not being compliant with state and city code." 
She said that she's been working with SF planning on the project since 2019 and accused the department of doing "everything possible to stall, delay, negatively interpret and kill this project."
She said the revised, updated design was in fact a "successful effort to comply with Planning's requests."
Hickey also said that the project will be instrumental in helping the city reach its requirement of 11,000 new housing units to be built in the next seven-and-a-half years in the area of Sunset Boulevard and the Great Highway and Lincoln Way and Sloat Boulevard.  
The proposed development comes after the city adopted a new Housing Element earlier this year, that calls for the construction of a total of 82,000 new units of housing across San Francisco by 2031.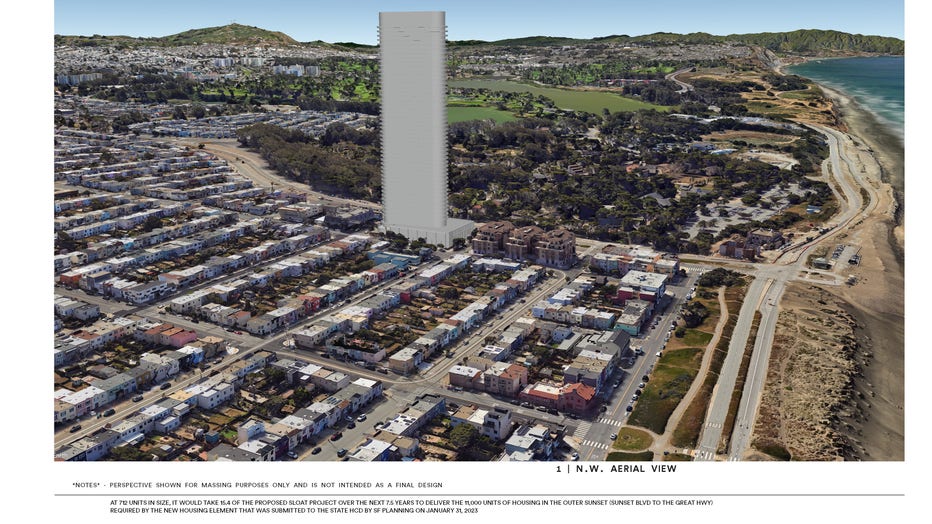 A Nevada-based developer has submitted plans and applications for a 50-story mixed used structure in San Franciscos Outer Sunset District. (Solomon Cordwell Buenz (SCB))