Authorities warn of new deadly drug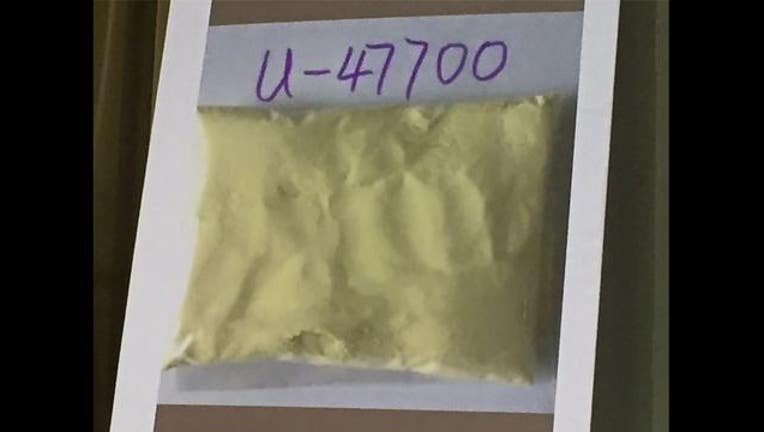 article
GAINESVILLE, Fla. (WOGX FOX 51) - There is a deadly drug making its way to Central Florida. It's called U-47700. It's a complicated name, but there are things you need to know. It's nearly eight times stronger than morphine, and it's killing people in Florida.
Pam Bondi, Florida's Attorney General, said, "It's so important. It scared me to death when I learned."

Some people call the drug "Pinky." It was created in the 70s, but now leaders say it's making a comeback.
"It's trash, and it's killing our kids," Bondi said.
Pam Bondi and sheriffs from several counties attended a news conference Tuesday afternoon. At the conference, Bondi signed an emergency executive order making U-47700 illegal in Florida.

Florida Attorney General Pam Bondi said five people in Pinellas County, and three in Bay County have died from the drug.  Bondi said it's possible more have died or overdosed. More people have died from the drug across the country.
Dealers are making their way through the Panhandle into Central Florida.

Bondi explained "What they're doing, they're cutting other drugs, mixing them together, and it's called poly-drug overdose."

It's cheap too, available online for $40.   It even comes in a nasal spray.  Dealers are combing it with other drugs and are re-selling it

"If you think it's a mild sedative, it's not," Bondi emphasized. "It could be extremely lethal and kill you."

Leaders say it's possible  It may have killed even more people, but medical examiners haven't been checking for it, until now.

Marion County Sheriff, Emery Gainey  said "Now that we're aware of it, the medical examiners will be aware of it, there will be more attention paid to it"

Bondi added "What we're trying to do is stop it before someone dies, and get to the manufacturers."


If you have this at home and you didn't know. Sheriff's Deputies say turn it in to them, without fear of being arrested. If you're caught dealing it though, get ready to spend up to 5 years in prison.
Sheriff Gainey said they're going to have discussions with Medical Examiners to see if they can go back and test past cases, to see if U-47700 is involved.