3-year-old killed for drinking milk from jug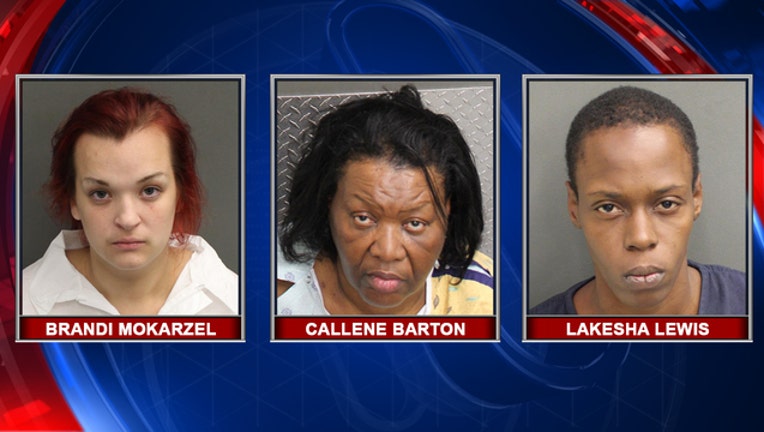 article
ORLANDO Fla. (WOFL FOX 35) - A woman's girlfriend and the girlfriend's mother beat the woman's 3-year-old boy with a plastic rod and then threw him across a room because he drank milk from a jug, authorities said Monday. The boy died of his injuries.
Lakesha Lewis, 28, and her mother, Callene Barton, 58, have each been charged with first-degree murder in the death of Xavier Mokarzel-Satchel, according to an arrest affidavit from the Orange County Sheriff's Office. They were being held without bail on Monday.
Lewis was the girlfriend of Xavier's mother, Brandi Mokarzel. The three lived together with Barton and one of Barton's grandchildren in an Orlando apartment, according to the arrest report.

The report said Mokarzel was awakened Friday by Barton yelling at her son for drinking from a milk jug and eating yogurt. Investigators say Lewis grabbed a plastic window-blinds rod and repeatedly hit Xavier until the rod broke. Mokarzel told investigators she grabbed her son and ran back into her bedroom, but Barton grabbed the boy from her and threw him down the hall.

Xavier began to shake and Lewis and Barton began splashing water on him to wake him up, according to the arrest report. Mokarzel told investigators she tried to call 911, but Barton knocked the phone from her hand and told her she would "end" Mokarzel if she called police. Barton said she didn't want child protective services taking away her grandchild, Mozarkel said.
Mokarzel said she ran to a neighbor and called 911, but when she returned to the apartment, Xavier was lying on his back with food coming from his nose. Paramedics arrived and took him to the hospital, where he died four hours later.

Mokarzel was charged with child neglect for allegedly not reporting previous abuse after doctors found he had several healing bruises. A judge Monday ordered her held on $2,500 bail.

Jail records don't show if the women have attorneys.
The Orlando Sentinel quoted Xavier's father, Jaquan Satchel, as saying that he hadn't seen his son in two years but had been saving up money to seek full custody of him. Satchel said he had dated Xavier's mother for four years before they broke up and she moved away.
 "The kid was a ball of sunshine," said Satchel from Spokane, Washington. "Every day was amazing. I got to joke and laugh with him."
   ------
   Information from: Orlando Sentinel, http://www.orlandosentinel.com/