Dolphins take Penn State tight end Mike Gesicki in 2nd round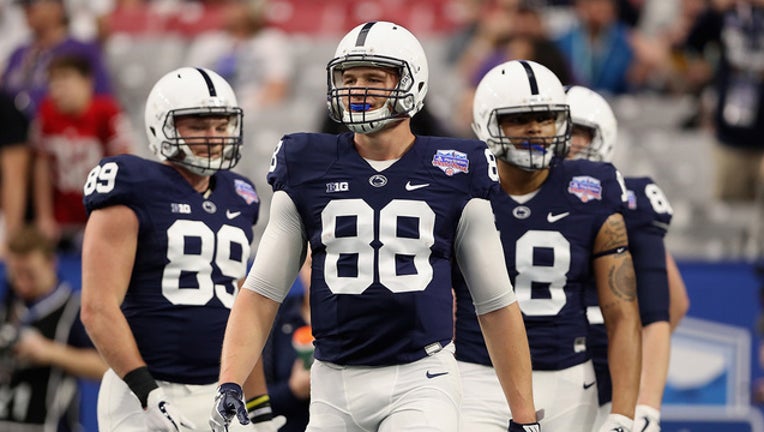 DAVIE, Fla. (AP) - The Miami Dolphins concede that Penn State tight end Mike Gesicki could block better. They drafted him anyway, which shows how much they like his pass-catching skills.
Gesicki was a second-round selection Friday in the Dolphins' latest attempt to fill a position that has been problematic since Adam Gase became coach two years ago.
The 6-foot-5 Gesicki was the second tight end drafted because his athleticism, including thunderous dunks in basketball and success in volleyball.
There's a reason he lasted until the 42nd overall pick, however.
"The one thing everyone talks about is him not being a great blocker," Dolphins general manager Chris Grier said. "But there are a lot of really good tight ends and pass catchers who are not great blockers. And this kid wants to be a better blocker."
The Dolphins hope Gesicki's deficiencies don't keep him from starting as a rookie. He could give Ryan Tannehill the downfield target in the middle of the field that Miami has lacked in recent years.
"He's a hard matchup for people, being that big and athletic," Grier said. "The speed will open up other stuff."
Julius Thomas and Jordan Cameron were disappointments at tight end for Miami the past two years, and they're no longer on the roster. Gesicki joins an offense that averaged 17.6 points last season to rank fifth-worst in the NFL, and he expects to help the Dolphins do better.
"I'm exactly where I belong," he said. "I'm excited to get to work in this offense. It can become very exciting in Miami."
Gesicki had 15 career touchdown catches at Penn State and averaged 11.5 yards per reception. He acknowledged he has room for improvement and expects to benefit from NFL coaching.
"I definitely need to continue to improve my run blocking," he said. "My best attributes are in the passing game, and I need to continue to develop on the other side."
The Dolphins took Alabama All-America safety Minkah Fitzpatrick in the first round with the 11th overall choice. They have the 73rd overall pick in the third round, and are still in the market for a linebacker, defensive tackle and backup quarterback.
___
For more AP NFL coverage: http://www.pro32.ap.org and http://www.twitter.com/AP_NFL