UCF student found dead with weapons had been planning attack, officials say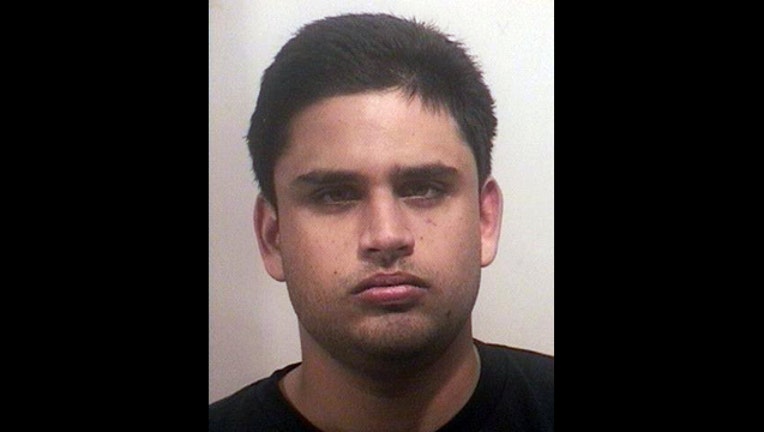 The man found dead in a University of Central Florida dorm with an assault rifle, handgun and explosive devices early Monday was in the process of being evicted from campus and had left a note indicating he had been planning an attack, campus officials said.

James Oliver Seevakumaran, 30, of Lake Mary was found in his bedroom on third floor of Tower 1 residence hall, dead from an apparent self-inflicted gunshot wound. No one else was hurt.

"He laid out a timeline of where he was going to be and what he was going to do. It was clear it was a rational thought process" that went into a plan, UCF Police Chief Richard Beary said at a campus news conference Monday afternoon.

"When he heard the sirens coming and the officers coming, I think that may have played a pivotal role" in Seevakumaran changing his plans, Beary said. "When they're challenged by law enforcement, they either kill themselves or law enforcement takes them out."

Just after midnight, while UCF Police responded to a fire alarm call, they received a 911 call reporting a man with a gun on campus. When they arrived on scene, police found Seevakumaran's body.
Investigators also found a backpack, .22-caliber rifle, handgun, four improvised explosive devices and "a couple hundred rounds of ammo," Beary said.

Police think Seevakumaran pulled the fire alarm himself.

"We're speculating that he activated the fire alarm to get people out in the open," Beary said.

Less than a minute later, police received a 911 call from one of Seevakumaran's three roommates. They say Seevakumaran pointed a gun at him, and the roommate fled and immediately called 911.

Antonio Whitehead, 21, a junior from Hollywood, Florida, said he heard the fire alarm go off after midnight and thought it was a routine alarm. He headed outside where he saw a crowd already heading across the street from the dorm.
 
"All of a sudden, I felt the crowd move a little faster. And a police officer with a machine gun or something told everyone to start moving a lot faster," he said.
 
Whitehead, who has lived in the dorm for two years, said the students were moved to an open area about 1,000 feet from UCF Arena. The area is a busy section of the campus, with restaurants and shops nearby.

The university's main campus in Orlando has about 51,000 students. The campus was closed and classes canceled until noon Monday.

Based on interviews with his roommates and an investigation, police think Seevakumaran acted alone.

"He had been a loner and didn't have a lot of contact with other people," Beary said.

Seevakumaran was in the process of being evicted from the UCF dorm. He was enrolled at UCF from fall 2010 through fall 2012, but as of mid-February, he was not enrolled for the spring semester and had not paid for his housing, UCF spokesman Grant Heston said.

"We don't kick them off campus immediately. It's a process we go through," Heston said.
According to Florida records, Seevakumaran's only adult arrest in the state was in 2006 for driving with a suspended license.
Tower 1 was evacuated for most of the day Monday. Students were allowed back into the dorm late Monday, Heston said. The third floor remains closed.

"It could have been a very bad day. We are very blessed here at UCF," Beary said. "This could have hurt a lot of people."
Information from The Associated Press was used in this report.