Tree fire at Auburn's Toomer's Corner goes to grand jury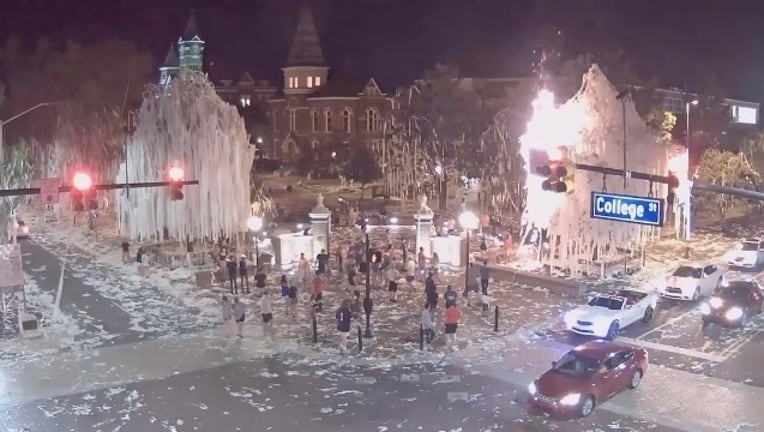 article
OPELIKA, Ala. (AP) — The case against a man accused of torching one of Auburn University's famed oak trees at Toomer's Corner is going to a grand jury.
The Opelika-Auburn News reported Thursday that a judge sent the case against Jochen Wiest, 29, of Auburn to a grand jury to consider an indictment following a hearing Wednesday.
Covering the Toomer's oaks with toilet paper after Auburn football victories is a school tradition that had been frustrated after University of Alabama fan Harvey Updyke poisoned the original trees, which were removed and replaced with new oaks in February 2015. This fall was the first season when school officials allowed fans to resume rolling the young trees with the highly flammable paper.
Wiest was arrested as flames engulfed one of the young trees after Auburn beat Louisiana State University on Sept. 24.
An Auburn student said she saw Weist set fire to the toilet paper, followed him and yelled for help detaining the man until officers arrived. Auburn police detective Michael Creighton testified that Wiest had a lighter on him and was wearing an Auburn hat.
Weist, a German national living in Auburn, is free on bond. He did not attend the hearing and has not entered a plea to the charges, which include public intoxication, criminal mischief and damaging a venerated object. The grand jury could add or change the charges, or decline to indict him for any crimes.
Defense lawyer Margaret Brown questioned the charges, saying the Toomer's Oaks could not be considered a venerated object under the law because they aren't a structure, place of worship, burial or monument.
But Prosecutor Jessica Venturi said the trees were considered a monument "the second they were installed."
District Judge Steven Speakman said the status of the trees was "more of a legal question than a factual question."
___
Information from: Opelika-Auburn News, http://www.oanow.com/