Satanic Temple launches telehealth abortion care in New Mexico, hopes to expand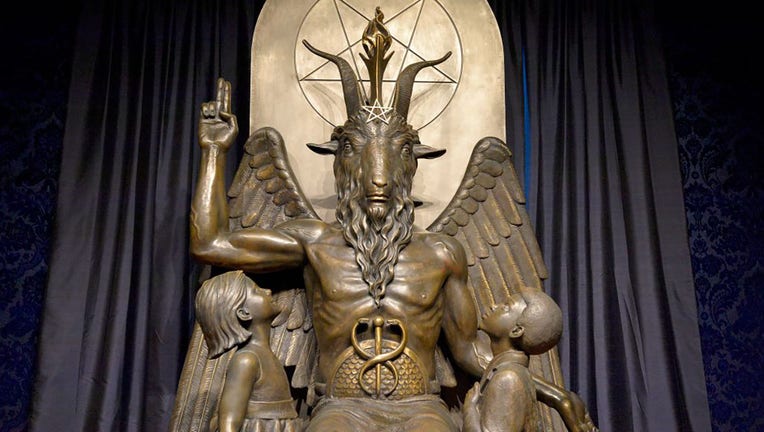 article
SALEM, Mass. - The Satanic Temple will soon launch its first reproductive health clinic in New Mexico, which will provide free "religious medication abortion care," and said it hopes to expand operations in other states in the wake of the U.S. Supreme Court overturning Roe v. Wade.
The Salem, Massachusetts-based group, which doesn't believe in a literal Satan and describes itself as a "non-theistic religious organization," said the new health clinic will provide telehealth screenings and appointments, as well as prescribe abortion pills for its patients. 
It will be operated by licensed medical staff and will make its services available to New Mexico residents who are at least 17 years old, up to 11 weeks pregnant, and are medically eligible for an abortion.
The new facility, which will be operated by The Satanic Temple's new medical services arm TST Health, is called "The Samuel Alito's Mom's Satanic Abortion Clinic." Supreme Court Justice Samuel Alito authored the final opinion that Roe and Planned Parenthood v. Casey, the 1992 decision that reaffirmed the right to abortion, were wrong had and to be overturned.
"In 1950, Samuel Alito's mother did not have options, and look what happened," Malcolm Jarry, the cofounder of The Satanic Temple. "Prior to 1973, doctors who performed abortions could lose their licenses and go to jail. The clinic's name serves to remind people just how important it is to have the right to control one's body and the potential ramifications of losing that right." 
The Satanic Temple, based in Salam, Massachusetts, is separate from the Church of Satan — which was founded in the 1960s. Founded in 2013, the Satanic Temple advocates for secularism and says its mission is to encourage benevolence and empathy," "reject tyrannical authority," "advocate practical common sense," and "oppose injustice." 
It considers Satan a literary figure who serves as a metaphor for defending personal sovereignty against religious authority. The Satanic Temple's religious tenets include beliefs that people should have control over their own bodies, that the freedoms of others should be respected, and that scientific facts shouldn't be distorted to fit personal beliefs.
The organization also has something it calls a "Satanic abortion ritual," which includes the process of a person reminding themselves that their body is inviolate, undergoing the abortion, and then reciting a personal affirmation.
For its new facility, the temple said anyone in New Mexico seeking to perform its abortion ritual will be able to receive online medical services free of charge. Patients undergo a screening and virtual appointment before having their prescriptions sent to the clinic's pharmacy partner, who will mail the medications in a discreet package, it said.
Patients must still pay fees at the pharmacy, which will cost around $90, the group said.
"TST Health's licensed medical staff will be available for patient questions and concerns and will initiate follow-up communications with patients. In addition, the clinic has a dedicated patient hotline that is on call 24/7," the organization said in a press release. 
The Satanic Temple said it hopes to expand operations into other states, including those that do not allow clinicians to perform abortions. The group, which was recognized by the IRS as a tax-exempt church in 2019, has filed several lawsuits in various states claiming that its abortion ritual is exempt from restrictions and bans because the procedure is an essential part of religious practice. 
"TST is proud to expand reproductive options for our members. This is just the beginning," Erin Helian, the temple's executive director of campaigns, said in a statement. "We will remain steadfast as we continue the fight to uphold reproductive justice in the United States."
This story was reported from Cincinnati. The Associated Press contributed.