Plane lands on I-4 after pilot says he ran out of fuel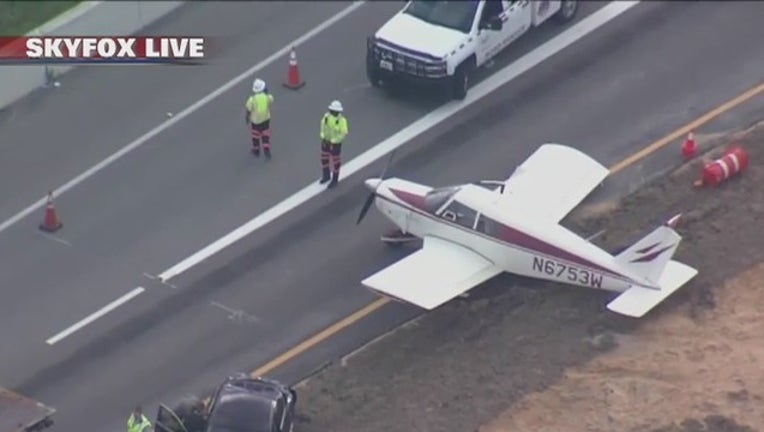 ORLANDO, Fla. (FOX 35 ORLANDO) - Maitland police said it is now up to the owner of the plane to have it removed from the side of Interstate 4 after making an emergency landing there Thursday afternoon. 
Police said if he doesn't get this done soon, they will contact the Florida Department of Transporation and make arrangements to get the plane off the ramp.
As of Friday morning, the plane is still parked next to the interstate.
RELATED: Small plane lands on I-4 access ramp in Maitland
The Florida Highway Patrol said the plane clipped a vehicle on the ground, as the pilot was landing.  Remarkably, no serious injuries were reported.
The pilot reportedly told Maitland police he ran out of fuel and was forced to make an emergency landing using an I-4 on-ramp as a runway just as rush hour was starting.
The pilot was flying from South Carolina and trying to make it to the Orlando Executive Airport. 
According to the FAA database, the fixed wing, single-engine Piper aircraft was manufactured in 1965 and is registered to a Llod McKinney, of Gurley, Alabama.
When the plane landed on the ramp, emergency crews rushed to check it out. So did Chris Csandli. 
"I heard the plane coming down, heard it sputtering, heard the noise when it hit the ground," he explained. 
He was on his bike down the street at Applebee's when he heard the noise. 
"I knew immediately that the airplane was in distress."
That's because Csandli is a pilot, and to anyone who flies, that sputtering sound is haunting. 
"I just heard it, and then I saw it when I came around the corner. I heard it sputtering. I came around the corner. I saw it came to a stop."
He rode right up to it, before he was asked to move by officials. Up close, he said, "it looks like a brand new plane with a wing bent a little bit, that's it."
"I think it's a miracle. Not the miracle on the Hudson, but the miracle on I-4."
This is the second time in as many years that a small plane has had to make an emergency landing along I-4 in the Orlando-metropolitan area.  
In November 2017, a Carbon Cub Light Sport SS aircraft lost power during a flight, according to Seminole County Fire Rescue, and the pilot had to bring the aircraft down near State Road 434 in Longwood. The pilot landed along a section of pavement that had recently been constructed in the median, as part of the I-4 Ultimate widening project. He did so without any injuries to himself or damage to the plane.