Extreme heat continues through Friday with storm weekend in sight
ORLANDO, Fla. - WHAT IS THE WEATHER FORECAST FOR TODAY AROUND ORLANDO?
Extreme heat develops for the next two days followed by a very stormy weekend, followed by an onset of a rainy-season pattern next week with daily afternoon thunderstorms likely.
Tonight's forecast low: 73°
Tomorrow's forecast high: 98°
MAIN WEATHER CONCERNS:
Extreme heat with heat index >105° and isolated afternoon lightning storms
WHAT IS THE WEATHER FORECAST FOR WALT DISNEY WORLD, UNIVERSAL, AND SEAWORLD?
Thursday at the theme parks will be extremely hot. Park-goers should use extreme caution and drink lots of water, taking breaks inside the AC. Feels like temps will surpass 105°. Isolate late-afternoon storms may create a lightning threat after 5 p.m.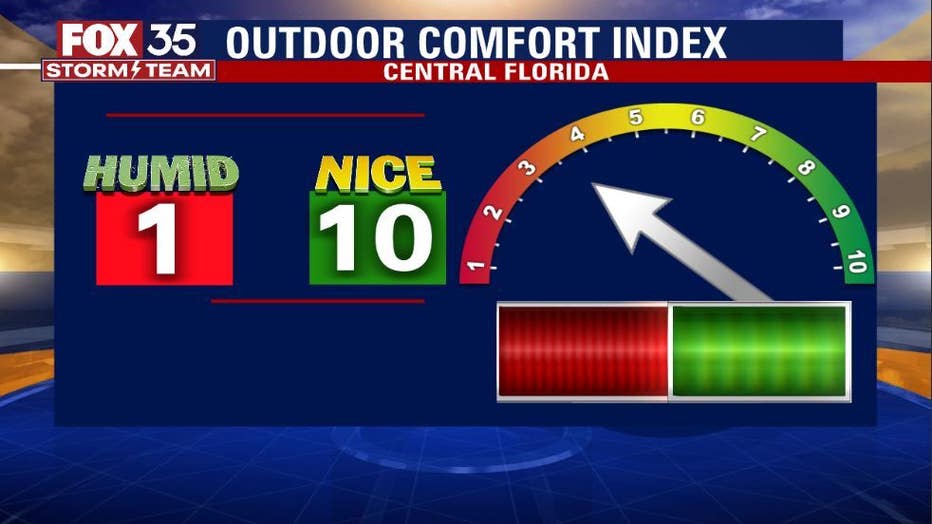 WHAT IS THE WEATHER FORECAST FOR THE BEACHES IN CENTRAL FLORIDA?
Offshore winds on Thursday of 12 mph, with waves 1-2 feet. Slight chance of rip currents. Water temp 84°, air 90°. A rare good day for some SUP in the Atlantic waters.
Rip current risk remains in the moderate range. Pack plenty of sunscreen and remember to reapply when needed. Highs seaside hit near 85 at peak this Wednesday afternoon.
LOOKING AHEAD: 
Temperatures will reach a super hot peak in the upper 90s by Thursday and Friday. Heat index or "Feels Like" temps will head for the 107-110 degree range. 
Heat advisories COULD become necessary during this time. Rain chances will also return by late week. Lightning storms featuring heavy rain and gusty winds could be in the cards for much of Central Florida this weekend.