Oregon marijuana shops begin sales to recreational users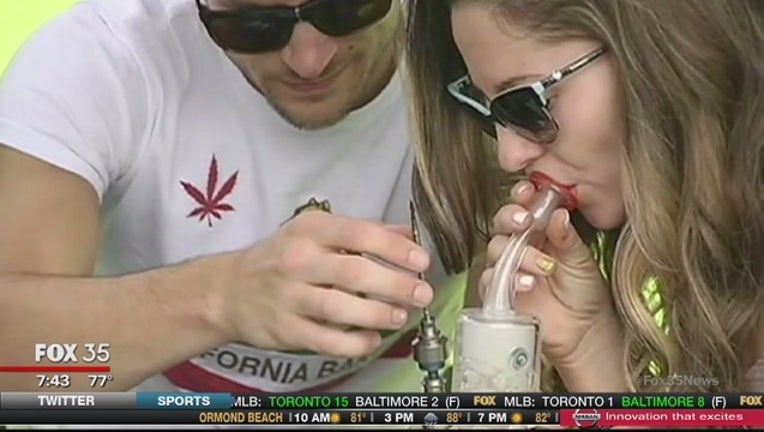 article
PORTLAND, Oregon (AP) - Oregon marijuana shops began selling marijuana Thursday for the first time to recreational users, marking a big day for the budding pot industry.
Some of the more than 250 dispensaries that already offer medical marijuana in Oregon opened their doors soon after midnight — just moments after it became legal to sell to anyone who is at least 21.
At Portland's Shango Premium Cannabis, co-founder Shane McKee said the first sale to an excited customer came about a minute after midnight, with many others waiting.
"It looks like there is about 60-70 in line out front," he said in a telephone interview shortly after midnight. "They all seem extremely eager."
That first buyer, Davia Fleming, said the sales launch was important.
"I was really excited about that," said Fleming, who uses the drug for medicinal purposes. "It's the end of a prohibition."
She described the atmosphere inside the store as "beautiful. ... very friendly; everyone is upbeat."
Store owners say they're hopeful they can avoid the shortages and price spikes that followed the start of legal sales last year in Washington and Colorado, the only other states where the drug can now be sold for recreational use. Alaska could begin retail sales next year.
Many stores in Oregon were trying to lure customers with extended hours, food giveaways and discounted marijuana.
McKee said his store offered its first 25 customer a 35-40 percent discount. The store was also handing out soda, coffee, juice and other refreshments.
But he also pointed to what he considered the significance of the moment.
"I think it's not only historical for folks in Oregon but nationwide — anytime people start selling that as an alternative to alcohol or tobacco."
Shoppers have one more incentive to buy early and often: Under Oregon law, pot purchases will be tax-free until January — a savings of up to 20 percent.
One store was offering a goody bag with T-shirts, but no free marijuana. Another will have a live band and 10 percent discounts. The marijuana review site Leafly will set up with food trucks at a handful of stores, giving away free meals to anyone who promotes the service on social media.
Customers can buy as much as seven grams at a time of dried marijuana flower and leaf — the part that's generally smoked — plus plants and seeds. For the next year or so, marijuana infused candy, cookies, oils and lotions will be available only to people with medical marijuana cards as the state works on retail regulations involving those products.
Oregon has a robust supply system for marijuana that has supported medical marijuana users and the black market. Companies have invested in massive warehouses in Portland to grow the drug indoors, and southern Oregon has some of the nation's best conditions for outdoor cultivation of marijuana.
Growers don't face strict regulations yet, so the supply can more easily flow into retail stores than it did in Washington and Colorado.