Trump trial: Major proceedings in Georgia election interference case will be live streamed, judge says
FULTON COUNTY, Ga. - The judge who is assigned to oversee the Georgia election interference case involving former President Donald Trump says all major proceedings in the case will be live-streamed on a Fulton County YouTube channel.
A Rule 22 hearing was held Thursday afternoon in Judge Scott McAfee's courtroom in Fulton County. Rule 22 is the rule that governs the use of devices to record sounds or images in a Georgia courtroom. Media organizations must submit a request to the court if they wish to record any part of a court proceeding in the state of Georgia.
McAfee ruled that all interested parties will be allowed to record and stream the proceedings.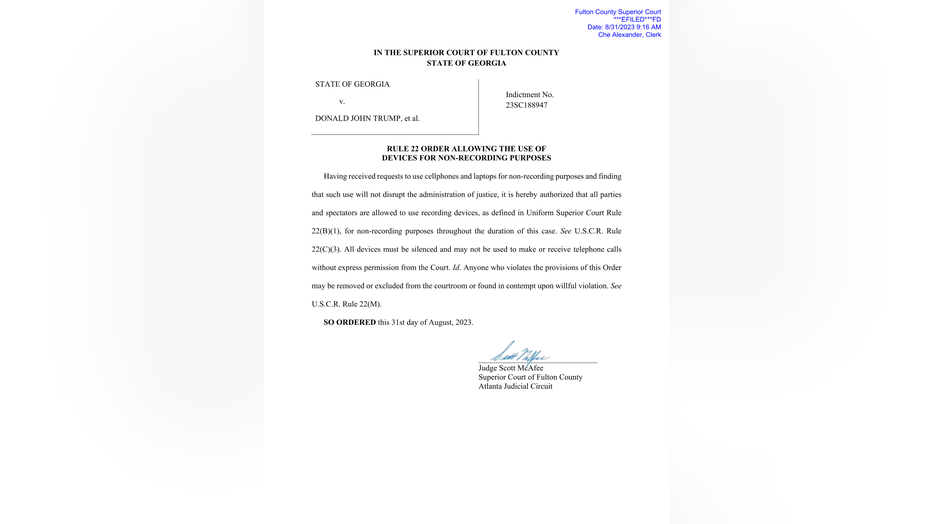 McAfree also said that the initial hearings and motions will probably be held in the courtroom he normally uses. However, a bigger courtroom may be needed at a later date.
The former president has pleaded not guilty in the case. He surrendered last week at the Fulton County jail, after he and 18 others were indicted for allegedly participating in a "criminal enterprise" that aimed to overturn his loss in Georgia's 2020 presidential election. Trump is charged with 13 felony counts.
A date for his trial has not yet been set. 
District Attorney Fani Willis initially requested a trail date in March 2024. After two defendants filed requests for a speedy trial, Willis also requested that the trial date for all 19 defendants be moved up to the same date in October.
RECENT STORIES
Trump has requested to sever his case from the other defendants. That request was made on Thursday. Trump's lawyers say they do not have time to prepare for a trial that is less than two months away.
The former president, the front-runner in the 2024 Republican presidential primary, has criticized the cases against him as part of a politically motivated attempt to keep him from winning back the White House.