Juveniles arrested for burglary while wearing clown masks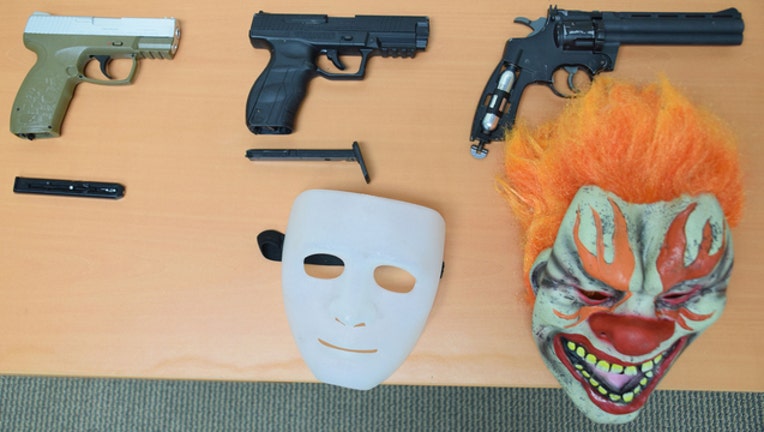 article
GAINESVILLE, Texas - Three young teenagers have been arrested for breaking in to a North Texas home and shooting the homeowner with a BB gun.
Police in Gainesville said the suspects are 13, 14 and 14 years old. They were taken into custody Wednesday and charged with burglary of a habitation.
Security cameras captured three people rushing into the front door of the home Tuesday night. The homeowner said she had fallen asleep on the couch and was awakened by the intruders. Two of them were wearing clown masks to cover their faces.
The teens didn't say anything to her, but started shooting around the room with BB guns. Then one of the teens shot her in the face her face and arm.
Police said they're concerned about the fact that the teens used a BB gun that resembled a normal firearm.
"While some people, particularly youth, may not really consider the dangers of displaying these types of weapons, there is a very real threat that they could be perceived as a firearm, which could prompt others, including law enforcement, to potentially respond to the threat with a variety of options up to and including deadly force," said Belva McClinton, the spokesperson for the Gainesville Police Department.
Although there has been a lot of national attention on clowns, police believe this case stems from a dispute between the suspects and the homeowner's oldest son.
"The Gainesville Police Department hopes the quick resolution of this case will ease some of the fears and concerns this caused to our citizens and help them understand this was an isolated incident," McClinton said.
Police did not release the names of the suspects because of their age. The homeowner has already been released from the hospital and is recovering from her injuries.