Hunter burned, 100s of homes evacuated in Oklahoma Wildfires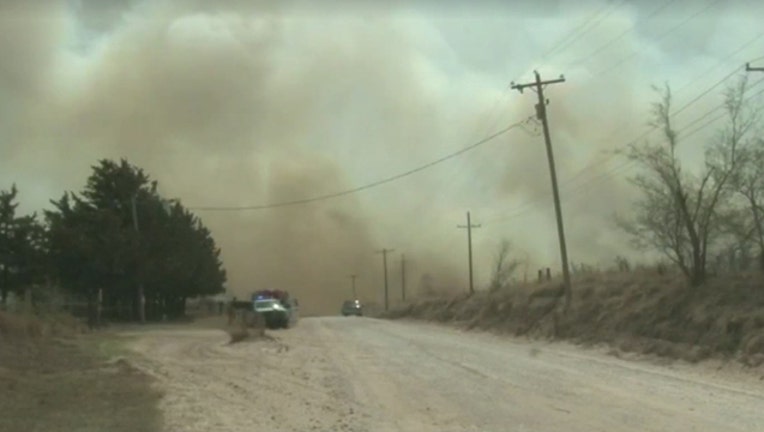 article
WOODWARD, Okla. (AP) - WOODWARD, Okla. (AP) - An Oklahoma turkey hunter was found alive but badly burned Friday after spending the night trapped by one of two wildfires raging in northwestern Oklahoma.
The fire that trapped the hunter began Thursday afternoon near Leedey, about 110 miles (177 kilometers) northwest of Oklahoma City and has burned about 82,000 acres (331 sq. kilometers), said Oklahoma Forestry Services spokeswoman Michelle Finch-Walker said.
"There were three hunters who were trapped," said Finch-Walker. "Two were rescued, the third man was found (Friday) morning and transported" to a burn center in serious condition.
A second fire has burned more than 120,000 acres (485 sq. kilometers), several homes and forced the evacuation of about 450 people from their homes near Woodward, about 40 miles (65 kilometers) north of Leedey, according to Woodward County Emergency Management Director Matt Lehenbauer.
Finch-Walker said neither of the fires has been contained.
The National Weather Service says dangerous fire weather conditions are expected in much of western Oklahoma and the Oklahoma Panhandle through Saturday, with low humidity and strong winds of 20-30 mph (32-48 kph) and gusts of up to 50 mph (80 kph).
Lehenbaur said the wind has been changing direction, hindering firefighting efforts.
"Every time we have a wind shift, we have a finger of that fire break off and it'll move in a different direction," Lehenbaur said.
"We're looking at a really, really rough day," he said.
Lehenbaur said federal assistance in the form of firefighting personnel and equipment, including aircraft, has been sent to help battle the flames.