How to see an exclusive firefly spectacle in Great Smoky Mountains National Park
The Great Smoky Mountains National Park recently opened the lottery for its Annual Firefly Viewing Opportunity, a chance to see the park's famous synchronous fireflies at their peak glow.
Lasting June 4-11 this year, the viewing opportunity takes place during mating season for synchronous fireflies, as the insects put on light shows as part of their courtship.
The Annual Firefly Viewing Opportunity will occur near the Elkmont Campground in East Tennessee, which has one of the largest populations of synchronous fireflies in the Smokies.
How to apply for the firefly lottery
To see this glowing spectacle at the national park, however, visitors will have to apply for a lottery. The lottery is now open and runs until 8 p.m. ET on May 1.
Applicants can enter the lottery for $1 per submission on Recreation.gov, where applicants can select two dates when they would like to attend the viewing opportunity. Applicants will be notified whether their applications were accepted by May 11.
The firefly viewing has grown in popularity over the years, leading park officials to host the lottery as a way to curb traffic and protect the fireflies.
"We started managing this area because so many people would come here, and it was beginning to have an impact on not only the visitors' experience, but also on the resources themselves," said Becky Nichols, an entomologist in Great Smoky Mountains National Park.
Having a lottery also ensures the safety and overall experience for visitors, who come to watch the fireflies in the woods in total darkness.
Visitors who win the lottery walk up a trail from the Elkmont Campground to watch the firefly light show. Beginning at 9:30 p.m., the show lasts for about two hours.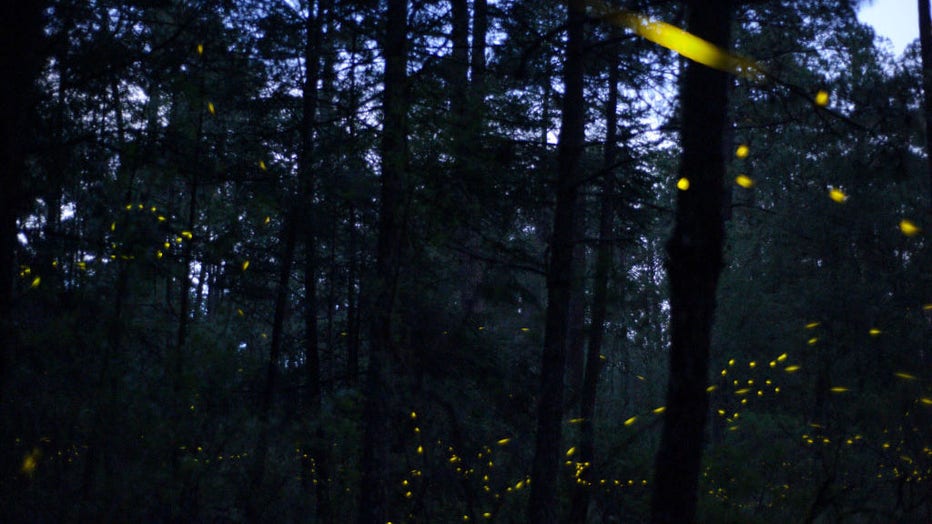 Fireflies send light signals during the mating season. (Photo by Jesus Alvarado/picture alliance via Getty Images)
Why the synchronous fireflies glow
According to Nichols, synchronous fireflies typically mature and reach the adult stage in the early spring and throughout the summer. This is when the insects are capable of showcasing their signature glow.  
Called bioluminescence, this flashing glow serves an important role.
"Primarily, the function of the flashing is for mate recognition," Nichols said. "In order for the males to find the females in total darkness, usually they have to have a method for communicating."
Males will communicate by using a particular flash pattern. Then, the females will flash in response.
FIREFLIES FIND ROMANCE BY GLOWING IN THE DARK
According to Nichols, females are often on the forest floor, so their flashing is not as pronounced. This means that the flashing most people see at night is coming from male fireflies.
For those selected to watch this year's fireflies during the Annual Firefly Viewing Opportunity, the NPS provides tips for Light Show Etiquette for the best viewing experience and to help protect the fireflies.