Governor Rick Scott makes a statement on the loss of officers across Florida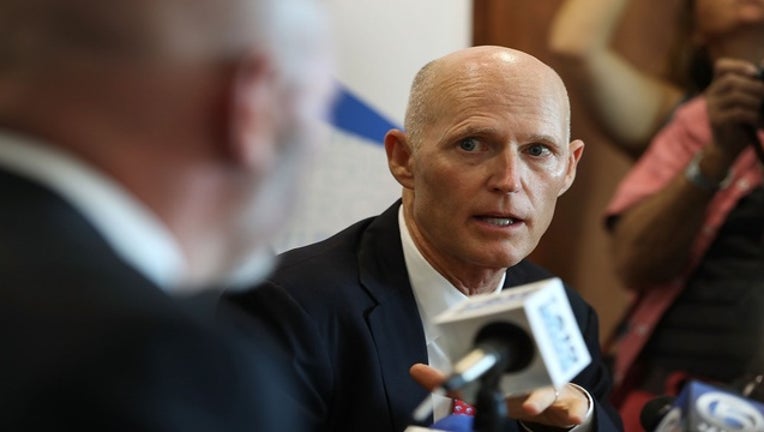 article
NAPLES, Fla. (WOFL FOX 35) - Governor Rick Scott spoke out today regarding last night's law enforcement related shootings in Kissimmee and Jacksonville that resulted in the loss of Kissimmee Police Officer Matthew Baxter. 
Two state troopers were also shot in Pennsylvania last night.
Governor Rick Scott said, "Last night, I learned of two separate incidents in Florida where four law enforcement officers where shot – in Kissimmee and in Jacksonville. We also learned that two state troopers were shot in Pennsylvania as well."
"Unfortunately, a member of the Kissimmee Police Department lost his life. Kissimmee Police Department Officer Matthew Baxter was a married father of three and a dedicated law enforcement hero in Central Florida. The violence last night also left another member of the Kissimmee Police Department, Sgt. Sam Howard, in grave condition. We are praying for his recovery and the recovery of all law enforcement injured last night, including the two officers from the Jacksonville Police Department."
"Let me be very clear – last night's violence against our law enforcement community is reprehensible and has no place in our state. Florida has zero tolerance for violence and we will not accept hatred for one second. In Florida, justice is swiftly served against anyone who attacks our law enforcement officers."
"Today, I join every Floridian to honor these law enforcement officers, their brothers and sisters in uniform, and their families. My heart breaks for Matthew's family. May Matthew's service and the service of our law enforcement community be a constant reminder of the sacrifice of those who serve to keep us safe. Following last night's shootings I have been in touch with local law enforcement and community officials to let them know that our state supports them every step of the way."
"The best thing about Florida is the people who live here. Every day I meet peaceful, loving, and thoughtful people who love the Sunshine State. I am proud that we live in a safe state, and our crime rate is at a 46-year low because of our hard-working law enforcement officers."