Flamingo on road to recovery after being found off St. Pete Beach after Hurricane Idalia
ST. PETE BEACH, Fla. - Birds of a feather flock together, but one flamingo was alone and lost Friday off of St. Pete Beach near Blind Pass.
"She was pretty far off of the water," Madeira Beach Commissioner Anne-Marie Brooks said. "We just thought that was kind of odd to see a flamingo swimming so far out."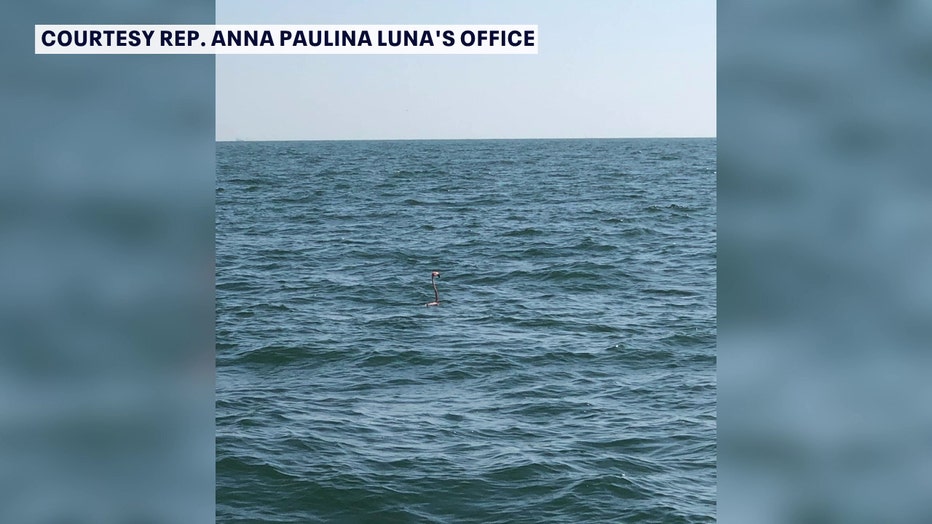 Brooks and other local and state leaders, including Pinellas County Commissioner Brian Scott's office, Representative Anna Paulina Luna's Office and Representative Linda Chaney's office, were assessing storm damage when they spotted the bird.
READ: Rubonia Community Center serving as a place of comfort for residents facing the unknown
"We decided that we needed to try to save her, because the consensus was she would drown possibly," Brooks said.
Brooks and Representative Chaney's Legislative Aid, Tristan Sommer, said when the flamingo, which they named Peaches, tried to fly, its wings were waterlogged. They knew it needed help.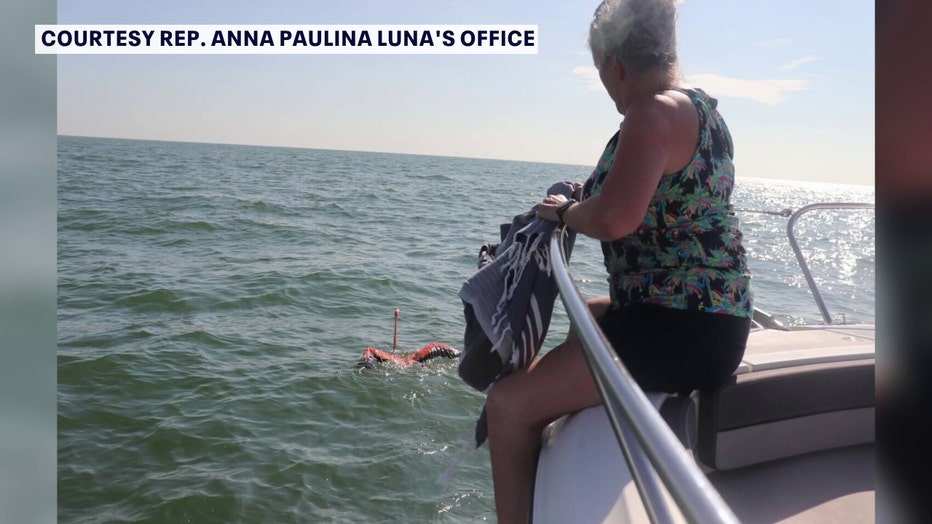 They called the SPCA of Tampa Bay and grabbed a net.
"The bird kept moving farther and farther out at sea. And after a few attempts, and we just couldn't get close enough, we made a few call ends," Sommers said. "We called in a couple friends, and that's when the proposal to throw a towel on the bird to weigh the bird down was proposed, and I was handed a net and someone else took the responsibility of throwing the towel on the bird, and I just sat at the end, and I was just waiting for the bird to come a little closer, so we could scoop the bird in the net."
MORE: Hurricane Idalia clean up begins in Bay Area's hardest hit communities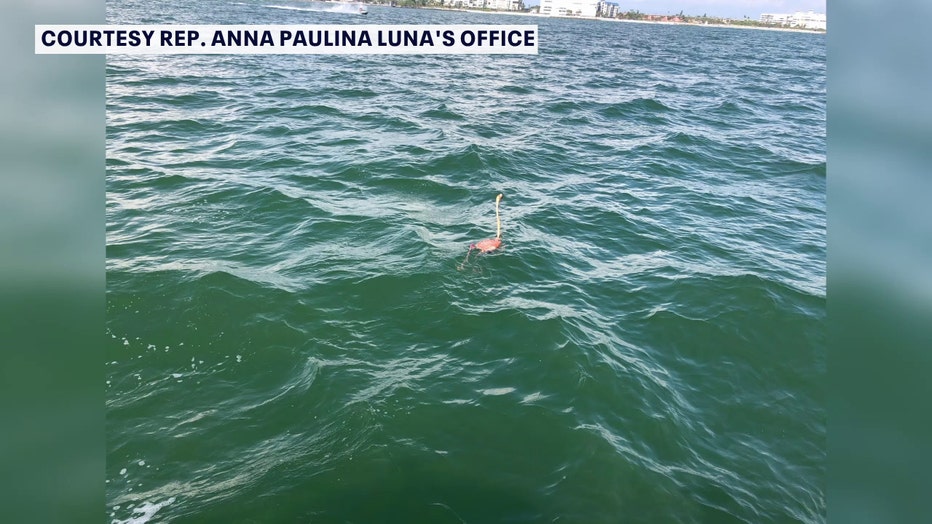 "If you had asked me a year ago, the day of, that I would be saving a flamingo from open waters, I would probably say 'you're crazy,'" Sommer said. "That's part of the job. You never know what tourist is going to come in the area to need a little hand. You never know what kind of constituent is going to have to call on a friend as well."
Peaches stayed at the SPCA for one night before moving to Seaside Seabird Sanctuary in Indian Shores. Melissa Edwards, the avian hospital director at the sanctuary, said the bird has made a lot of progress.
"It was just very weak, exhausted and what we call quiet," Edwards said. "So, just not totally acting normal. It definitely appeared exhausted. So, we started, you know, supportive care and assisted tube feedings just to kind of give them that boost. Thankfully, as of now, he's eating on his own."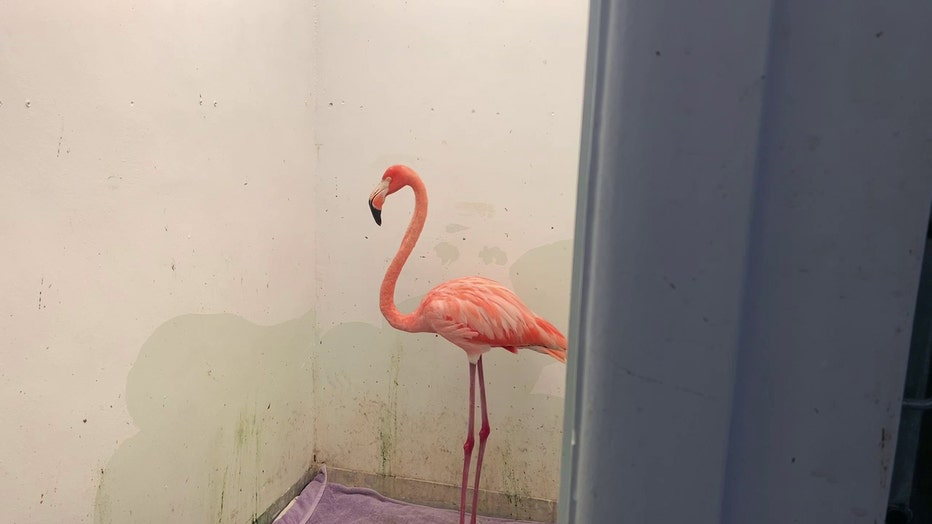 Edwards said they reached out to Busch Gardens Tampa Bay and Owl's Nest Sanctuary for Wildlife for specialized flamingo food formulated for flamingos in zoo environments. 
They're not sure if Peaches is a boy or a girl, Edwards said.
PREVIOUS: USF researchers say Pinellas County beaches severely eroded following Hurricane Idalia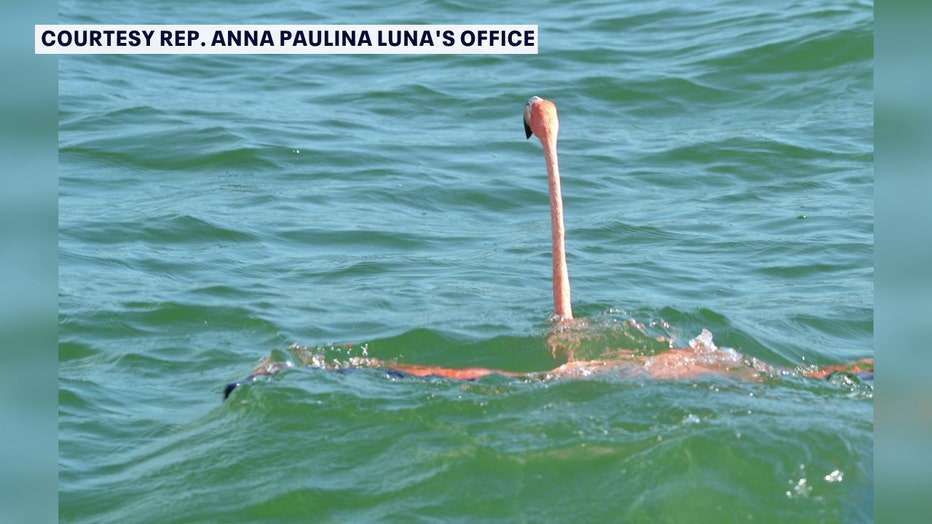 "It's hard to tell just looking at flamingos. It's usually the males are a bit larger than the females, but if you don't have two side by side, it can be kind of hard to say," she said.
"Our plan, hopefully by the end of this week is to rejoin this flamingo with one of the flocks in our area," Edwards said. "If for some reason the ones aren't local anymore, we will drive, you know, either to our south where there are other flamingos just to give them the best possible chance. They are a very social species, so the best possible chance to reintegrate and get where they need to go will be with others."
Peaches is one of several flamingos spotted across the Tampa Bay area, she said. She believes the birds came from the Yucatán Peninsula and were flying to Cuba to start their breeding season when they got swept up in Hurricane Idalia.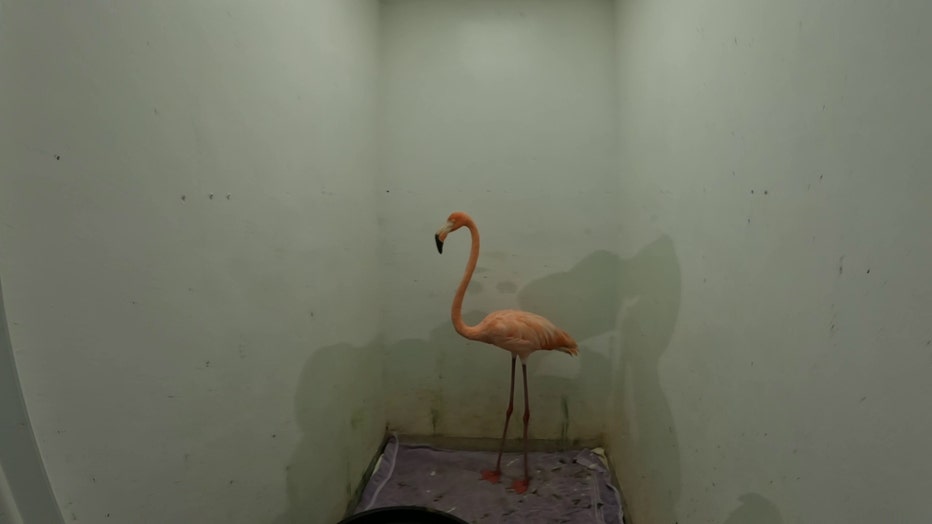 "It's unclear how long they're going to be in our area. It could be quite a few months. It could be, you know, the next day they could decide they want to turn around and go home. So, really unsure at this point," Edwards said.
Edwards said that depends on if they can find food, things like small crustaceans and algae, and on how nice we are to them. 
"It's a really unique opportunity for all of us. It's the first time that I've seen wild flamingos personally. We just need to respect their space. They're not used to humans kind of congregating around them, trying to get that best picture. You want to enjoy them from a distance. Get your telephoto lens. Get your zoom on your camera," Edwards said. "It's a really great opportunity, but we need to respect their space and understand that they went through a lot. They got swept up in a storm and ended all the way up in Florida. So, they need to rest up and we need to give them that time to rest."
She said they're also working with local researchers to keep an eye on flamingo flocks in the area.