Driver who crashed into Fort Meade legislator's office was high, deputies say
FORT MEADE, Fla. - At 8 a.m. Tuesday, on the day constituents make appointments to discuss issues and causes with State Representative Melony Bell at her office on Broadway Avenue in Fort Meade, a city worker veered off the road and through the front door of Bell's office.
Polk County detectives say the driver, 21-year-old Waylon Skinner, admitted to being on drugs at the time of the crash.
Kara Lucas told FOX 13 News she would normally have been in the office but she was running behind because she was giving her babysitter last-minute instructions.
"Then when I left, I was already late, so what the heck? I am just gonna go ahead and stop for coffee. Had I not gotten the coffee, I would have been entering the door," Lucas said.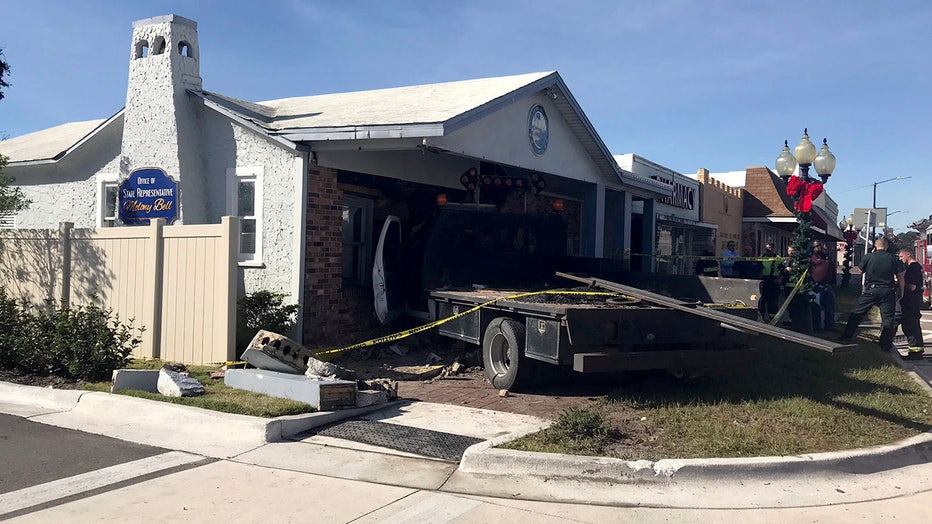 When Lucas arrived and saw the mess, she immediately called the boss.
"She is screaming in the phone, 'You're not gonna believe what just happened. There is a truck that went through our office,'" Bell told FOX 13 over the phone.
Investigators released surveillance video from a nearby gas station of the truck drifting off the road, scraping the trailer of another truck before smashing into the building.
Skinner, a city worker driving a city vehicle, does not have a history of bad driving, according to his boss, City Manager Danielle Judd. Deputies say Skinner told them he was on K2, synthetic marijuana.
The city manager says, at this point, Skinner still has his job.
"All in all, it's going to be a better Thanksgiving because we have something to be thankful for," staffer Ann Bell said.