Florida medical students fear lack of training under 6-week abortion ban, seek schooling in other states
TALLAHASSEE, Fla. - Brittany Perry is a medical student in Orlando, Florida. Her goal is to become an obstetrician-gynecologist one day, but to get the full training she needs, she says she will have to leave the Sunshine State. 
"I don't feel like I'm able to do my job and fulfill the oath that I've taken as a future physician," Perry said. 
Perry isn't alone. Medical student Erin Duffy says she too is looking into residency training in a state with fewer restrictions on women's health care.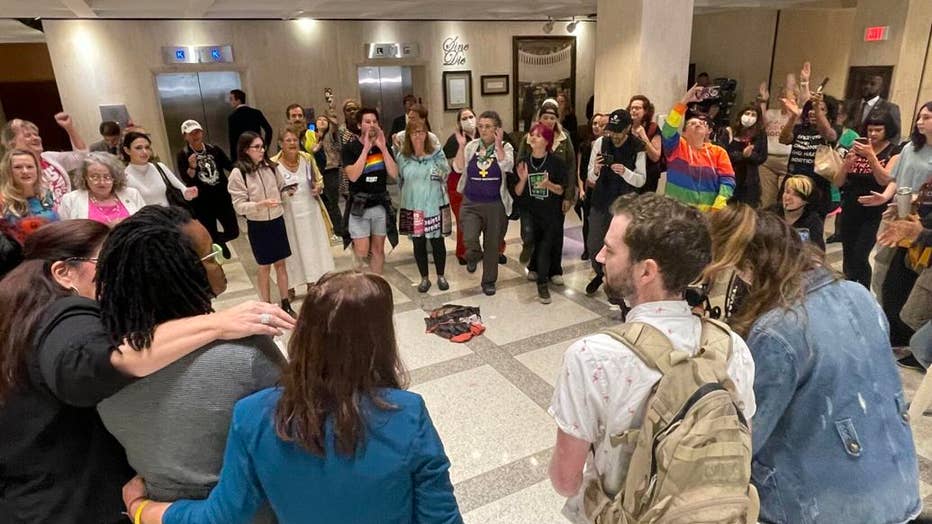 Abortion rights supporters protested a bill that would prevent abortions after six weeks of pregnancy. (Tom Urban, News Service of Florida)
"I know myself and a lot of physicians and future OB-GYNs are thinking of leaving the state to get proper, comprehensive training and be able to practice as one should," said Duffy.
Professors and medical students alike worry that Florida is narrowing options for health care for even more than patients.
"With the abortion law changes, there are many students who have explicitly told me that they aren't considering staying in Florida," said Dr. Stephanie Ros with University of South Florida Health's maternal fetal medicine department.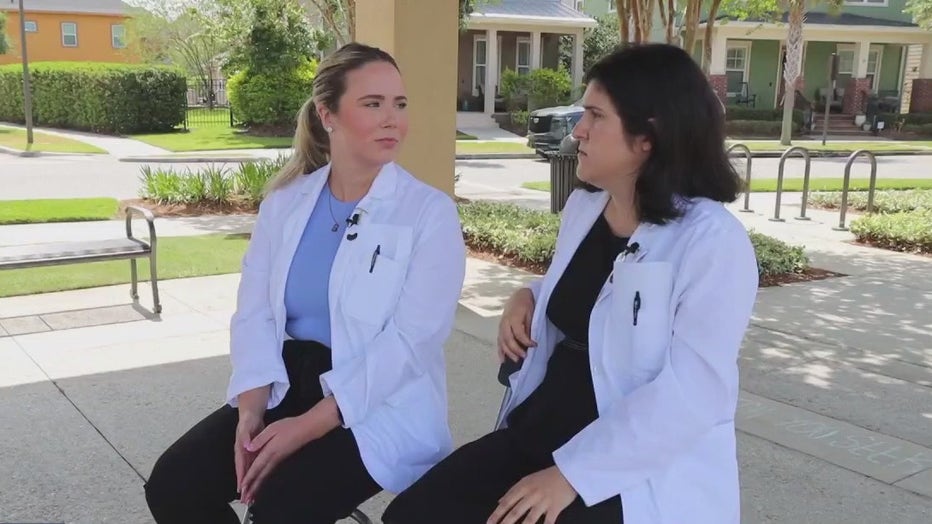 RELATED: Indiana doctor who provided abortion drugs to 10-year-old rape victim defends actions in court
Ros says some prospective students have even withdrawn their applications because of Florida's new laws. 
"During this last interview season, I had one excellent applicant who had top scores. She was brilliant and very interested in coming back to Florida. Then during the interview, she said, 'You know, I heard about the six-week ban that's starting to go through the Florida Senate and unfortunately, I'm going to withdraw my application.'"
Last year, Florida lawmakers made their first move to reduce the time in which most women are allowed to terminate a pregnancy, from 23 weeks to 15. 
On Thursday, the Florida legislature passed even tighter restrictions on access to abortion. A bill to restrict nearly all abortions after six weeks that Governor Ron DeSantis signed. 
READ: Despite lethal diagnoses, Florida abortion law blocks families from termination
Perry says the restrictions will mean she won't have the opportunity to learn the full spectrum of her chosen specialty. 
"I think I owe it to myself and my family and my future patients to get the best training possible," Perry said. "And that's not going to be possible in a state that limits medical first-line care training."
As part of their training, aspiring doctors spend years working in hospitals and medical clinics where they learn every aspect of their specialty firsthand. According to Dr. Ros, residency programs in Florida are trying to figure out how they can educate future doctors under the new restrictions.
READ: St. Petersburg City Council votes 'no' on giving money to abortion care fund
"We're going to have a six-week ban potentially soon, and in states like Texas, those residents are graduating without real-world experience in termination of pregnancy, which has some ramifications downstream for patients who experience miscarriage and are hemorrhaging," Dr. Ros explained.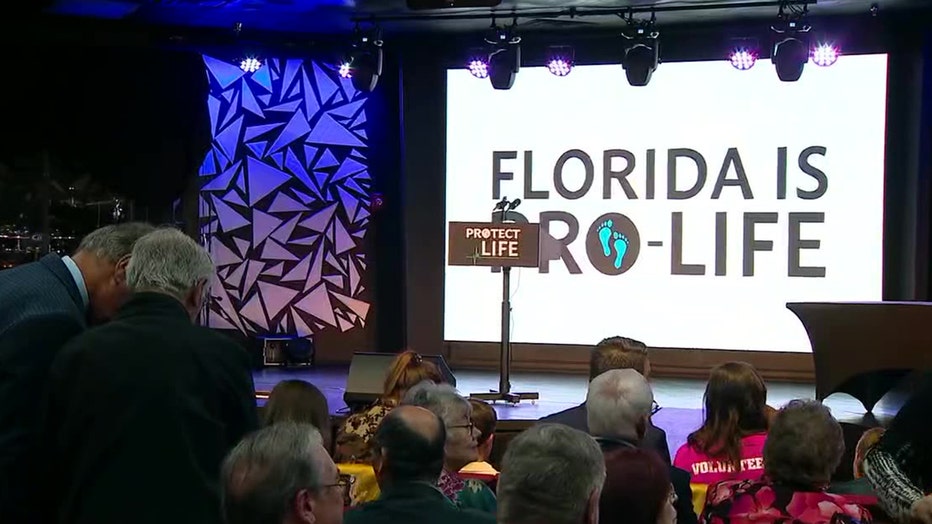 The backdrop of the stage inside the Florida church, Nacion de Fe, before Gov. Ron DeSantis signed the 15-week abortion bill into law. (FOX 13 / File)
"It's the same surgical technique that you would use for a patient who came seeking an abortion. Without having that surgery experience, you're now graduating year upon year of resident who's less equipped to handle some of these life-threatening emergencies that happen when someone has a spontaneous miscarriage."
The new bill bans abortions after six weeks of pregnancy. It allows for termination up until 15 weeks of pregnancy in cases of rape, incest, or human trafficking, but requires women to present documentation like restraining orders or police reports, to prove they were victims.
Last year's 15-week law did not include exceptions for pregnancies caused by rape or incest, but did provide exceptions in cases of "fatal fetal abnormalities" or when the mother's life is at risk.
Doctors say those aren't actual medical terms, and the potential for multiple interpretations are too great for medical professionals to risk their careers. Procedures that have long been considered essential components of women's care by the American College of Obstetricians and Gynecologists now require doctors to consult with lawyers in order to perform.
"When what you're risking is legal consequences, including potential jail time, nobody wants to be on the wrong side of that," said Ros. "It's hard to know how to interpret the way that the laws define a lethal fetal condition, for example, because it leaves a lot of room for interpretation."
Brittany Perry isn't a doctor yet, but she's already considering those difficult conversations with her future patients.
"I can't look at a patient and say, 'I'm sorry. I can't provide you evidence-based medical care because of legal reasons. To me, that goes beyond a moral boundary, saying that I literally cannot help you," she said.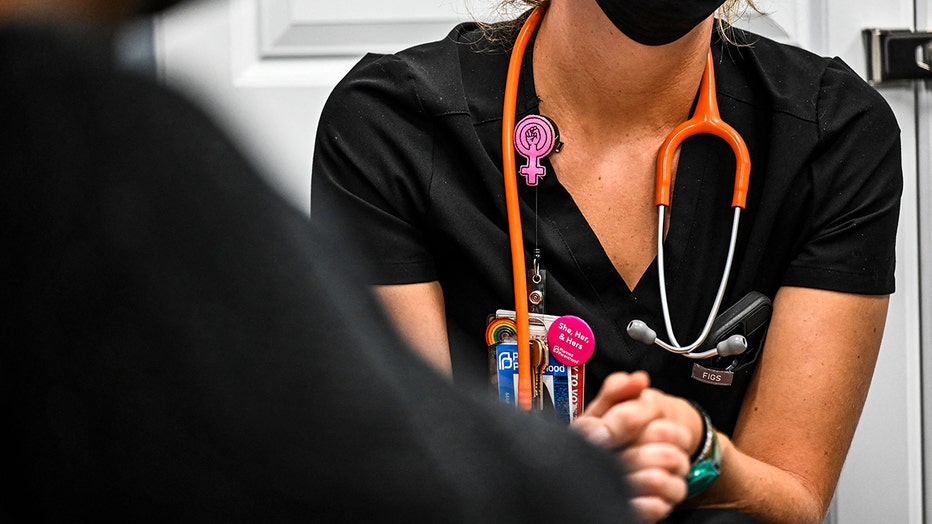 A woman, who chose to remain anonymous, has her vitals checked before receiving an abortion at a Planned Parenthood Abortion Clinic in Jacksonville, Florida on July 20, 2022. - Planned Parenthood clinics in Florida have opened their doors on weekends
As lawmakers tighten restrictions, medical professionals worry OB-GYNs will move to other states, leaving patients with even fewer care options. 
Florida, like many parts of the country, already has a shortage of OB-GYNs. Women in some rural parts of the state drive hours to receive maternal, delivery, and gynecological care. 
Dr. Ros expects the new legislation will only exacerbate the problem. 
"I really worry for the health of women. Abortion thoughts aside, women who have a need for that type of procedure are going to be in a little bit of trouble if their doctor doesn't know what they're doing because they just haven't had the experience or training," Dr. Ros said. "Hemorrhage is still the number one killer of obstetric patients, hands down. That can start at any gestational age and if you don't know how to manage things quickly, efficiently, and correctly, you're putting your patients in danger."
Perry and dozens of fellow medical students and residents recently traveled to Tallahassee to ask lawmakers to vote against the ban. They hoped the voices of the future of medicine would sway their votes. 
But it wasn't enough.
"I feel like medicine is about innovation and moving forward. And right now, it feels like this state is going backward. So, it's hard to imagine a future in medicine here, but you never know," said Duffy.