Crist defeats Fried to win Florida's Democratic primary for governor
LAKE MARY, Fla. - U.S. Rep. Charlie Crist won the Democratic nomination for governor in Florida on Tuesday, putting him in a position to challenge Gov. Ron DeSantis this fall in a campaign that the Republican incumbent is eyeing as the first step toward a potential White House run.
Crist defeated Nikki Fried, the state agriculture commissioner. She staked out a more progressive campaign and was particularly vocal in defending abortion and LGBTQ rights. The 44-year-old hoped to compete to become Florida's first female governor. In a sign of the party's meager standing in Florida, she's currently the only Democrat holding statewide office.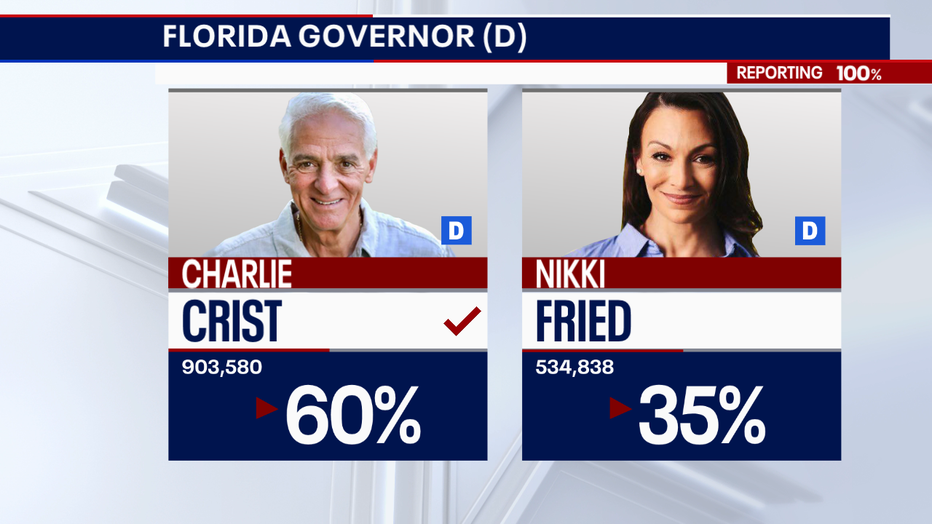 In selecting Crist in the race for governor, Florida Democrats sided with a candidate backed by many in the party's establishment who viewed him as the safest choice. The 66-year-old has already served one term as governor, running as a Republican at the time before gravitating toward Democrats. His moderate stances could appeal to voters in Florida's teeming suburbs as Democrats seek to reverse a losing pattern in a state that was once seen as a perennial political battleground.
But the race ultimately centered on the political future of DeSantis, who emerged from a narrow victory four years ago to become one of the most prominent figures in GOP politics. His hands-off approach to the pandemic and eagerness to lean into divides over race, gender and LGBTQ rights have resonated with many Republican voters who see DeSantis as a natural heir to former President Donald Trump.
DeSantis' reelection effort is widely assumed to be a precursor to a presidential run in 2024, adding to a sense of urgency among Democrats to blunt his rise now.