Brainerd HS administration was 'unaware' of 'behead' Trump yearbook quote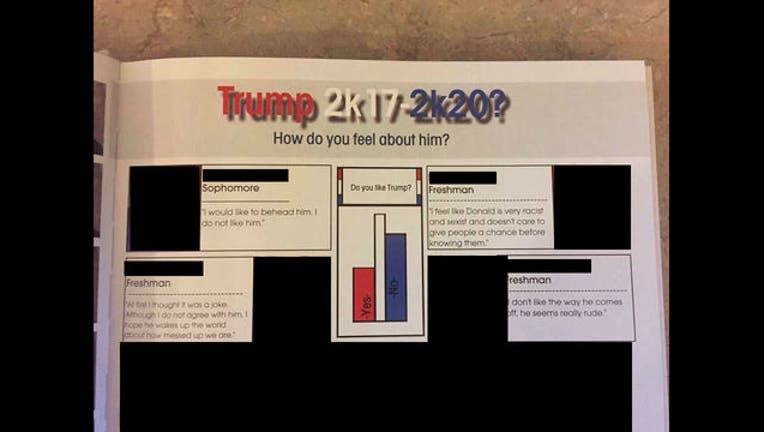 article
BRAINERD, Minn. (KMSP) - Administrators at Brainerd High School are investigating a quote that was published in the yearbook, attributed to a sophomore student who said she "would like to behead" President Donald Trump. The quote was published on a page titled, "Trump 2k17-2k20? How do you feel about him?"
"I would like to behead him. I do not like him," the quote said.
The student reached out to Fox 9, saying the quote was taken out of context. She says when she was asked the question she didn't know it was for the yearbook and she told her peer she didn't like Trump and then made a beheading joke. She found out about the controversy on Friday when she saw a picture of the yearbook page shared on Facebook.
"I didn't know it had a chance to be in the yearbook," she said. "They took what I said and condensed it. I don't think [the yearbook member] meant any harm and I don't blame anyone."
She says she has received a lot of backlash on social media, mostly from adults and she is afraid of possible retaliation.
Brainerd Public Schools issued the a statement Friday that said the administration was "previously unaware of the students' statements in the yearbook."
Statement from Brainerd Public Schools
"The administration of Brainerd Public Schools has been notified that the 2016-2017 high school yearbook contains highly disrespectful statements from students about political figures, including the President of the United States. The Administration was previously unaware of the students' statements in the yearbook. The district does not support or otherwise endorse any disrespectful or politically based statements that are in the yearbook and apologizes for the statements that were included. While the District supports free speech, the disrespectful statements in the yearbook are contrary to the basic educational mission of the district and should not have been included in a school sponsored publication. The administration is currently investigating how this occurred and is reviewing the district's processes to ensure that this type of unacceptable situation does not occur in the future. The administration deeply regrets that the existing processes for reviewing the yearbook did not result in the removal of the inappropriate statements."