Arkansas law requiring parental consent for minors to create social media accounts temporarily blocked
A new law in Arkansas requiring parental consent for minors creating new social media accounts was temporarily blocked by a federal judge on Thursday, preventing the state from becoming the first to apply the restriction one day before it was set to take effect.
U.S. District Judge Timothy Brooks granted a preliminary injunction requested by NetChoice, a tech industry trade group made up of TikTok, Meta, and X, formerly Twitter, against the Social Media Safety Act (SB396). Gov. Sarah Huckabee Sanders signed the measure into law in April, and it was scheduled to begin on Friday, Sept. 1.
NetChoice argued that users' constitutional rights are violated by the requirement, adding that certain types of speech would be restricted.
"We're pleased the court sided with the First Amendment and stopped Arkansas' unconstitutional law from censoring free speech online and undermining the privacy of Arkansans, their families and their businesses as our case proceeds," Chris Marchese, director of the NetChoice Litigation Center, said in a statement. "We look forward to seeing the law struck down permanently."
TECH GROUP SUES AK OVER NEW LAW THAT REQUIRES PARENTAL PERMISSION FOR MINORS TO CREATE SOCIAL MEDIA ACCOUNTS
The now-blocked law included a $2,500 fine per violation for social media companies that knowingly breach the age verification requirement, and prohibits social media companies and third-party vendors from keeping users' identifying information after accessing the social media site.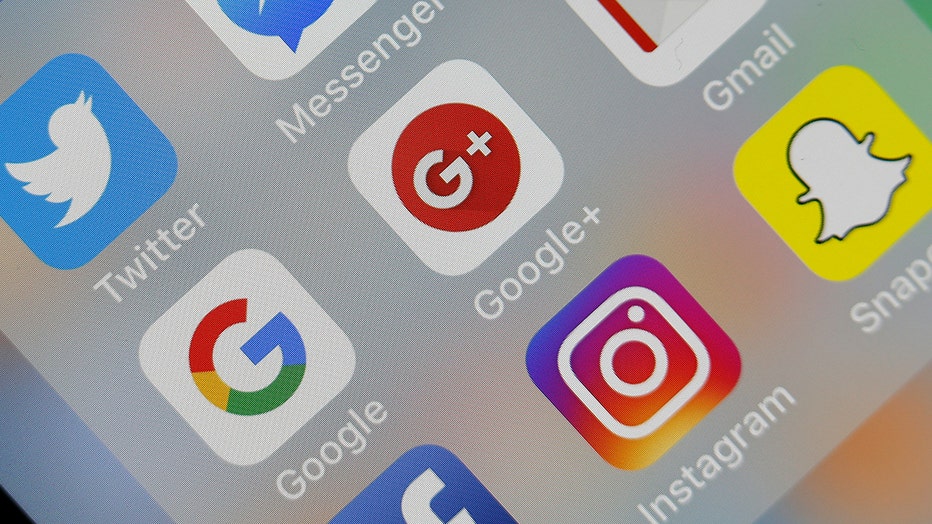 In this photo illustration, the social medias applications logo are displayed on the screen of a cell phone on October 08, 2018. (Credit: Chesnot/Getty Images)
The restrictions were only to be imposed on social media platforms generating more than $100 million in annual revenue. It also left out certain platforms like LinkedIn, Google and YouTube.
In a 50-page ruling, Brooks questioned the effectiveness of the restrictions and said NetChoice will likely succeed in its challenge against the law's constitutionality, according to The Associated Press.
"Age-gating social media platforms for adults and minors does not appear to be an effective approach when, in reality, it is the content on particular platforms that is driving the state's true concerns," wrote Brooks.
The ruling also stated that the exemptions nullified the state's reasoning for the restrictions and the law did not adequately define the platforms that the restrictions would apply to.
MINORS NEED PARENTS' PERMISSION TO JOIN SOCIAL MEDIA UNDER LAW PROPOSED BY GEORGIA GOP
U.S. Surgeon General Vivek Murthy in May called on tech companies to take "immediate action to protect kids now" after warning there is not enough evidence to prove social media is safe for children and teenagers. 
Sanders said one of the reasons she pushed for the legislation is because of social media's effect on teens' mental health – something platforms have been scrutinized for in recent years.
Alex Henning, spokeswoman for Sanders, posted the following statement on X Thursday night on behalf of the governor:
"Big Tech companies put our kids' lives at risk. They push an addictive product that is shown to increase depression, loneliness, and anxiety and puts our kids in human traffickers' crosshairs," she said. "Today's court decision delaying this needed protection is disappointing but I'm confident the Attorney General will vigorously defend the law and protect our children."
Republican Attorney General Tim Griffin echoed Sanders' sentiments and said in a statement that he is disappointed with Brooks' decision, but "will continue to vigorously defend the law and protect our children, an important interest recognized in the federal judge's order today."
The Arkansas law is similar to a first-of-its-kind restriction signed into law in Utah earlier this year that will go into effect in March 2024. Laws addressing minors' social media use have also been enacted in Texas and Louisiana, but aren't scheduled to take effect until next year. 
RELATED: Fed-up parents in Senate push for ban of social media for kids
Georgia Republicans plan to push for a similar measure next year, and a bipartisan proposal suggesting age restrictions for social media has also been introduced in Congress.
The Associated Press contributed to this report. Find more updates on this story at FOXNews.com.