14-year-old student arrested after stabbing 2 classmates at Countryside High School: Clearwater police
CLEARWATER, Fla. - A 14-year-old suspect was arrested on two counts of attempted first-degree murder in a stabbing that hospitalized two students at Countryside High School in Clearwater Thursday morning. 
According to the Clearwater Police Department, the two male students, a 9th and 11th grader, were stabbed at around 11:25 a.m. in the main concourse of the school. It happened after the school's first lunch, according to Clearwater police officials. 
Two minutes after the stabbing report came in, school resource officers had the suspect, the 14-year-old student in ninth grade, at gunpoint and took him into custody. 
READ: Missing Hernando couple found deceased in crashed car, deputies say
Emergency medical officials responded and took the two victims to the hospital with serious injuries. Authorities said both students that were stabbed were stabilized this afternoon. 
One of the students has since been released from the hospital after being treated for his stab wounds, Clear water police said. The other student is still in the hospital.
The parents of both victims were notified immediately after they were identified, CPD officials said. 
Investigators said around 1,500 students were inside the school when the incident happened. The school was placed on a lockdown while officers cleared the school. Students were taken through the reunification process at around 1:25 p.m.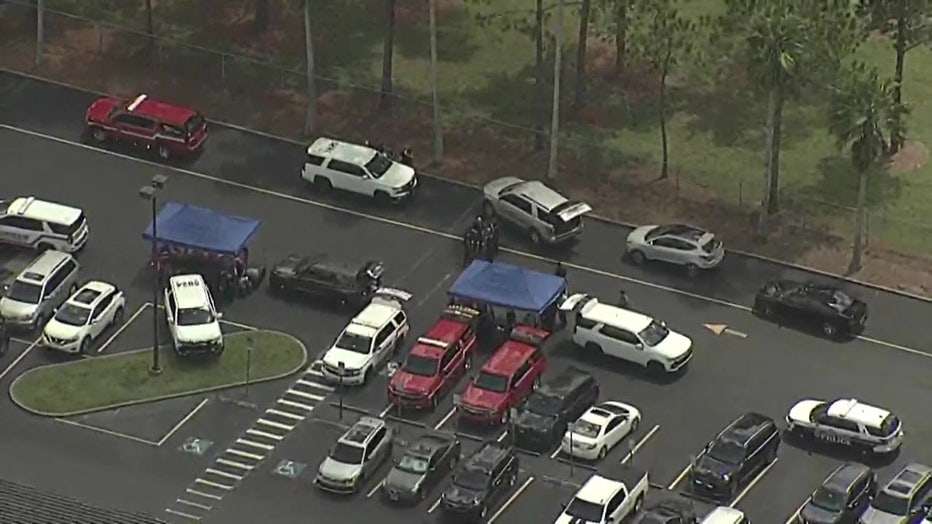 SKYFox aerial images of Countryside High School where two students were stabbed on Thursday.
The Pinellas County schools' superintendent said during a Thursday afternoon news conference that after school activities were canceled for the day, but school will resume Friday. 
MORE: Armed robbery suspect taken into custody after gunfight with St. Pete police
Detectives are actively investigating the stabbing and expected to be at the school for several hours. They said the student suspect has no disciplinary history at the school, and his motive and relationship to the victims are unknown at this time. 
Clearwater police have not said what charges the student will face.