Florida Gators beat South Carolina 38-24 in season opener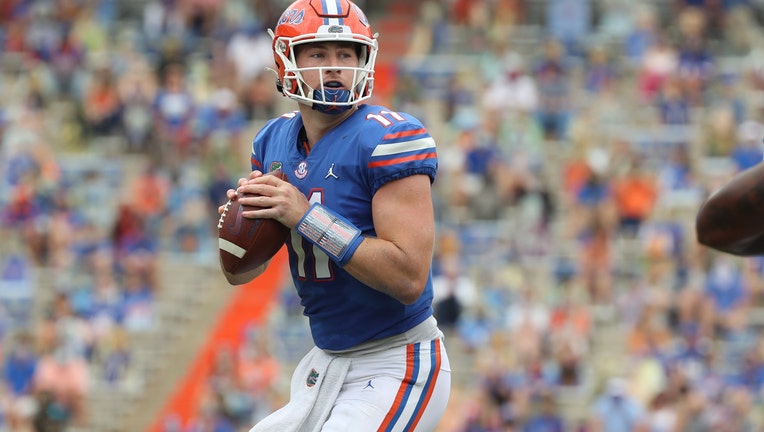 article
GAINESVILLE, Fla. - No. 3 Florida was nearly flawless on offense in its season opener, a 51-point, 642-yard barrage that set a school record. Two turnovers a week later made the Gators look vulnerable.
Kyle Trask and Kyle Pitts hooked up for two more touchdowns, continuing their hot start and leading Florida to a 38-24 victory over South Carolina on Saturday.
It wasn't as clean as the Gators (2-0) had hoped, especially considering they were at home in the Swamp, but they'll take it and move on.
"We expect to score every single time we have the ball and we should have scored every time we had the ball," Trask said.
Trask completed 21 of 29 passes for 268 yards and four touchdowns. But his first-half fumble and fourth-quarter interception kept the Gamecocks (0-2) in it.
Pitts finished with four receptions for 57 yards, commanding extra attention and beating South Carolina's top defenders. He nearly made a one-handed catch in the third quarter, but the ball slipped off his left fingertips.
The K2K connection now has six touchdowns in two games, one more than it notched in 2019. The next performance comes at Kyle Field, where Texas A&M will try to become the first Southeastern Conference opponent to slow down Trask and Pitts in 2020.
Some thought former Florida coach Will Muschamp and his Gamecocks would find a way. But the Gators had their way with South Carolina for three quarters in front of 15,120 socially distant fans in the Swamp.
Florida managed just 21 yards in the final frame, which gave Muschamp & Co. a chance. Kevin Harris' TD catch made it a 14-point game midway through the fourth, but Gamecocks showed little urgency in trying to get it closer.
They orchestrated an 18-play, 74-yard drive that took 7 minutes, 23 seconds off the clock. It ended when Collin Hill threw behind wide-open Shi Smith in the end zone on a fourth-down play from the 4.
"It wasn't a deliberate pace," Muschamp insisted. "We were taking what they were giving us. We still had a minute to play in the game with two timeouts and an onside kick. We could go score and win the game."
The Gators finished with 348 yards and punted twice, hardly what coach Dan Mullen was looking for in Week 2.
But Kadarius Toney turned in his best performance in four years. He had a 57-yard touchdown catch in which he somehow escaped three defenders, turning a 7-yard reception into Florida's biggest gain.
He ended with six receptions for 86 yards and a touchdown to go along with 42 yards on two punt returns.
"We're not a team that's just force-feeding the ball to one guy," Mullen said. "We're going to spread the ball around to a bunch of different players."
The Associated Press contributed to this report.