Human bones found in vehicle belonging to man missing 16 years
PALM HARBOR, Fla. - The family of a man who had been missing for nearly 17 years now has some closure.
Volunteer sonar search and recovery teams found a Mitsubishi SUV in a retention pond in the 200 block of Old Oak Circle in Palm Harbor late Thursday night. The license plate matched Robert Helphrey's vehicle. He disappeared in 2006.
Deputies towed the vehicle out of the pond Friday morning. The Pinellas County Sheriff's Office confirmed human bones were found inside the vehicle, but said the Medical Examiner's Office is working to determine the identification of the remains.
READ: Local realtor found dead in St. Pete home, sister arrested for second-degree murder
Helphrey's family and friends said the vehicle belonged to the man they want to be remembered as a great father, son, and veteran who served in Desert Storm.
Deputies said Helphrey was last seen leaving Peggy O'Neill's Bar in Palm Harbor around midnight on May 22, 2006. The bar is about a six-minute drive from where pond where the vehicle was located. He planned to meet a friend after leaving, but never arrived, deputies said.
Peggy O'Neill's is also right across the street from the restaurant the Thirsty Marlin where Helphrey was the general manager. His childhood friend and the owner of the Thirsty Marlin, Brian St. Arnold, said Helphrey worked the day he went missing. He said Friday's news quiets the rumors surrounding Helphrey's disappearance.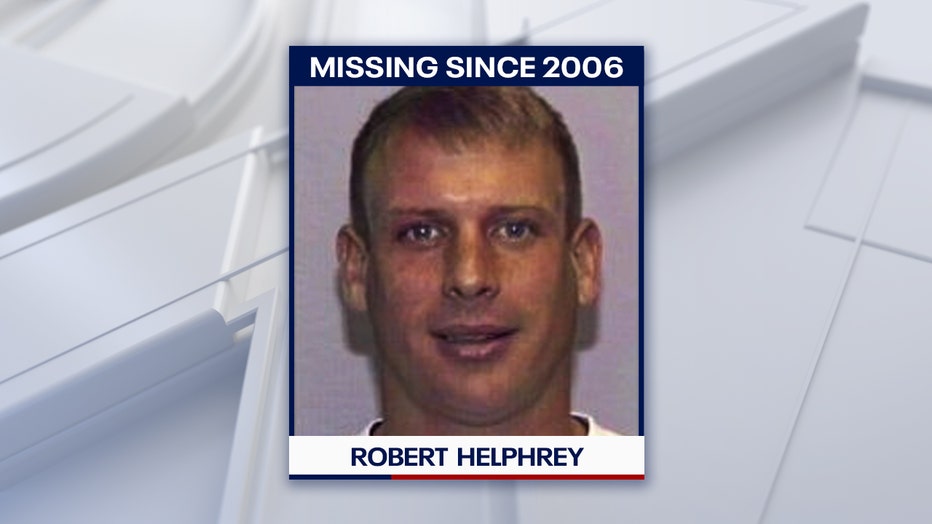 "At 6:18 this morning, the home phone rings and no one ever calls the home phone anymore," St. Arnold said. "My wife goes to the bathroom, answers the phone, and I hear her say, 'Oh my God. I can't believe this.' And I walk to her and say, 'What has happened,'" he said.
MORE: Mother of teen killed in hit-and-run crash pleads for answers
"And they tell me, 'We found Bob,' and I said, 'Well, dear God.' After all these years, you know, we're glad that we finally got some closure to what happened to that day," St. Arnold said.
St. Arnold said he thinks Helphrey may have taken a wrong turn after working a long shift that night in 2006 and wound up in the water. 
"It's just amazing that nobody saw him that night. No one heard anything. He didn't yell for help," St. Arnold said.
"We'll always mourn the death of Bob. He was a great guy and a loyal friend, but one of the things that does put to rest is all the conspiratorial theories of people saying, 'hey, we think this happened or we think that happened,'" St. Arnold said.
A team member with Sunshine State Sonar called St. Arnold Friday morning.
Helphrey's SUV believed to be in retention pond since 2006
PREVIOUS: Police: 18-year-old suspect arrested in shooting at Sundial in St. Pete
"There's been lots of mysteries over the years. So many people have asked us, 'Have you heard what happened to Bob? Did anybody find …' and about a year ago this fella came to us and said that he was going to be looking with sonar equipment and trying to find Bob and gave an interview with us, called me back a couple of days later and said, 'I will find him. Give me some time.' He did," St. Arnold said.
Sunshine State Sonar and Recon Dive Recovery are the two volunteer groups that found the vehicle. They said they go through national missing persons databases looking for people who went missing with possibly with their cars across Florida. 
Ken Fleming with Recon Dive Recovery said they use underwater sonar equipment, magnets, and other tools.
"We start looking at the person's work address, home address, patterns of life where they like to hang out, last cell phone pings," Fleming said. "That's very, very helpful," he said.
READ: Men accused in fatal Clearwater tire iron attack arrested in second beating in St. Pete, investigators say
Fleming said they'd been working on Helphrey's case for about a year and have checked hundreds of bodies of water. On those searches, they've found multiple vehicles, he said. The team also found the remains of a missing teacher in a vehicle in Port Orange last week, Fleming said.
Fleming said Thursday night, they found Helphrey's vehicle.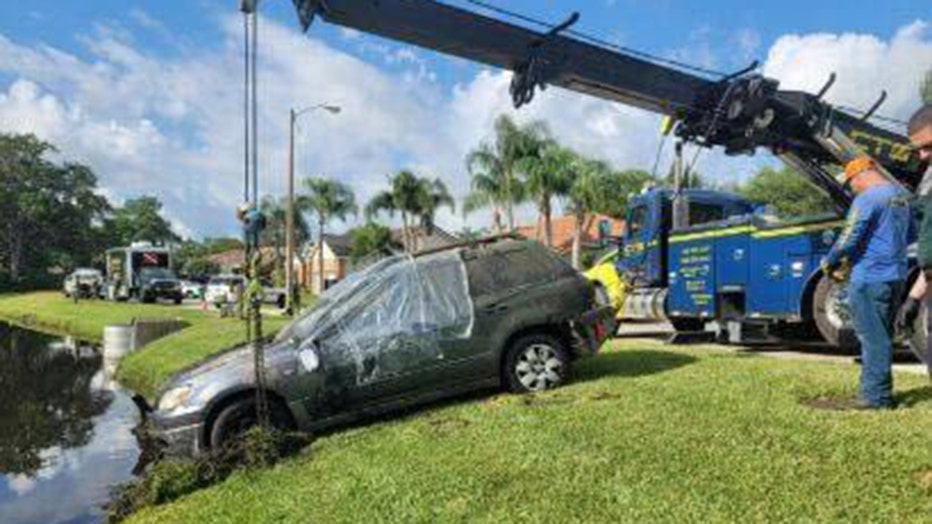 Vehicle believed to belong to Helphrey pulled from Palm Harbor retention pond
"I found the windows closed on the passenger side and a door handle and the color of the vehicle and confirmed it was a vehicle," he said. 
Fleming said there was zero visibility underwater.
"As I breathe, you can see the silt moving and every letter of the license plate had to be felt by hand," Fleming said.
MORE: 'Hack' of Oldsmar water plant reported two years ago could have been employee error
"We surfaced, and I said, 'Gentlemen, we have a positive ID. We have Robert Helphrey," Fleming said.
"We always think what this does to the family and we know that they're now planning a funeral that they weren't planning on. And so, we think about the impact that makes. We try to remain as respectful as possible," Fleming said. "There's never closure, but there are answers," he said.
"When the family member comes up and gives you a hug, and it's bittersweet, you know, they're glad you're there. They wish you weren't," Fleming said.
The sheriff's office said the Medical Examiner's Office is also working to identify the cause of death. The case is currently an open and active investigation.