Orlando weather: Stormy weekend in store for much of Central Florida
ORLANDO, Fla. - Because there is the potential for strong to severe storms across Central Florida on both Saturday and Sunday, our meteorologists are declaring these next two days a FOX 35 Storm Alert Weekend.  Moisture and energy continue to flow in from the Gulf of Mexico and will bring the threat of heavy rain, damaging winds, frequent lightning, and hail. 
Tonight's low: 69 degrees | Tomorrow's high: 86 degrees
Main weather concerns: Orlando and Central Florida will see showers begin to taper off on Friday into Saturday but the opportunity for severe weather returns this weekend.  Saturday morning will start off sunny but after 2 p.m., moisture will move into the region with a potential for storms into the evening.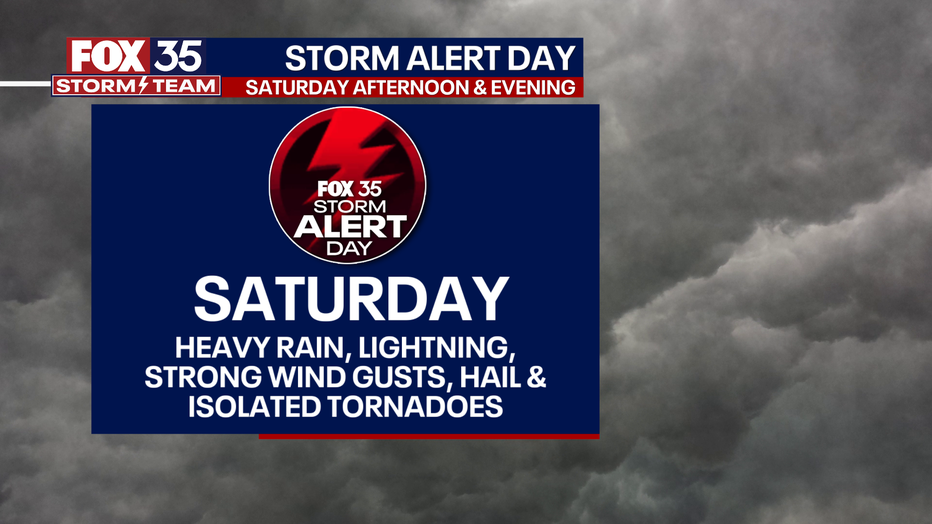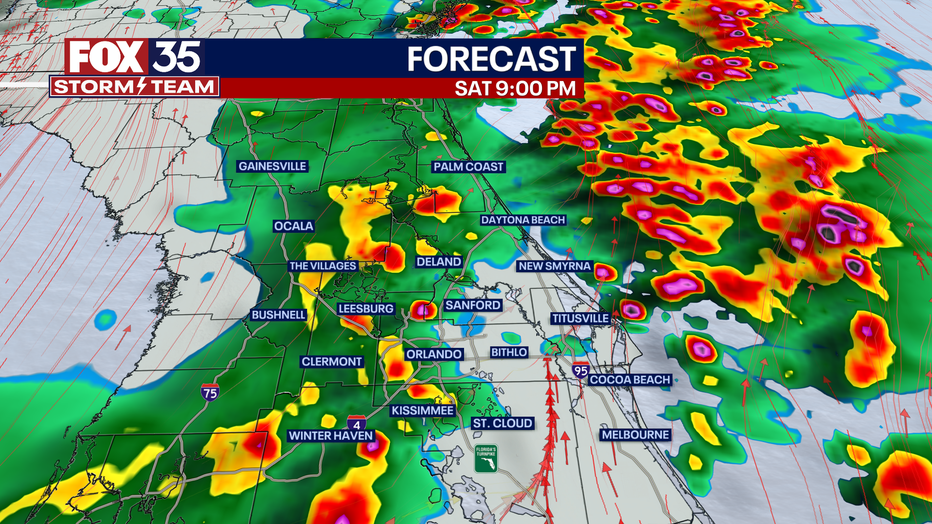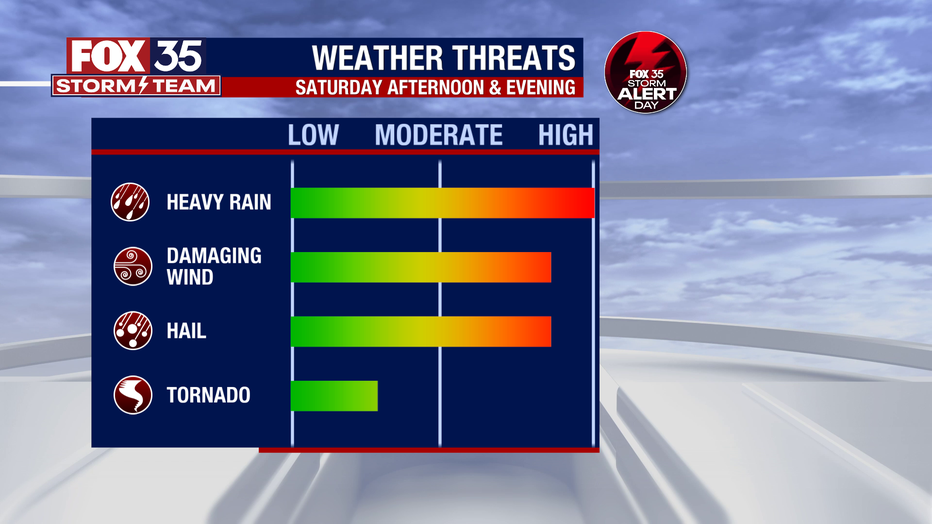 Download the FOX 35 Storm Team Weather App to track storms with the interactive live radar and receive any watches or warnings directly to your cell phone.
Help tell the weather story: Send your weather photos and videos to FOX35Tips@FOX.com. Your safety is most important. Please only record photos or videos if and when safe.
BEACHES: Stormy weather is expected at the beaches. Showers and storms will spark up after 2 p.m. with chances increasing by the hour. Highs hit the low-80s seaside with the chance for gusty winds, hail, heavy rain, and cloud-to-ground lightning. Stay weather aware and keep your eyes on the sky.
THEME PARKS: Another humid day at the theme parks on Saturday. Afternoon highs will reach 84 degrees. Any showers and thunderstorms will develop mainly after 2 p.m. 
OUTLOOK: Saturday and Sunday are FOX 35 Storm Alert Days. The threat of strong to severe storms will arrive in Central Florida after 2 p.m. 
The first round of storms will be focused on the east side of the state, likely along the east coast beaches around 5 p.m. These storms could bring heavy rain, frequent lightning, hail, damaging wind gusts and the chance for isolated tornadoes.
A second line of storms will move west to east across the state-- arriving in Gainesville, Ocala and Bushnell around 8 p.m., sweeping through the Orlando metro by 9-10 p.m. and eventually clearing to the south after 11 p.m. 
Future radar through the weekend:
As we mentioned, Sunday is also a FOX 35 Weather Impact Day. We will be waiting on the arrival of a clearing cold front that will finally bring dry air to Central Florida. 
The front is expected to move into the Big Bend of Florida in the early morning hours on Sunday. Showers and storms reach Gainesville, Ocala, and The Villages around sunrise, the Orlando metro by 10 a.m., and eventually push to our south by 2 p.m. 
The storms on Sunday will feature heavy rain at times, frequent cloud-to-ground lightning, the chance for isolated hail, and a brief tornado. Depend on The FOX 35 Storm Team this weekend remember to downland the FOX 35 Storm Team weather app to use the interactive radar and receive weather alerts right to your cell phone.