NTSB: Winter Haven mid-air plane collision occurred as student pilot was landing, per preliminary report
WINTER HAVEN, Fla. - A student pilot was trying to land a small plane at a Winter Haven airport when it collided with another small plane in early March, sending both crashing into a lake and killing four people, according to the NTSB's preliminary report released this week.
A Piper J-3 Cub seaplane and a Piper PA-28 Cherokee fixed-wing plane were both conducting instructional flights when they collided March 7 over Lake Hartridge near Winter Haven Regional Airport, the report stated. 
According to recorded radio transmissions, the student pilot in the PA-28 was performing landing maneuvers on a runway at the nearby airport. Four seconds after the PA-28 pilot's final transmission, the plane collided nearly straight on with the J-3 at about 575 feet above sea level, officials said.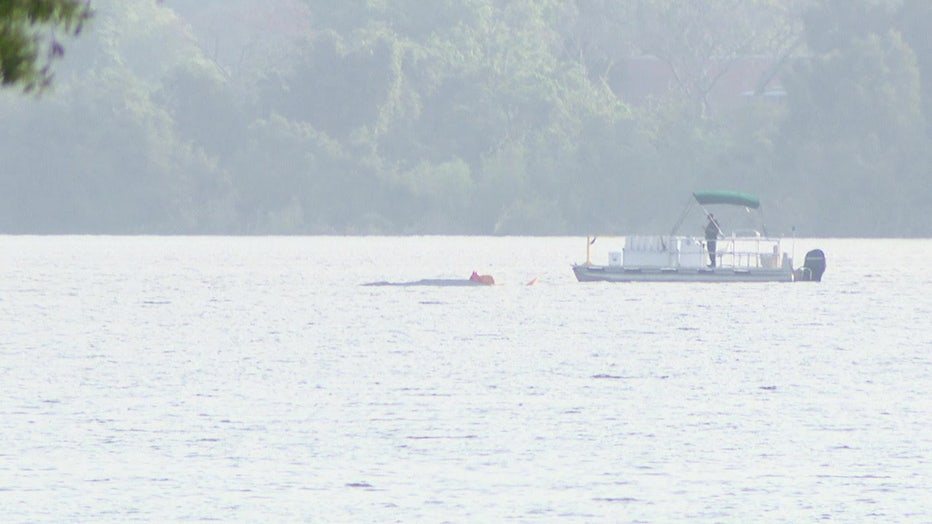 A boat near a partially submerged plane following crash. 
The J-3 had been returning to its base for a water landing on a nearby lake after a local flight, the report said. The seaplane was not equipped with a radio and was not self-announcing or able to receive transmissions on a common traffic advisory frequency, investigators said.
Read the full preliminary report here
In the days after the crash, NTSB investigators said it was unclear what abilities each plane had to see the other. Preliminary evidence shows neither plane had any kind of avoidance system or radar.
"All initial evidence indicates the Cherokee was self-announcing its location and its intention and the Cub was not," explained Lynn Spencer, an NTSB spokesperson. "This might indicate that the Cherokee was unaware of the Cub and that the Cub could not hear what the Cherokee was announcing. They may not have been aware of the Cherokee."
The Polk County Sheriff's Office previously said Faith Irene Bake, 24, a pilot/flight instructor with Sunrise Aviation, and Zachary Jean Mace, 19, a student at Polk State College, were aboard the fixed-wing plane, which was operated by Sunrise Aviation in Ormond Beach on behalf of Polk State College. Both were from Winter Haven.
RELATED: Winter Haven plane crash victims identified as loved ones pay tribute
Randall Elbert Crawford, 67, of Carlisle, Pennsylvania, and Louis C. Defazio, 78, of Fredericksburg, Texas, were aboard the seaplane, which was operated by Jack Brown's Seaplane Base, the sheriff's office said. The NTSB report didn't say who was flying that plane.
Rescue workers recovered all four bodies from the water. One plane was recovered the day after the crash, while the other was submerged 21 feet underwater. Officials managed to retrieve it two days after the mid-air collision. 
PREVIOUS: Second plane in deadly Winter Haven collision removed from Lake Hartridge
All major portions of both planes, except for the right wing and aileron of the PA-28, were recovered from the lake and held for further examination, officials said.
The NTSB's preliminary report doesn't list a cause for the crash or assign blame. The investigation will continue. NTSB officials will be looking at the bodies, the planes, and the environment as part of the investigation.
A full and final report could be completed in 12–18 months. NTSB investigators are asking any witnesses to contact them by heading to NTSB.gov or calling 1-844-373-9922.
The Associated Press contributed to this report