New Florida program gives critical workers down payment assistance, lower mortgage rates on first homes
CAPE CORAL, Fla. - Public servants and critical workers across Florida now have more resources to buy their first home thanks to a new program announced by Governor Ron DeSantis Monday.
The Florida Hometown Heroes Housing Program will give Floridians in more than 50 professions down payment assistance for their first homes. 
Law enforcement officers, firefighters, educators, healthcare professionals, childcare employees, and active military or veterans will be eligible for the $100 million program, which begins June 1. 
The program is administered by the Florida Housing and Finance Corporation (Florida Housing) and has the most inclusive eligibility of all Florida Housing down payment assistance programs, according to the governor's office.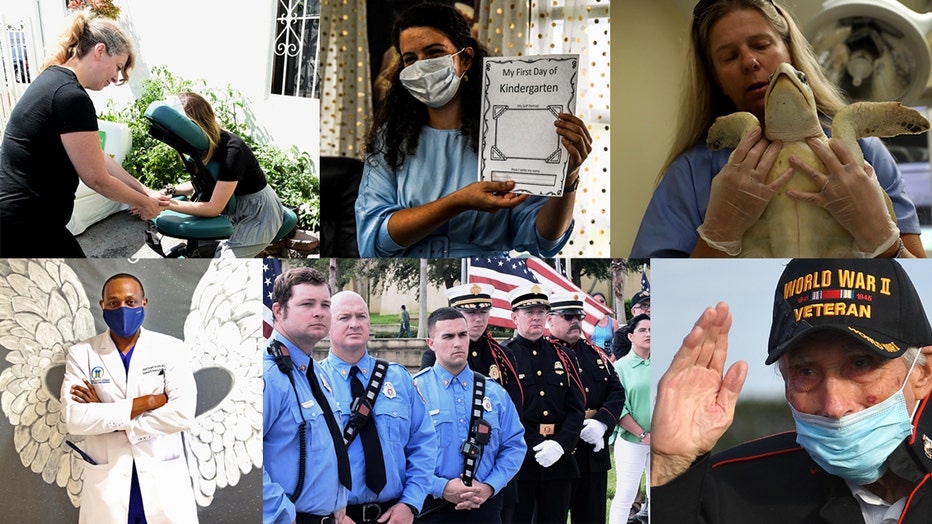 Essential workers in Florida have new resources to buy homes.
Eligible Floridians will be able to access lower than market rates on FHA, VA, RD, Fannie Mae or Freddie Mac first mortgage, reduced upfront fees, no origination points or discount points and down payment and closing cost assistance. Borrowers may also receive up to 5% of the first mortgage loan amount (maximum of $25,000) in down payment and closing cost assistance. For full details, visit www.floridahousing.org/hometownheroes.
According to the governor's office, homebuyers must connect with a participating loan officer, have a minimum credit score of 640, provide certification for one of the eligible occupations, and meet the income threshold for their county to participate in the program. 
View the full list of eligible workers available here. 
Sworn Law Enforcement Officer

Certified Correction Officer

Correctional Probation Officer

Juvenile Detention Officer

Juvenile Probation Officer

Firefighter

Certified Paramedic

Certified Emergency Medical Technician (EMT)

911 Public Safety Communicator

Classroom Teacher

Career Specialist (educator)

Librarian/Media Specialist

School Counselor

Social Worker

School Psychologist

Licensed Childcare Operator (Owner of Childcare Facility)

Childcare Instructor *(employed by a LICENSED childcare facility or REGISTERED or LICENSED home childcare provider)

Registered Nurse (RN)

Licensed Practical Nurse (LPN)

Certified Nursing Assistant (CAN)

Home Health Aide *(employed by a LICENSED home health agency)

Physician

Physician Assistant

Anesthesiologist

Certified Medical Assistant

Acupuncturist

Osteopathic Physician

Chiropractic Physician

Podiatric Physician

Pharmacist

Pharmacy Technician

Dentist

Dental Hygienist

Certified Nurse Midwife

Speech Language Pathologist or Audiologist

Speech-Language Pathology Assistant or Speech Language Audiologist Assistant

Nursing Home Administrator

Occupational Therapist

Occupational Therapist Assistant

Respiratory Therapist

Licensed Dietician or Nutritionist

Licensed Nutrition Counselor

Athletic Trainer

Prosthetist Orthotist

Prosthetist

Orthotic Fitter

Orthotic Fitter Assistant

Electrologist

Massage Therapist

Clinical Laboratory Personnel

Phlebotomist

Licensed Medical Physicist (X-Ray)

Certified Basic X-Ray Machine Operator

Certified Radiologic Technologist

Certified Radiology Assistant

Certified General Radiographer

Specialty Technologist

Optician

Hearing Aid Specialist

Physical Therapist

Physical Therapist Assistant

Psychologist

Clinical Social Worker

Marriage & Family Therapist

Mental Health Counselor

Veterinarian

Veterinarian Assistant or Technician

Active Military Personnel

Veterans