Halloween Horror Nights 2023: Your guide to ticket info, haunted houses, scare zones, rides
ORLANDO, Fla. - Prepare to scream! Halloween Horror Nights 2023 officially kicks off this weekend at Universal Orlando, and we're giving you a preview of what you can expect.
From haunted houses and scare zones to ticket prices and rides – let us be your guide as you plan your future night of terror. 
When is Halloween Horror Nights?
HHN is happening on select nights from Sept. 1 through Nov. 4, 2023, at Universal Studios Florida. The event runs from 6:30 p.m. to 2 a.m.
Halloween Horror Nights: How much are tickets?
A single-night ticket to HHN starts at $79.99 per person, plus tax. The ticket includes six months of the streaming service, Peacock, at no additional cost. 
You can purchase an express pass – which allows one to skip regular lines at all haunted houses and participating rides and attractions — for an additional price starting at $119.99 per person, plus tax.
Additional ticket options can be reviewed here.
Halloween Horror Nights: What are this year's haunted houses?
Guests can visit a total of 10 haunted houses at Halloween Horror Nights this year. 
The Exorcist: Believer: This haunted house is inspired by the new horror film that's set to hit theaters on October 13. Guests will be transported to Haiti, where a strange doll leads to the opening of a demonic portal, according to a press release. That leads to the disappearance of two 12-year-old girls, who are found three days later with no memory of what happened to them. Only an exorcism can save them – and everyone who comes into contact with them at the haunted house will be at risk of losing their soul.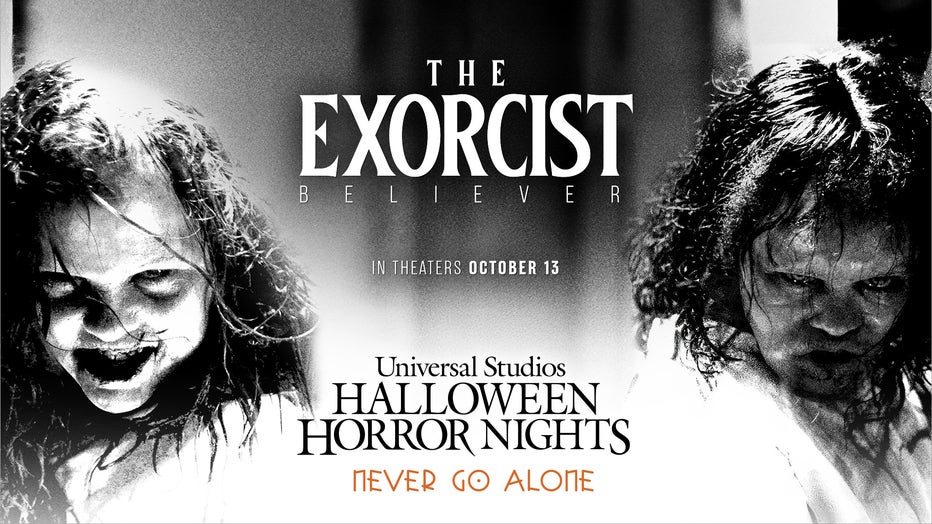 Photo: Universal Orlando Resort
Chucky: Ultimate Kill Count: This haunted house, inspired by the cult classic films, stars the killer doll in his own haunted house for the very first time. He plans, however, to turn that haunted house into a slaughterhouse by killing everone who enters, according to a press release.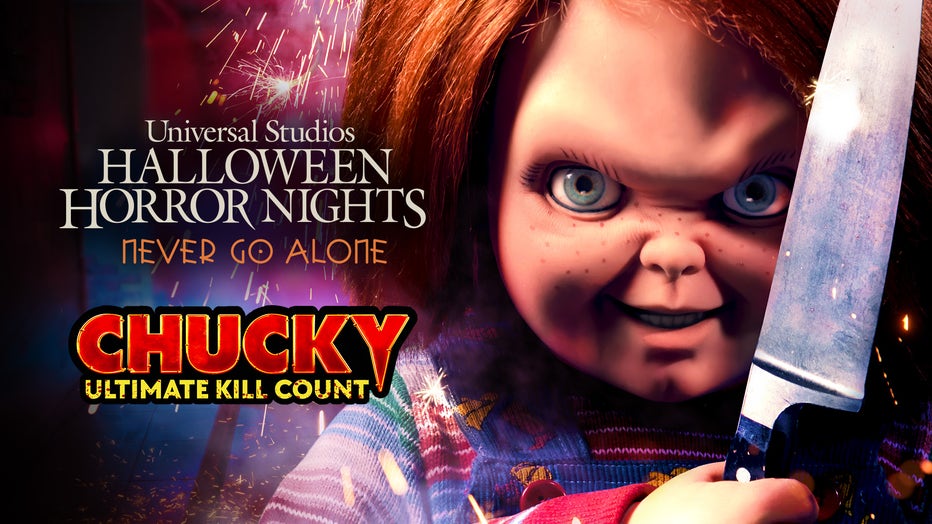 Photo: Universal Orlando Resort
Stranger Things 4: "Take on the scariest season of Stranger Things yet. Like Eleven, now's your chance to stop him once and for all as you have the ultimate showdown in Vecna's blood-red mindscape. Every ending has a beginning."
Universal Monsters: Unmasked: Guests can also visit the all-new haunted house inspired by Universal Monsters. They'll go down into Catacombs where they will be confronted by some of Universal's most notorious creatures, including The Phantom of the Opera, The Hunchback of Notre Dame, Dr. Jekyll and his deranged alternate personality Mr. Hyde, and Dr. Jack Griffin, aka The Invisible Man, according to a press release.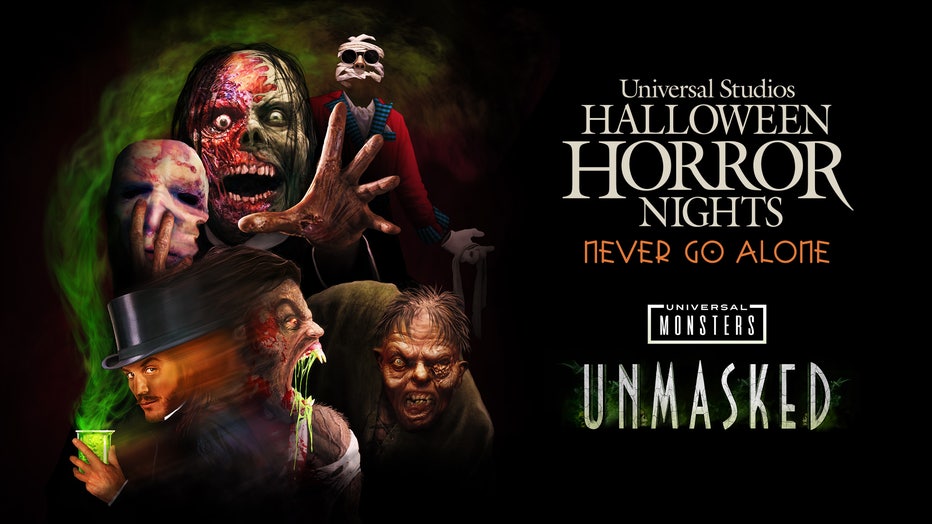 Photo: Universal Orlando Resort
Dr. Oddfellow: Twisted Origins: "A demented, late-night circus led by an evil ringmaster and notorious icon looking for human souls to fuel his dark intentions"
Dueling Dragons: Choose Thy Fate: "A horrific twist to a frightening, yet familiar tale and sinister battle between Fire and Ice"
YETI: Campground Kills: "Blood-soaked campgrounds deep in the trenches of mountains where vicious, bloodthirsty monsters have returned with a vengeance"
The Darkest Deal: "Selling their souls for fame where they quickly learn a deal can be more than they bargained for"
Bloodmoon: Dark Offerings: "A colonial cult looking to slaughter those who dare refuse to worship the Bloodmoon"
The Last of Us™: "You and your squad will encounter the haunting and overgrown world of the video game in a brand-new, terrifying way. Stay silent if you want to survive a multitude of Clickers, Hunters and more."
Halloween Horror Nights: What are this year's scare zones?
In addition to 10 haunted houses, guests will be taunted by scare-actors in the streets at the following scare zones: 
Dr. Oddfellow's Collection of Horror: "Dr. Oddfellow will lure you into Halloween Horror Nights with a promise of immortality. As he lifts the veil on all the horrors to come, you'll soon realize you may not even survive the night."
Dark Zodiac: "Dr. Oddfellow has entered a dark dimension to harness the power of the Zodiac and live forever. He twists the signs into malevolent beings who foretell your doom. As his star rises, yours falls."
Jungle of Doom: Expedition Horror: "In the 1920s, Dr. Oddfellow ventured deep into the darkest jungle, performing horrific experiments on nature. Now his monstrous creations are running amok and are coming after you."
Vamp '69: Summer of Blood: "At a 60s music fest in a small New York town, you'll jam to popular bands with fellow concert-goers until Dr. Oddfellow unleashes vicious vampires on the audience. They're out for your blood."
Shipyard 32: Horrors Unhinged: "Enter a 1940s San Francisco shipping yard full of mysterious crates and cages bearing Dr. Oddfellow's symbol. Beware, his nightmarish oddities have now escaped, spreading fear and chaos in their wake."
Halloween Horror Nights: What rides will be open?
The following rides will be open: 
Hollywood Rip Ride Rockit
Revenge of the Mummy
TRANSFORMERS: The Ride-3D
The Wizarding World of Harry Potter™ – Diagon Alley™
MEN IN BLACK™ Alien Attack™ 
For more information on HHN, click here.