Fans head to Windsor; Charles to walk Markle down the aisle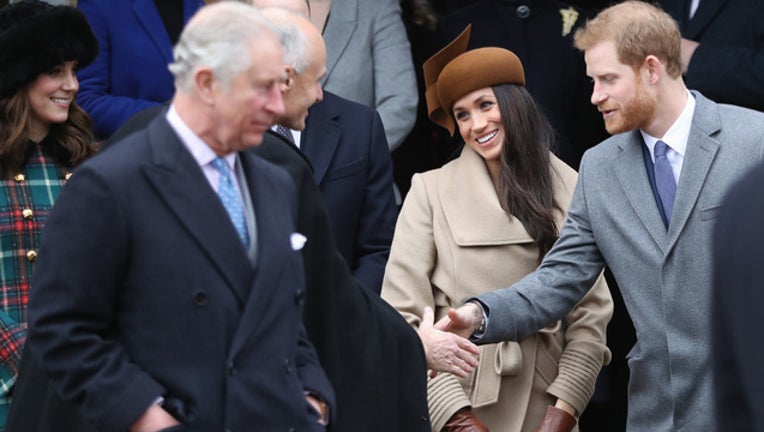 article
WINDSOR, England - (AP) -- The future king of England will walk Meghan Markle down the aisle when she marries his son Prince Harry -- a gesture of welcome to the American actress as she joins the royal family. The news came as thousands of well-wishers began descending upon Windsor amid final preparations for Saturday's royal wedding.
Union Jacks have been unfurled, security barriers and police patrols are in place and fans were already moving in Friday to capture the prime viewing positions in Windsor, a castle town 25 miles (40 kilometers) west of London.
Tens of thousands of spectators, including many Americans who have come in support of Markle, will be traveling to Windsor to soak up the atmosphere. They will be subject to airport-style security scanners and bag searches.
The barricades aim to deter attackers using vehicles, such as the one on Westminster Bridge in London last year. Sniffer dogs and mounted patrols are also out and about.
Kensington Palace said Friday that Markle asked the heir to the British throne to offer a supporting elbow at the wedding in St. George's Chapel after Markle's father was unable to attend due to illness. Prince Charles "is pleased to be able to welcome Ms. Markle to the Royal Family in this way," the palace said.
Buckingham Palace also announced that the Duke of Edinburgh, the husband of Queen Elizabeth II, will attend the royal wedding, just a few weeks after undergoing a hip replacement operation. The 96-year-old has largely retired from public duties and it had not been clear whether he would be well enough to attend.
The last-minute announcements came after days of speculation about how the royals would handle the possible absence of Markle's father.
Markle's mother, Doria Ragland, was the bookies' favorite to escort the bride, but Charles has a lifetime of experience in appearing at large-scale public events amid intense scrutiny.
"I think some people will be disappointed -- people who were looking forward to the historic moment of a woman walking her daughter down the aisle, and a woman of mixed race heritage from America. It would have made an historic shot," said royal historian Robert Lacey.
"But of course, Meghan has already arranged for her mother to drive up here to take her up to the castle. And for Prince Charles, the future king, to walk a bride down the aisle, what more could Meghan dream of?" Lacey added. "And so, one symbolism may be disappointed, but the other one is more than satisfied."
Ragland, meanwhile, was to have tea Friday with the queen at Windsor Castle, her latest meeting with her daughter's new in-laws. Ragland dined with Prince William, Harry's older brother and best man, and William's family on Thursday and met Charles and his wife Camilla a day earlier.
It's not the first time a royal bride hasn't been walked down the aisle by her father. The monarch's sister, the late Princess Margaret, was walked down the aisle by Prince Philip. Queen Victoria walked two daughters down the aisle.
Roseline Morris, 35-year-old from Basildon, England, noted that Charles hasn't got a daughter himself.
"He's never going to get the chance to walk a daughter down the aisle, so this will be nice for him as well." she said. "I imagine he'll be feeling very proud."
Having the father of the groom escort the bride is yet another twist in a royal wedding that is proving to be different from many others.
Master baker Claire Ptak said Friday that the royal wedding cake -- a three-part layered lemon and elderflower cake -- will have an "ethereal" taste and be presented in a non-traditional way.
Ptak and her team of six bakers have been working for the last five days in the oversize kitchens of Buckingham Palace. The ingredients for the cake will include 200 Amalfi lemons and 10 bottles of Sandringham Elderflower Cordial from the queen's Sandringham estate in Norfolk.
Amid all the preparations, British police had one request for the tens of thousands expected Saturday to watch the newest royal couple ride in a carriage around Windsor: Don't throw confetti, particularly during the procession.
"It poses a potential security risk and it's a bit of a pain to clean up!" Thames Valley Police said. "We hope everyone enjoys the day."
------
Jill Lawless contributed from London.
------
For complete AP royal wedding coverage, visit https://apnews.com/tag/Royalweddings
© 2018 The Associated Press. All rights reserved. This material may not be published, broadcast, rewritten or redistributed.