Extratropical Cyclone Franklin to absorb Tropical Storm Jose soon in the Atlantic: NHC
Hurricane Franklin was downgraded to a powerful extratropical cyclone on Friday in the east Atlantic and is expected to gradually weaken over the next several days, but not before absorbing Tropical Storm Jose, which is not too far away, according to the National Hurricane Center.
Franklin was about 790 miles northeast of Bermuda on Friday evening, while Tropical Storm Jose was about 1005 miles northeast of Bermuda. Franklin has sustained winds of 80 mph compared to Jose's 50 mph, according to the National Hurricane Center's 5 p.m. update.
Frank and Jose are one of five systems – and a potentially sixth system – being watched in the Atlantic. The others are post-tropical Idalia, Tropical Storm Gert, Tropical Depression 12, and a tropical wave off the west coast of Africa that has a medium chance of development.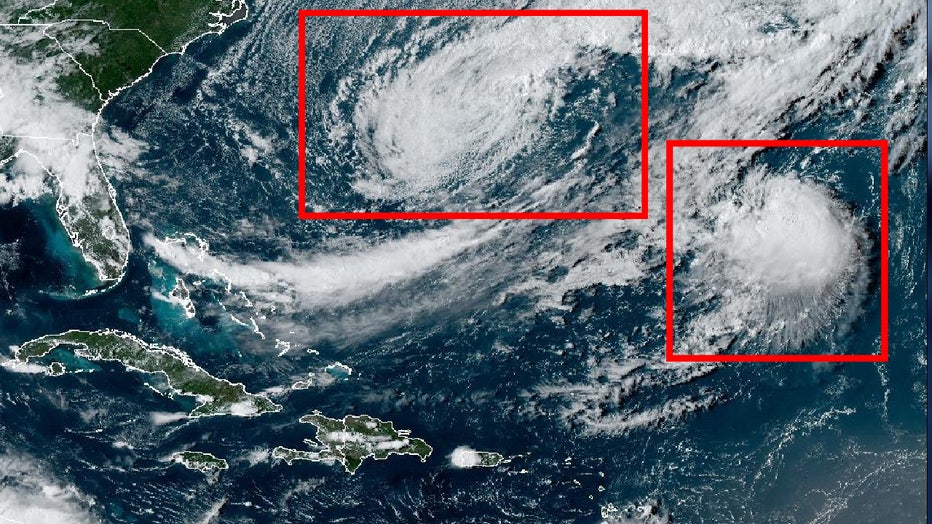 "Compact Jose expected to be absorbed by Franklin soon," the NHC said in a tweet. That absorption could happen Friday night or Saturday morning, the NHC said. 
"They're close to each other and they have a criss-crossing pattern," said FOX Weather Meteorologist Jane Minar. "You've got this intersection here, and you're going to see almost like a Pac-Man (situation) with Franklin just kind of gobbling up Jose and its just going to become one big monster storm in the North Atlantic."
Fujiwhara Effect
It's known as the Fujiwhara Effect, named after Japanese meteorologist Sakuhei Fujiwhara, who described the weather phenomena in the early 1900s.
Here is how the National Weather Service describes it: "A binary interaction where tropical cyclones within a certain distance (300-750 nm depending on the sizes of the cyclones) of each other begin to rotate about a common midpoint.