Explosives detection K-9 in Florida receiving care at UF following alligator attack
ORLANDO, Fla. - A dog that was attacked by a large alligator in Oviedo, Florida is expected to undergo surgery on its road to recovery.  The incident reportedly happened on May 12 at Riverside Park.
Kylee Nyiri is the owner of Mako and the two work together as part of an explosives detection team at Port Canaveral, Nyiri tells FOX 35 News. She said Mako has had a build-up of fluids since his initial treatment from the attack and is expected to undergo additional surgery to determine the cause.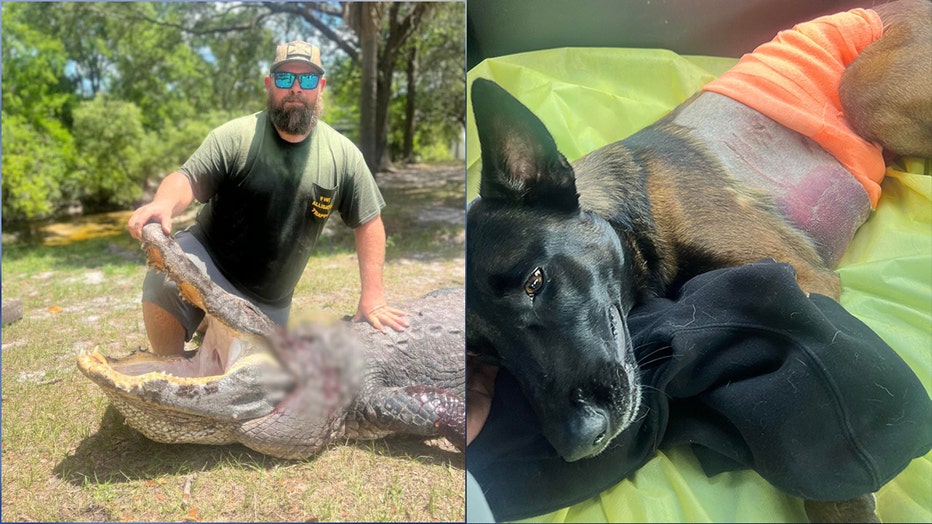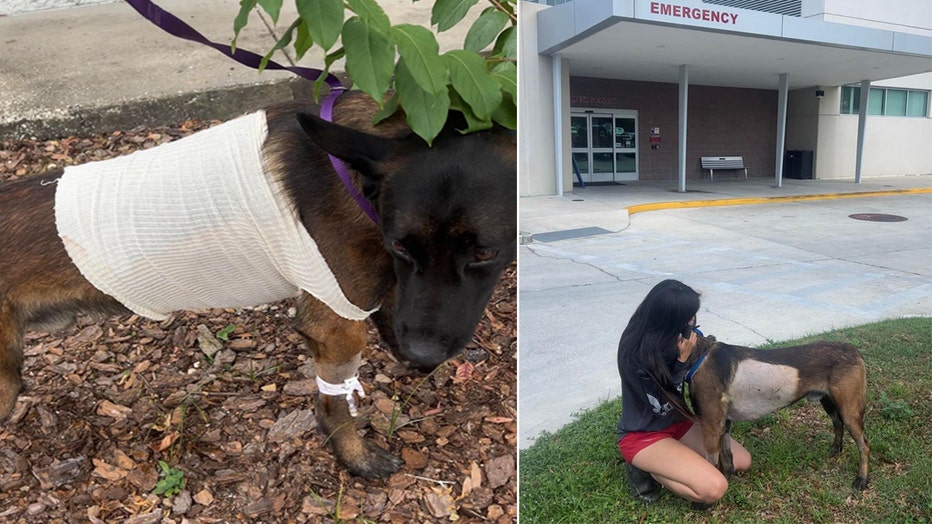 Nyiri explained that she and her boyfriend were swimming in about a foot of water in the Little Econ River and were letting Mako cool off after a training session to help ensure Mako didn't overheat. They were letting Mako play with his ball when all of a sudden he was grabbed by an approximately 12-foot-long alligator. 
Nyiri and her boyfriend ran over to Mako, and she said her boyfriend picked up the gator by his tail and lifted him while she was near the gator's head trying to find Mako. All the commotion stirred up sediment on the bottom of the river, so it was difficult to see through the murky water, she said. After about 10 seconds Mako somehow was free. 
They rushed Mako to Oviedo Veterinary Care and Emergency for immediate treatment. After two days there, Mako was transferred to the University of Florida Veterinary Hospital, where he has been receiving extensive care.
RELATED: Officials: 12-foot alligator attacks couple's dog at Florida park
Ovideo city staff was not notified of the incident until Saturday, according to a city spokesperson. The city then contacted the Florida Fish and Wildlife Conservation Commission (FWC). In a statement, the FWC said a permit was issued to trap the gator, and that the trapper removed a 12-foot, 6-inch alligator from the park on May 14.
According to the FWC, alligators are located throughout Florida and should be presumed to in any body of water, including lakes, ponds, swamps, rivers, and marshes. While they are considered to be opportunistic feeders, they do become more active in the spring and summer months as temperatures rise.
The FWC recommends the following alligator safety tips:
Keep a safe distance if you see an alligator
Keep pets on a leash and away from the edge of any body of water. Pets can be mistaken for an alligator's natural prey.
Swim only in designated areas, during daylight hours, and without pets.
Never feed an alligator.
So, what do you do if you see an alligator?
Florida Nuisance Alligator Hotline
The state of Florida has a Florida Nuisance Alligator Hotline where people can report nuisance alligators – and have a licensed trapper come out to remove the reptile. The Florida Nuisance Alligator Hotline number is 866-FWC Gator, or 866-392-4286.
According to the FWC's website, "an alligator is deemed a nuisance if it is at least 4 feet in length and the caller believes it poses a threat to people, pets or property." This also includes alligators that end up in places you do not want them to be, such as in swimming pools, garages, or on the front porch.
However, alligators that are smaller than four feet are not considered to be a nuisance alligator because they are "not large enough to be dangerous to people or pets," the FWC said.