Weather a concern for SpaceX launch to send supplies to International Space Station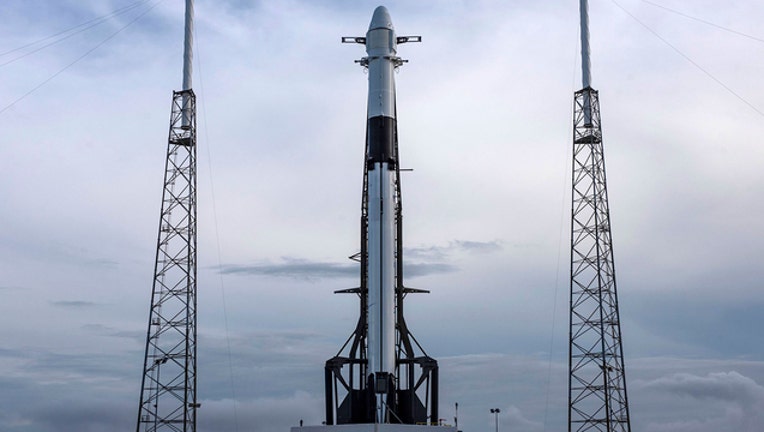 CAPE CANAVERAL, Fla. (FOX 35 ORLANDO) - A SpaceX Dragon cargo capsule is set to be launched into orbit early Friday morning, atop a Falcon 9 rocket.  That is, if Mother Nature permits. 
SpaceX is continuing to target 3:11 a.m. EDT Friday, for a launch of its 17th Commercial Resupply Services (CRS-17) Mission from Complex 40 at Cape Canaveral Air Force Station; however, a disturbance in the tropics is delivering rain across the Florida Peninsula. 
"Normally I'm not the bearer of bad news, but I kind of feel like I am today," said Will Ulrich, a launch weather officer with the U.S. Air Force 45th Space Wing earlier Thursday. "We've been monitoring an area of disturbed weather over the Bahamas for the past few days, and that area of disturbed weather is encroaching upon the Space Coast."
The launch day forecast calls for a 40 percent chance of favorable weather for liftoff. That prediction includes winds between 15-20 mph. 
SpaceX was supposed to launch a cargo shipment to the International Space Station on Wednesday. But an old power-switching unit malfunctioned at the station Monday and knocked two power channels offline. 
NASA stressed Tuesday that the station and its six astronauts were never in danger. But because of the hobbled solar-power grid, the SpaceX launch was postponed to Friday. NASA wanted to replace the failed unit to restore full power, before sending up the SpaceX Dragon cargo capsule.
SpaceX, meanwhile, is still investigating this month's fiery loss of its new Dragon capsule designed for astronauts.
Six weeks after a successful test flight without a crew to the space station, the crew Dragon was engulfed in flames during a ground test. SpaceX was in the process of firing the capsule's thrusters on a test stand. The April 20 accident - which occurred right before or during the firing of the launch-abort thrusters - sent thick smoke billowing into the sky.
RELATED: SpaceX confirms crew capsule destroyed in ground testing
SpaceX and NASA have offered few details. But the accident is sure to delay launching a crew Dragon with two NASA astronauts on board. SpaceX had been aiming for a summertime flight.
The company still needs to conduct a launch-abort test, before astronauts strap in. The Dragon that flew last month was supposed to be used for this test in June.