Nesting sea turtles breaking seasonal record in Volusia County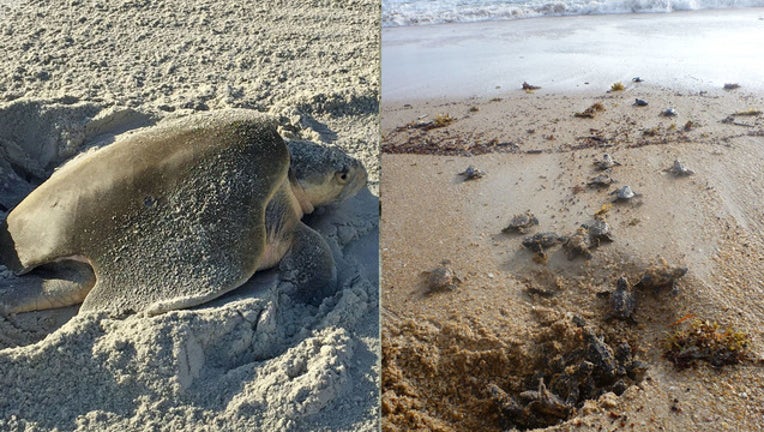 VOLUSIA COUNTY, Fla. (FOX 35 ORLANDO) - Volusia County reports a record-breaking season for sea turtles.
The sea turtles return to Volusia County year after year to lay their eggs in the soft sands, and with nearly two months of nesting season to go, county staff and volunteers have already marked 922 nests, breaking the previous high nest count of 919 set in 2012.
"Sea turtles are nesting in record numbers throughout the Southeast, with Florida populations in the lead," said Jennifer Winters, Volusia County's sea turtle habitat conservation plan manager.
The county says 849 loggerheads, 66 green sea turtles, four leatherbacks and three Kemp's ridleys have laid eggs on the beaches since May. Each nest contains about 100 soft-shelled eggs the size of Ping-Pong balls.
"This is so exciting!" Winters said. "Nesting season lasts through September, so I am optimistic that we could break the 1,000 mark. This is truly an exceptional year, and we think it's because of the long-term conservation efforts that are in place to protect these threatened and endangered species."
With nests hatching every day, residents and visitors are asked to follow these steps to help ensure the hatchlings a safe trip from their nest to the ocean:
Do not touch or disturb turtles or nests

Remove furniture, fill in holes, flatten sandcastles upon departure

Dispose of trash properly

Beachfront property owners are required to turn off/redirect lights

Do not use flash photography or cellphones to light your way at night

Use only red LED flashlights; they are less visible to turtles

If you see a nesting sea turtle/hatchling, admire from a distance
If a turtle appears to be in immediate danger, notify a lifeguard or call the Florida Fish and Wildlife Conservation Commission at 888-404-3922. To learn more about sea turtle nesting season, visit www.volusia.org/seaturtles. For questions about lighting, call 386-238-4773.