Judge declines Mark Meadows' request to move his Georgia election case to federal court
ATLANTA - Former White House Chief of Staff Mark Meadows's motion to move his case from Fulton County Superior Court to federal court has been denied.
U.S. District Court Judge Steve Jones ruled late Friday Meadow's attorneys did not meet the requirements to change jurisdictions to federal court and his case can continue in state court.
The judge ordered the clerk to terminate all pending motions and close Meadows' case in federal court.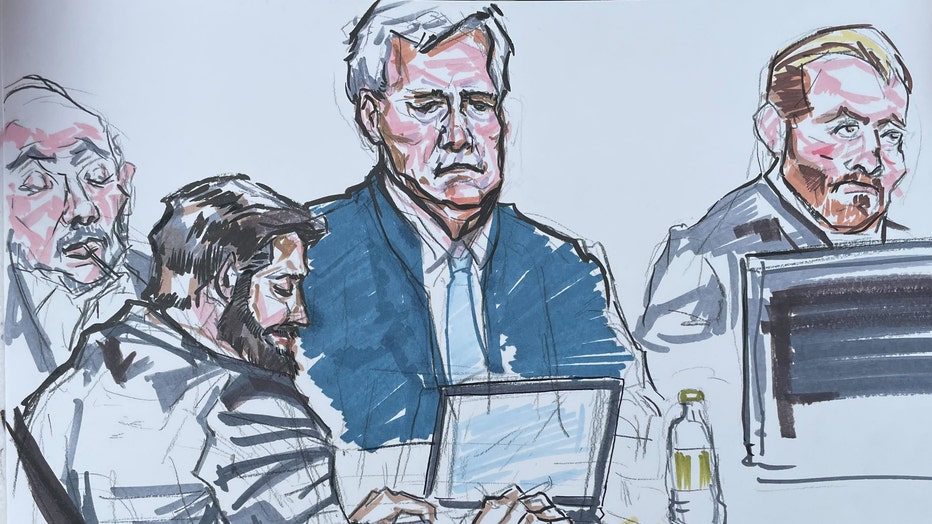 Former chief of staff Mark Meadows sits with his attorneys on Aug. 28, 2023. (Stephen Eidson)
Meadows' attorneys argued his former federal job should protect him from state charges.
The ruling is a big early win for  Fulton County District Attorney Fani Willis , who spent 18 months investigating and building the case against former President Donald Trump, Meadows and 17 others before obtaining the sweeping indictment under Georgia's  anti-racketeering law . She has said she wants to try all the defendants together. 
A spokesperson for Willis and a lawyer for Meadows did not immediately respond to requests for comment Friday evening.
Several other people charged in the indictment have also filed motions seeking to move their cases to federal court and have hearings before Jones later this month. Friday's ruling in Meadows' case could spell trouble for the others. 
Meadows said his actions were taken as part of his role as chief of staff to the Republican president. He and his lawyers also argued that, since he was a federal official at the time, the charges against him should be heard in federal court and, ultimately, dismissed for lack of merit.
Prosecutors said the actions laid out in the indictment were meant to keep Trump in office after he lost to Biden, a Democrat. They said the acts were explicitly political in nature and are illegal under the Hatch Act , which restricts partisan political activity by federal employees. As such, they said, the case should stay in Fulton County Superior Court.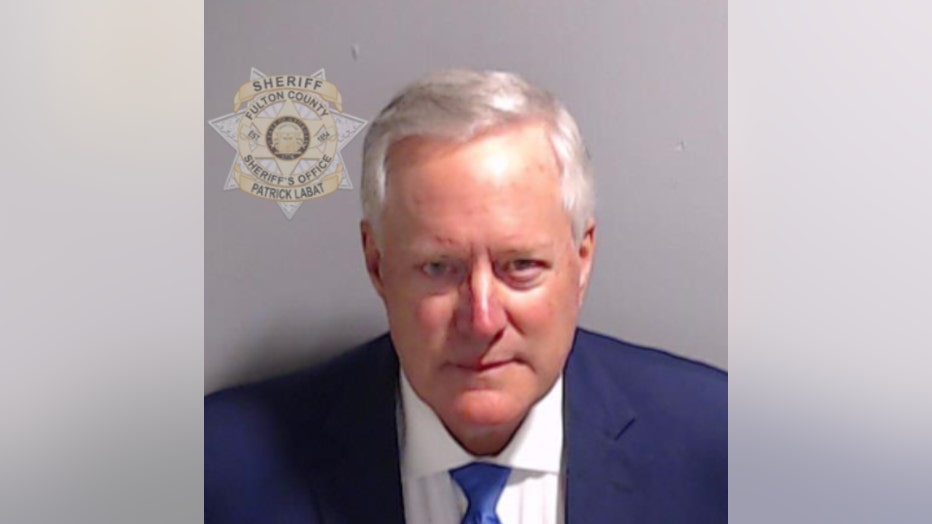 Mark Meadows (Fulton County Sheriffs Office)
The practical effects of Meadows' case moving to federal court would have been a jury pool that includes a broader area than just overwhelmingly Democratic Fulton County and a trial that would not be photographed or televised, as cameras are not allowed inside federal courtrooms. But it would not open the door for Trump, if he's reelected in 2024, or another president to pardon Meadows because any conviction would still happen under state law.
The news comes hours after the release of the report by the Fulton County special grand jury which was the bedrock for which the case against Meadows and others was based.
OTHER STORIES
What is the Georgia election interference case?
Former President Donald Trump and his 18 co-defendants were indicted Aug. 14 for violating Georgia's RICO (Racketeer Influenced and Corrupt Organizations) Act and other charges related to the 2020 election results in Georgia. The grand jury indictment was issued following a 2-and-1/2-year investigation by Fulton County District Attorney Fani Willis and a recommendation for indictment by a special grand jury earlier in the year.
Offenses listed in the indictment include an alleged request from Trump to Georgia's Secretary of State, Brad Raffensperger, to alter votes. Other charges include making false statements and writings, impersonating a public officer, filing false documents, influencing witnesses, conspiracy to defraud the state, and perjury, among others.
Additional defendants in the case include Trump's former lawyer, Rudy Giuliani, and Meadows. All defendants were ordered to surrender to the Fulton County Jail by noon on Aug. 25. Initially, Willis requested a trial date in March 2024, but that request has since been amended to Oct. 23, 2023. Trump continues to assert that he won the election and claims that he is now facing persecution.
The Associated Press contributed to this report.