'Hugging Dogs' in Gwinnett County Find Forever Home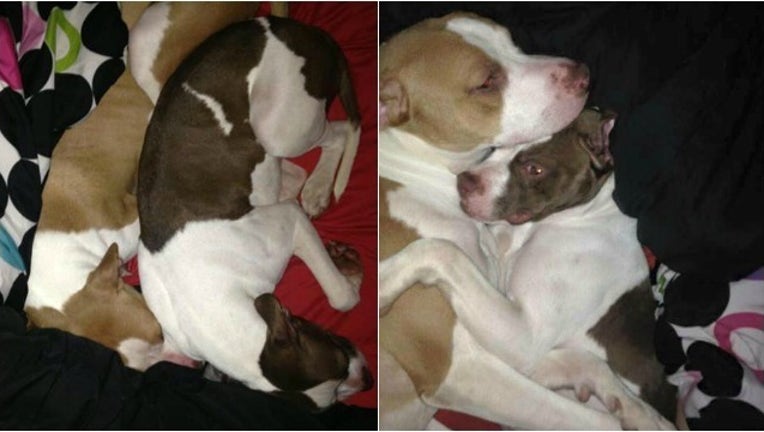 article
GWINNETT COUNTY, Ga. - A pair of pups, known as the Gwinnett County "hugging dogs," have found a forever home together. 
In October, the pups were found scared, starving and filthy at Harbins Park in Dacula. The Good Samaritan who found them reached out to Lost & Found Pets of Gwinnett County (LFPGC), who works to reunite lost pets with their owners. An image was shared on the group's Facebook page, but no one ever stepped forward. The Good Samaritan said the dogs, a male and female, appear to be siblings. 
"They hate to be separated and look like boxer mixes," the Good Samaritan said. 
The person who found the dogs was not able to care for them, but a foster was found in the mean time. However, the foster was no longer able keep them due to a reason out of her control and was forced to turn them over to Animal Control. Both the Good Samaritan and the foster told LFPGC it was not what they wanted, but had no other options. 
The foster mom said the homeless dogs were very sweet and good with her 8-month-old child, according to LFPGC. A team member from LFPGC was at Animal Control on Thursday and said the adorable pair were seen sleeping together, just like they are in the photos above.
Over the weekend, we learned the two dogs were adopted and will live together in their new home.
If you're thinking this story sounds familiar, you're right! Several months ago, FOX 5 News covered two dogs, named Kala and Keira, who became an internet sensation after a photo surfaced of them hugging. They were facing euthanasia when the picture went viral. Since then, they have found a forever home together. 
"So many people share photos of dogs they have found that have obviously been dumped or abandoned with us on Lost and Found Pets of Gwinnett County," Nancy O Ashe with LFPGC told FOX 5 News. "Their owners either don't care or think that someone else will save them."
O Ashe advises pet owners to have their animals micro-chipped because those chips can be a lifesaver for a missing pet. If you have a lost pet or you're thinking about adopting a furry friend check out the Lost & Found Pets of Gwinnett County Facebook page.