Emergency motion filed to delay retrials in penalty phase for 2 men convicted in 'Xbox murders'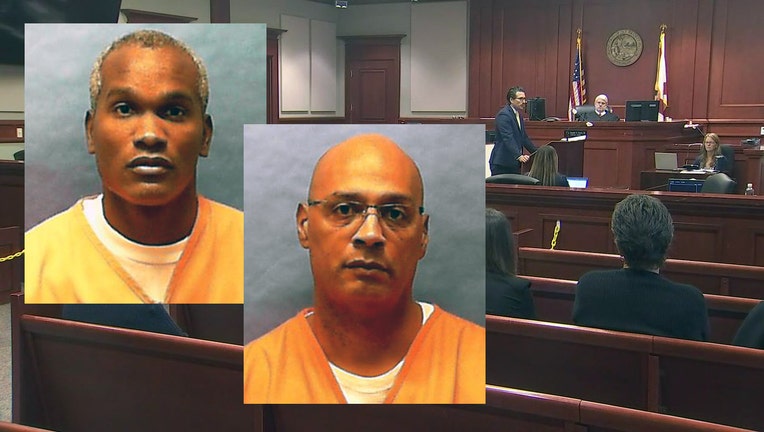 article
VOLUSIA COUNTY, Fla. - The State Attorney General's Office on Wednesday filed an emergency motion to delay the resentencing trials of two defendants in the Deltona "Xbox Murders" case.
This is in response to the presiding judge's decision not to follow Gov. DeSantis' new death penalty rules which require an 8 to 4 jury vote to put someone to death. The judge is instead using the previous rules which require a unanimous jury vote to move forward with the death penalty.
"An immediate stay is both necessary and appropriate to prevent resentencing proceedings from continuing before the lower court and to prevent the jury from being instructed on the incorrect, outdated law. Without a stay, the State will surely be irreparably harmed and will further have no other recourse for seeking relief," the motion reads.
Judge Randell Rowe appeared blindsided by the news during the court session. He chose not to go into detail but instructed both legal teams to contact him with important information moving forward.
The trials for convicted killers Jerone Hunter and Troy Victorino continued as planned on Wednesday. The proceedings were not impacted by the motion. Several witnesses were brought forward including former Florida Department of Law Enforcement crime scene analyst Stacy Colton. She detailed the steps she took with the murder weapons during the investigation.
Prosecutors showed a graphic video of the crime scene, recorded shortly after the crimes were committed. 
The trial is scheduled to continue on Thursday.
Why is there a penalty phase retrial in the Xbox murders?
New trials were ordered for Troy Victorino and Jerone Hunter nearly two decades after six people and a dog were killed inside a Deltona, Florida home.
Four men, Troy Victorino, Jerone Hunter, Michael Salas, and Robert Cannon, were all convicted in what has been dubbed "the Xbox murders," because prosecutors argued that the motive behind the home invasion and brutal murders was to retrieve an Xbox claimed to have been stolen.
Salas and Cannon were sentenced to life in prison. Victorino, the ringleader, and Hunter were sentenced to death for the 2004 slayings but the juries' decisions at the time were not unanimous.  A later change to state law decided that Florida's death penalty had to be unanimous – and anyone sentenced after a 2002 ruling could be eligible for a new sentence – so their sentences were overturned and switched to life in prison.
Florida Gov. Ron DeSantis signed a bill into law ending a unanimous jury requirement in death penalty sentencing. The new law, which went into effect as soon as the governor signed it, allows capital punishment in Florida with a jury recommendation of at least 8 to 4 in favor of execution. 
For decades, Florida had not required unanimity in capital punishment, allowing a judge to impose capital punishment as long as a majority of jurors were in favor of the penalty. But in 2016 the U.S. Supreme Court threw out state law, saying it allowed judges too much discretion.
The state Legislature then passed a bill requiring a 10 to 2 jury recommendation, but the state Supreme Court said such recommendations should be unanimous, prompting lawmakers in 2017 to require a unanimous jury.
Three years later, the state Supreme Court, with new conservative jurists appointed by DeSantis, rescinded its earlier decision and ruled that a death recommendation does not need to be unanimous. Florida's unanimity standard had remained untouched until the passage of the 2023 law, which was a response to a verdict that spared the life of the Parkland school shooter who killed 17 people.
Who were the victims of the Xbox murders?
On August 6, 2004, deputies with the Volusia Couty Sheriff's Office said four men broke into a home in Deltona, where they used bats and knives to brutally kill the six roommates who shared the house – all because one of them allegedly took things from Troy Victorino, including an Xbox game console.
Albert Yonfa, a partner at Orlando law firm Nejame Law, said the crime was shocking. "The heinousness of this crime is just horrific what these individuals were convicted of."
Prosecutors said Victorino orchestrated the murders.  Killed were Erin Belanger, 22; Jonathan Gleason, 17;  Roberto Gonzalez, 28; Francisco Roman, 30; Michelle Nathan, 19;  and Anthony Vega, 34. A dog was also killed.
The year was 2004, and the crime came to be known as the "Xbox murders." Four men, Troy Victorino, Jerone Hunter, Michael Salas, and Robert Cannon were all convicted of the grisly killings. Deputies say they used bats and knives to kill the six roommates who shared the house, including Jonathan Gleason.