Darrell Brooks trial: Ex-girlfriend testifies, COVID test negative
WAUKESHA, Wis. - The trial of Darrell Brooks, accused in the Waukesha Christmas Parade attack, resumed with a second day of testimony Friday, Oct. 7.
It was the first full day of testimony in the trial and, after being moved to an adjacent courtroom repeatedly in days prior, Brooks remained in the main courtroom most of Friday. 
"With all respect your honor, this whole process is very new to me," said Brooks. "If I color outside the lines, I just don't understand."
SIGN UP TODAY: Get daily headlines, breaking news emails from FOX6 News
A new juror was sworn in and seated Friday. The previous day, Brooks told the judge that he recognized one of the jurors from his initial appearance and that the juror "flipped me off."
"I am advising you that I was able to confirm with others," Judge Jennifer Dorow said Friday. "It is not this juror."
"I don't forget faces. I don't," Brooks said.
After calling two to the stand Thursday, prosecutors called six additional people to testify Friday.
After a long week for the jury, both sides agreed to stop testimony roughly one hour early Friday, around 4:30 p.m. The trial is scheduled to resume Monday at 8:30 a.m. At that time, Judge Dorow ordered Brooks to have his witness list ready.
The judge will also revisit dashcam video that was shown in court Friday because, in that video, Brooks was able to hear the mother of his child discussing a prior case that the judge had previously ruled inadmissible.
Below is a timeline of Friday's events per court records:
8:33 a.m.: Case called for Day 5 of jury trial
State places a concern on the record
Court swears in a juror to address a concern raised by Brooks
Brooks voluntarily appears in his jail uniform
9:10 a.m.: Jury enters
Erika Patterson testified
Waukesha Police Det. Steven Guth testified
10:50 a.m.: Court takes morning break
11:06 a.m.: Court is back on record
Brooks refuses to produce document ordered by the court
11:25 a.m.: Court resumes with Brooks in adjacent courtroom
11:30 a.m.: Lunch recess
1:07 p.m.: Brooks, prosecution return to court
1:11 p.m.: Jury enters
Waukesha Police Officer Jeremy Philipps testified
Kyle Edwards testified
Holly Berg testified
3:01 p.m.: Court takes afternoon break
3:20 p.m.: Court resumes
Waukesha Police Det. Thomas Casey testified
4:46 p.m.: Jury excused for weekend
4:54 p.m.: Court adjourned until 8:30 a.m. Monday, Oct. 10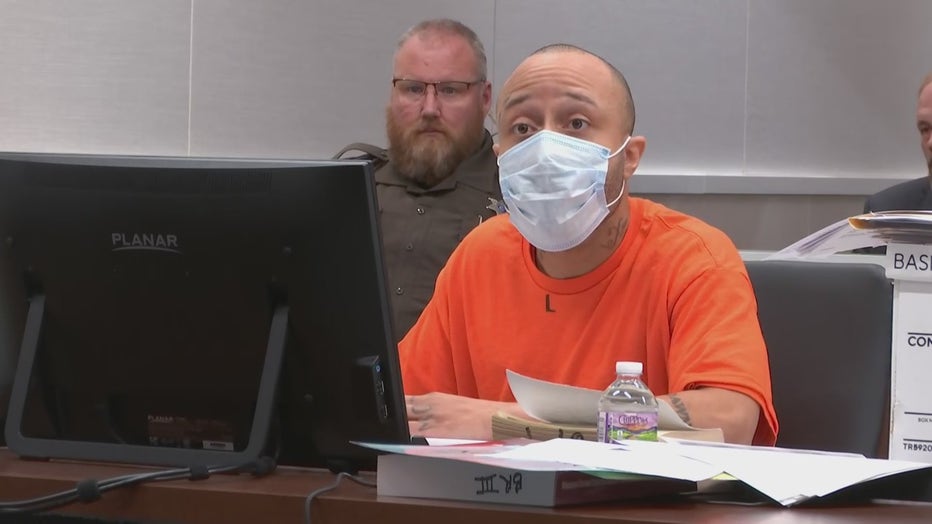 COVID results returned
Shortly before 11:30 a.m., Judge Dorow noted the COVID-19 test results for Brooks were returned – and they were negative.
The judge noted there was an "altercation" with the bailiffs when getting the test results envelope. Brooks was in the adjacent courtroom when they came back from a brief recess. 
Shortly after 1 p.m., once proceedings resumed after a lunch break, Brooks had his head down and there was a bible on his desk.
"I'm just a little emotional right now," Brooks told the judge. He reached for a tissue and began writing a letter to her.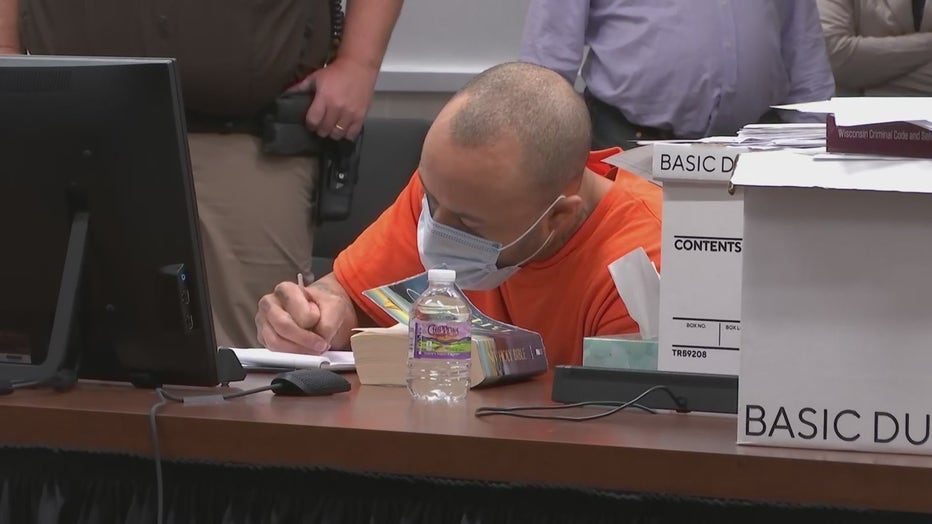 Brooks' ex-girlfriend testifies
First on the witness stand for the prosecution on Friday was 32-year-old Erika Patterson. She testified she met Brooks when she was 15, that they had been together "off and on" over the years and that they have a teenage daughter together.
Patterson also said that she'd had been living at The Women's Center in downtown Waukesha prior to the incident at the Waukesha Christmas Parade.
The line of questioning by prosecutors referred to an incident in which Patterson said Brooks hit her in the face prior to the parade attack.
"He came out there, got his car and drove around," she said. "He hit me in my eye, I walked to Frame Park."
Patterson further testified that, after she was hit, she jumped out of Brooks' SUV but he followed her. She said Brooks then fought with her roommate, Kori Runkel, who testified Thursday. A friend then called the police.
"How would you describe his demeanor?" asked Assistant District Attorney Zachary Wittchow.
"He was angry. He was mad they called the cops," Patterson testified.
It led to an unusual set-up for cross-examination as Brooks represents himself.
"First of all, good morning and happy birthday," he said.
Brooks' cross-examination included questions about The Women's Center and past altercations.
Brooks: "If the conversation was argumentative, why would you meet up with the alleged defendant?"
Patterson: "I don't know."
Later, Brooks asked about abuse: "At any time did you report any abuse?"
Patterson: "Yes, that you hit me."
The cross-examination became heated, Patterson growing tired of what she considered to be answering the same questions from Brooks.
Waukesha police take stand
Around 10:15 a.m., Waukesha Police Det. Steven Guth took the stand for the state. He testified about his interaction with Patterson after she appeared to have been struck in the face.
"She was extremely afraid of Mr. Brooks," Guth said.
Brooks was given an opportunity to cross-examine Guth, but that line of questioning was ended after the judge repeatedly sustained objections brought by the prosecution.
"I don't know how to rephrase that, your honor, without asking it the same way," Brooks said.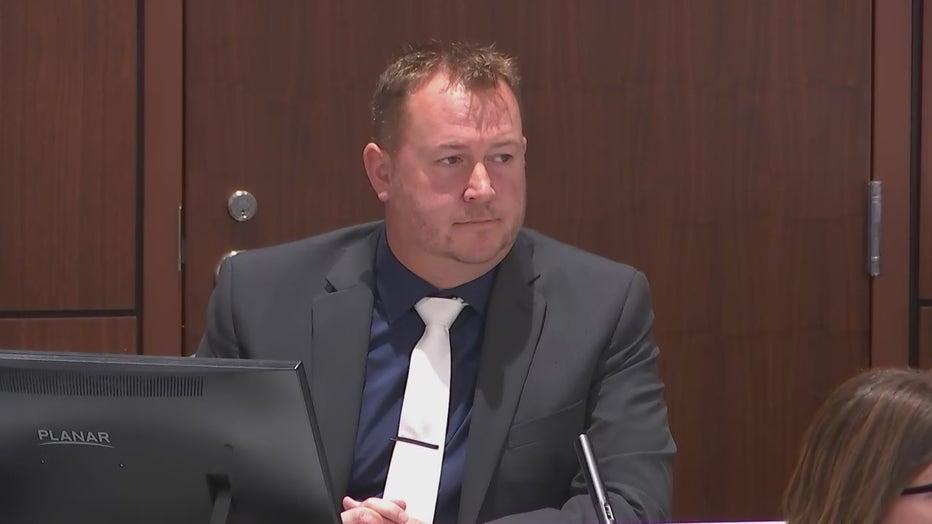 Waukesha Detective Steven Guth
Next to take the stand for the state was Waukesha Police Officer Jeremy Philipps. He was dispatched to Frame Park for the altercation between Brooks, Patterson and Runkel. 
Philipps testified he was with Patterson, taking her statement, when he heard someone had been hit downtown and "all available units" were called. He said he left Patterson and the others and responded to the scene of the parade attack.
"It was just mass chaos, carnage everywhere," said Philipps. "They were all the members of the band. They were just west of Barstow on Main."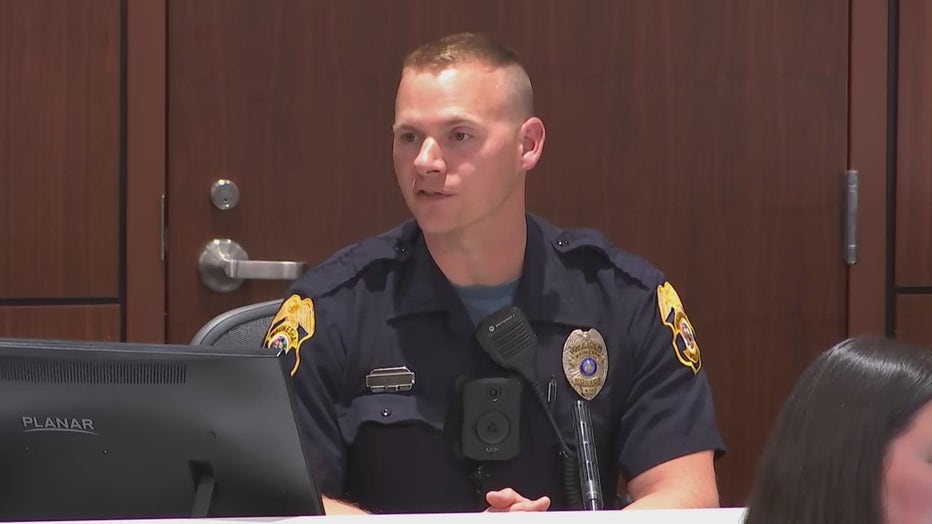 Jeremy Philipps, Waukesha Police Department
Philipps said a parent told him a "red SUV sped through the parade and did this."
"I knew from the radio calls it was Darrell Brooks," Philipps testified.
During his cross-examination, Brooks asked Philipps if he would normally be on duty at the time of Friday's testimony and if he was being paid to testify. Philipps said he would normally be on duty.
Parade witness testimony
The state then called Kyle Edwards to the stand. He was at the Waukesha Christmas Parade with his wife and two children on the day the red SUV drove through the parade route, striking dozens of people.
Edwards told the court there was a vehicle – a red SUV – that went the wrong way down a road and stopped next to his vehicle. The SUV's driver threw his hands up in the air, stuck his head out of the window, and said he needed gas. Edwards identified the driver as Brooks, who was asked to remove his mask for this identification process in the courtroom.
Waukesha County District Attorney Sue Opper asked Edwards if he remembered a red SUV going through the parade. He said there was a "direct view" in front of him.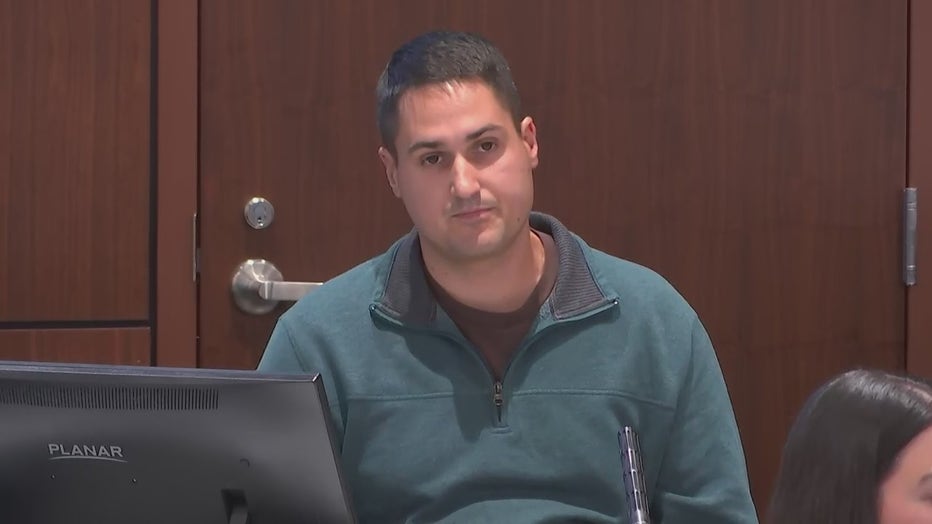 Kyle Edwards, attended Waukesha Christmas parade with his wife and two children
Holly Berg, who said she was dropping her boyfriend's daughter off at the parade, was called by the prosecution next. Berg provided a graphic description of what happened at the parade – when a red SUV plowed through the crowd, striking a community group.
Opper: "Did you see the red SUV strike any people in the Catholic community group?"
Berg: "Several."
Opper: "Can you estimate how many?"
Berg: "At least 15."
Opper: "I'm sorry to ask it this way, but did you see anybody, like, actually, fly or roll or tumble?"
Berg: "So, originally, it was, I heard sounds. Like thuds. And then, it was, in the air, like bowling pins."
Berg also estimated the red SUV was traveling about 20 mph when it was going through the downtown area.
Opper: "Did you ever see the vehicle stop?"
Berg: "I think it did slow down…I remember the brakes lights, and it continued."
Opper: "Did you see it drive over people?"
Berg: "I saw there was just chaos in the street."
Detective wraps Friday testimony
Waukesha Police Det. Thomas Casey was the sixth and final person to take the stand for the state Friday.
As part of his testimony, Casey told the court the weather was cold and windy on the day of the Waukesha Christmas Parade in November 2021. Despite the weather, the detective estimated 5,000 people were in downtown Waukesha to see the parade.
The jury was shown a photograph that Casey testified showed Brooks driving his red SUV through the parade route. Opper asked Casey if he was "100% sure" it was Brooks; Casey answered "1000 (percent)."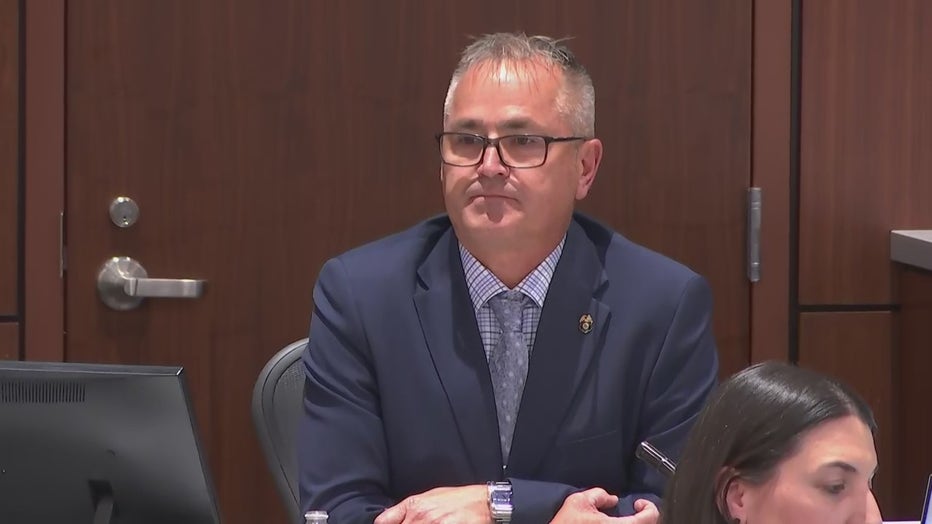 Det. Thomas Casey, Waukesha Police Department
The detective also showed drone video taken along Main Street, the parade route, showing where each of the six victims who died were hit. He said there were eight "units" of the parade impacted, including the Dancing Grannies, the Waukesha Blazers youth baseball team and the Waukesha South High School marching band.
"I would say at least three different groups of spectators on the side of the road were also injured," said Casey. He noted, total, police identified 60 people who were injured.
Casey also said he tried to stop the red SUV.
"I thought it was just a lost motorist," Casey said of what he first thought. "Not often, but sometimes, people come through impatient – they always stop.
"I'm yelling 'stop,' pounding on the hood (of the SUV), trying to get the person's attention, so they'd stop…the vehicle kept pushing, struck right through me."
Brooks will get his chance to cross-examine Casey when the trial resumes Monday. 
Prosecutors say Brooks drove a red SUV through the parade route on Nov. 21, 2021, killing six and injuring more than 60 others. 
On Nov. 21, 2021, according to prosecutors, Brooks met up with his ex-girlfriend in Frame Park, the same woman he is accused of running over with his red SUV earlier in November 2021. She told police they argued in his SUV before he started driving, and he "was driving around with one hand and striking her in the face with his other hand." She eventually got out and called her friends for help.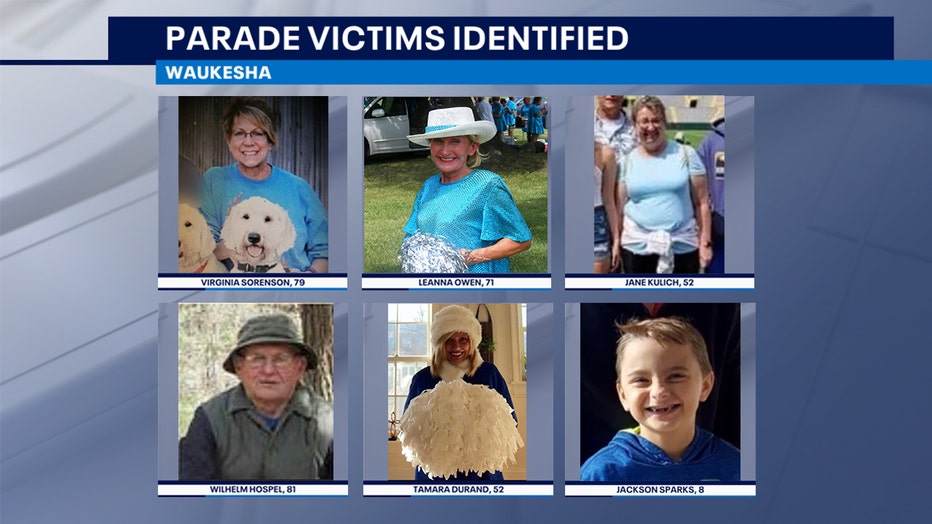 Waukesha parade attack victims identified
Soon after that, according to prosecutors, Brooks drove that red SUV through the parade route, killing Jackson Sparks, 8, Virginia Sorenson, 79, LeAnna Owen, 71, Tamara Durand, 52, Jane Kulich, 52 and Wilhelm Hospel, 81. More than 60 others were hurt. 
Brooks was arrested the night of the attack, soon after telling a Waukesha resident that he was homeless and waiting for an Uber. The man was unaware of the events that had occurred and let Brooks into his home.
FREE DOWNLOAD: Get breaking news alerts in the FOX6 News app for iOS or Android
Brooks entered an insanity plea in June after initially pleading not guilty to the charges in February, a move that could have resulted in him being sentenced to a mental institution rather than prison if convicted. He later dropped the insanity plea on Sept. 9. 
Darrell Brooks faces 76 charges, including six counts of first-degree intentional homicide and 61 counts of reckless endangerment. Each homicide charge carries a mandatory life sentence.