Critics protest move of Confederate statue to Florida county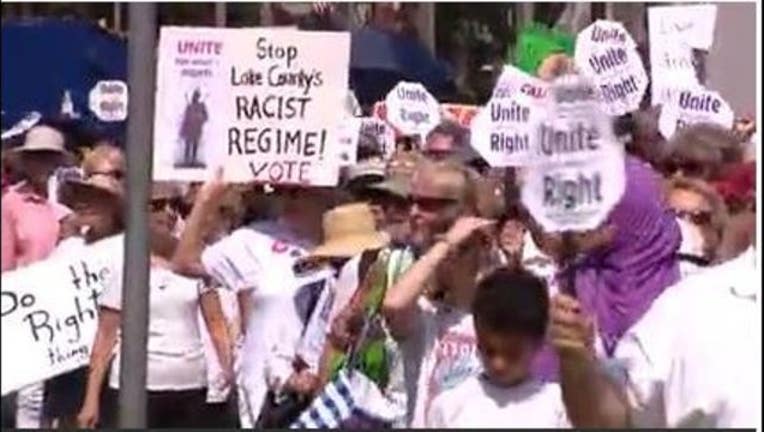 TAVARES, Fla. (FOX 35 ORLANDO) - A group in Lake County gathered today to protest against a confederate statue that will be displayed at the Lake County Historical Museum.
"It's not about a political thing," Friendship CME Church Pastor Michael Watkins said. "It's not about black and white. It's about what's right and what's wrong."
Pastor Watkins led the group that marched Saturday morning. He brought as many as 500 people for the "Unite for What's Right" movement.
"When everywhere over America, people are removing these things from county buildings, Lake County is saying, 'Bring it here. It's a good place for it to be. We'll give it a place of honor,' and that's just wrong," Watkins said.
Here's the background on the statue: It's being removed from the U.S. Capitol Building in Washington, D.C. So, the Lake County Historical Museum pushed to bring it here.
Lake County lawmakers voted in favor of that last week. FOX 35 asked people in Lake County their opinion of the statue.
"The confederate war, even with how bad it was and some of the reasons behind it, it's still part of our history," Diana Carey of DeLand said. "We wouldn't have grown and change if we didn't have some bad points."
They were divided on the issue.
"I understand both sides," Kevin McHugh, of Mount Dora, said. "Both sides have a valid argument and I don't really care."
Watkins knows lawmakers and the museum director have already made up their minds, but he's hopeful this march could change that.
"We're using our first amendment right to let them know that the citizens of this county do not want this statue," Watkins said. "So we have to unite and do what we can."
We did try to reach out to the historical museum for comment. We have not heard back yet.