100-year-old WWII veteran plans to bench press 100 pounds this year: 'That's my goal'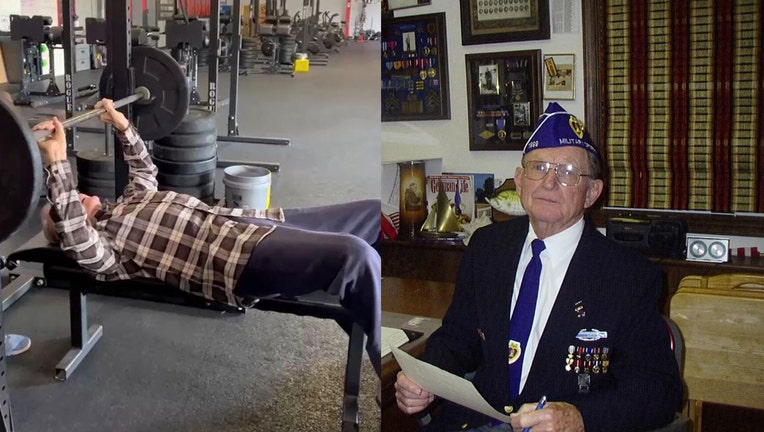 article
DOVER, Del. - Warner Schlaupitz, a Delaware resident who recently turned 100 years old, is working toward an impressive goal: Bench press 100 pounds at the state's Senior Olympics in September.
The World War II veteran attempted the weightlifting feat on his centennial birthday in April but was just shy of accomplishing it – performing the bench press with 95 pounds.
"So I got to get to 100 between now and September," he told FOX Television Stations. "I'll work at it until September. And if I can go better than 100, I'll be happy. But I'm going to make 100." 
Schlaupitz, who was born in Germany but raised in Dover, works with a personal trainer weekly who has been helping him to successfully complete the skill.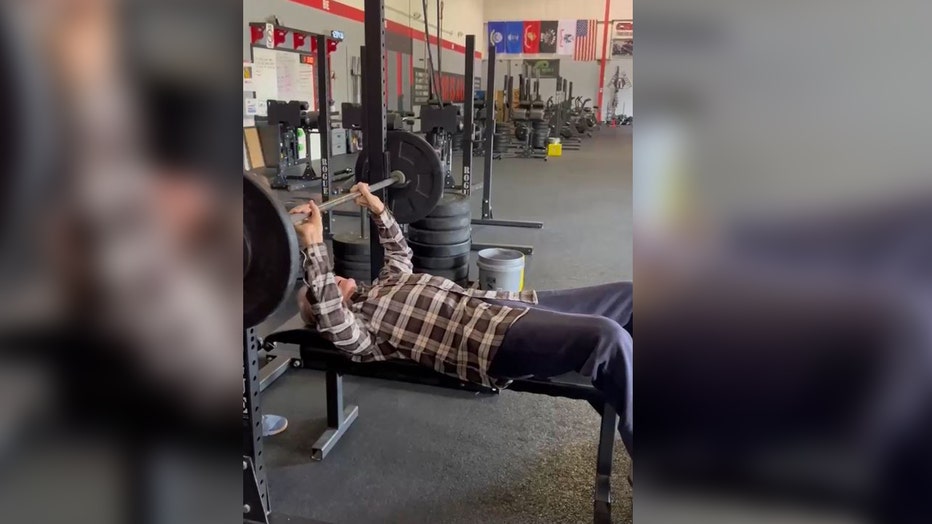 Warner Schlaupitz bench presses at his local gym in Dover, Delaware. (Credit: Annette Wideman, Trainer George Dobbins from CrossFit Dover)
"That's my goal," the father of three added, noting that fitness and nutrition are the secrets to his longevity. 
WWII vet credits active lifestyle for longevity
Schlaupitz, a former manager for various companies, said he used to ride his bike to work five miles every day. 
"Riding my bicycle to work energized me. And when I got to my office, I was full of energy. Ready. Wide awake, mentally and physically," he shared. "I got to enjoy my people more. And I think they got to enjoy me more … They used to bet on me coming to work on my bicycle. So this is what I did. And it kept me very active mentally – I'd say also mentally alert. When you're active physically, it stimulates your mental capacity."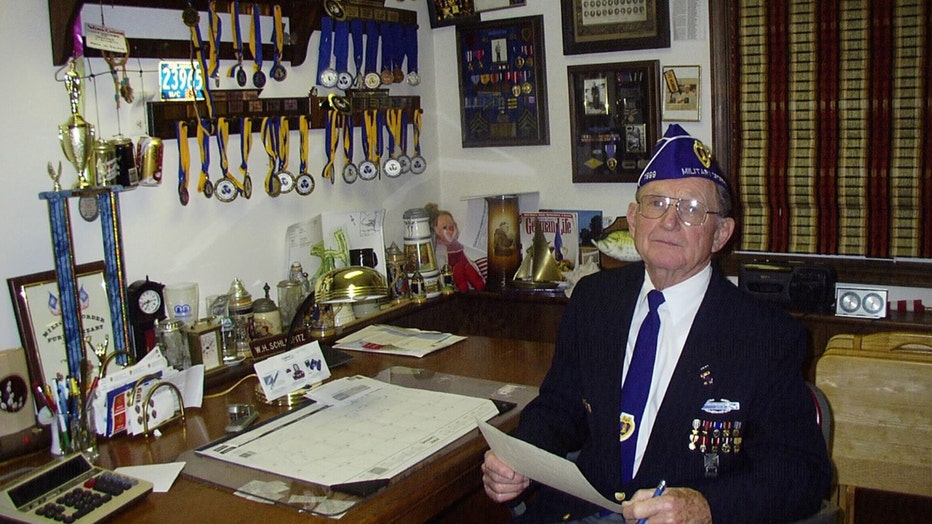 Warner Schlaupitz served in World War II from 1942-1945. (Credit: Annette Wideman)
Schlaupitz was drafted into the service and served in World War II from 1942-1945 in the 24th Infantry Division. He said he spent two full years on the front lines in the Philippines, where he revealed he had a few hand-to-hand combat encounters.
"I went through battle, and it was very difficult," Schlaupitz said. "We lost a lot of people."
Schlaupitz was wounded in combat and later honored with a Purple Heart, along with a Bronze Star and Silver Star for his acts of heroism while serving. 
"Even though I wasn't born here, I became a citizen and I respect this country tremendously," he added.
Schlaupitz also cited the importance of nutrition, crediting his caretaker who makes him nutritious meals daily. He said his upbringing, growing up during the Great Depression, has also contributed to his healthy lifestyle over the years. 
"I believe in nutrition," Schlaupitz said, adding, "We always had a garden and chickens and rabbits and garden hogs in captivity. So we always had some meat for dinner."
Quality of life
Schlaupitz said he wants to continue being physically active and share his knowledge about his longevity with others. 
"I want quality of life," he explained. "The oldest people don't want to get out of bed in the morning. I have a hard time, myself, getting out of bed, but I always get up. But if you lay there, you watch life go by. I don't want to watch life go by. I want to make life. And that's why I get up and do my exercises, do my little prayer to the Lord, and get ready for the day. And not waiting for the day that it's ready for me. I make the day ready."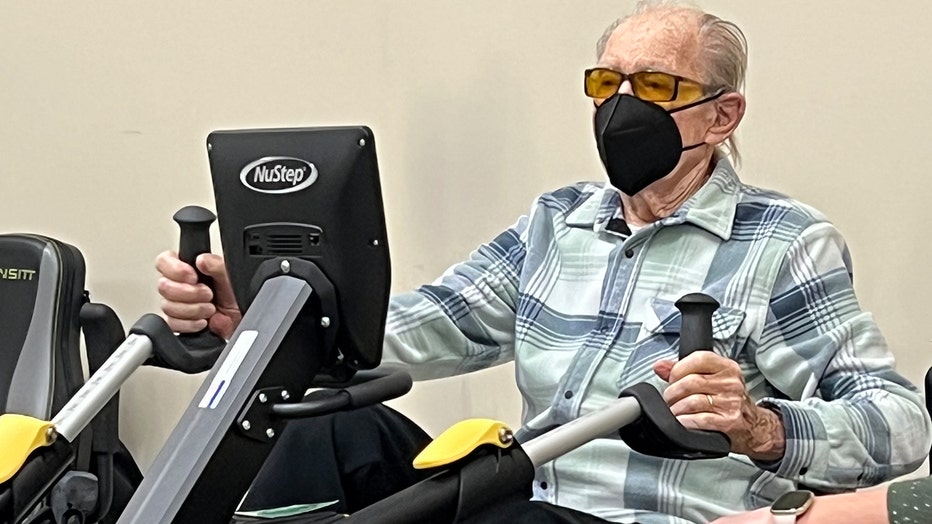 Warner Schlaupitz works out with trainer at CrossFit Dover in Delaware. (Credit: Annette Wideman, Trainer George Dobbins from CrossFit Dover)
He suggests that other people shouldn't be hesitant to be physically active. 
"If you do put in a physical routine into your daily activities, you'll find that you realize that you are much more awake and you're ready to tackle the problems of the world much better when you're in a good physical, mental condition. And I plan on staying this way. I plan on going up to 105," he shared.
This story was reported from Los Angeles.