Deputies save man from jumping off Sunshine Skyway bridge after he tried to run deputy over, sheriff says
PALMETTO, Fla. - Manatee County deputies came to the rescue of a man trying to jump off the Sunshine Skyway Bridge, shortly after the man tried to run a deputy over and led them on a chase.
The incident happened just before 2 a.m. Saturday, Sept. 12, the sheriff's office said when deputy Jacob Merrill saw a driver in a pickup truck swerving back and forth.
Merrill tried to pull over the driver, later identified as Scott Rapson, 23, but he initially refused to stop.
Rapson eventually pulled to the side of the road, but as the deputy exited his patrol car, he saw a passenger exiting the pickup truck.
With the passenger out of the vehicle, the sheriff's office said Rapson sped toward the deputy and came within feet of hitting him. Investigators said Rapson then put the truck in reverse and again tried to hit Merrill, who retreated to his patrol car for cover.
"That driver, as I was attempting to get out of my car attempted to run me over, reversed, drove at my car and drove off. There's fear that runs through, you don't have any barriers there's a truck that's driving at you," said Merrill. 
Rapson then fled the scene, as the deputy stayed with the passenger and called out Rapson's location to the sheriff's office.
Other deputies located Rapson on State Road 64, but he again refused to stop and led them on a chase, eventually making his way onto northbound I-75.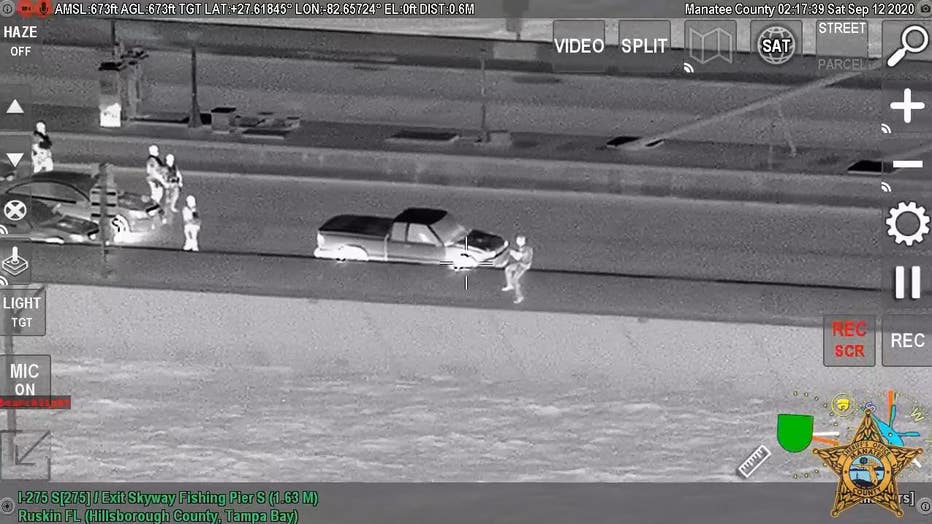 (Manatee County Sheriff's Office)
The sheriff's office was able to deploy stop sticks, which damaged two of Rapson's tires. He continued to drive onto the Sunshine Skyway Bridge as a sheriff's office helicopter hovered overhead.
"Initially it was- we need to arrest this guy, but when he threw his legs over the bridge, it went from an arrest to stopping him from jumping off the bridge," said Deputy John Jones. 
Rapson stopped at the top of the Sunshine Skyway near the center of the bridge and exited his vehicle. He then climbed partially over the barrier and had both legs hanging over the side, deputies said.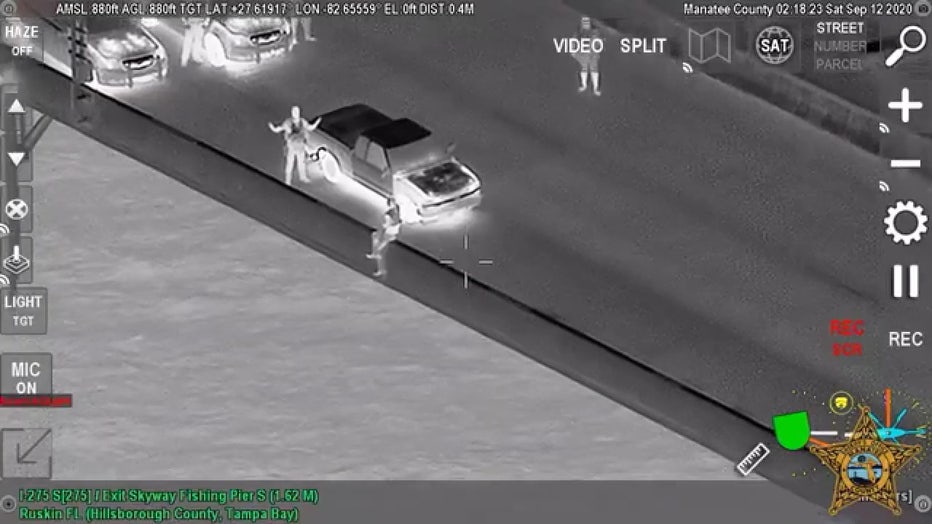 Jones and a sergeant approached Rapson and began talking to him. 
"You just do it. You talk to him as calmly as you can," said Jones. 
As they talked, deputies knew time was running out. 
"The longer he is up there the more we are going to get concerned that he's going to act," said detective Tyler Ackerman. 
Ackerman was able to come up from behind and grab Rapson from the edge to pull him to safety.
"We were able to walk up to him, he's on the ledge of the barrier, in my head it's not only thinking about how close I have to get to him but what happens if I don't do it the right way," Ackerman explained. 
Every day, deputies and first responders face unknown dangers. On Saturday morning, Manatee County Sheriff Rick Wells said they did it the right way. 
"When you get into a situation now where you have to calm everything down and save a man from jumping off a bridge and committing suicide that takes a lot of training and it's not easy. Everything they did was exceptional, heroic and I'm so proud of them," Wells said. 
Rapson was then arrested and charged with aggravated assault on a law enforcement officer, DUI, and fleeing to elude. He was taken to the Hillsborough County Jail.