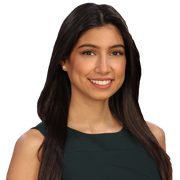 Samantha Sosa joined the FOX 35 team in November 2018.
Samantha is a Miami native, so she's no stranger to Florida's warm weather and beaches. She is a bilingual reporter who seeks to empower young women of all backgrounds.
Samantha is a proud graduate of the University of Florida, where she earned a Bachelor of Science in Telecommunications and a certificate in International Relations.
Before moving to Orlando, Samantha was a general assignment reporter at WFTX Fort Myers, Florida, where she covered several elections, environmental issues, presidential rallies, and major storms including Hurricane Irma and Matthew. Samantha also has experience as a digital producer at WSVN Miami.
When she is not reading or reporting news, she likes to travel, discover new restaurants, spend time with family, and hit the Orlando theme parks.
The latest from Samantha Sosa
Florida Governor Ron Desantis on Friday announced the suspension of any new vacation rentals in the state.
Orange County residents are reporting long waits and the inability to reach anyone on the county's rent assistance hotline, established to help those who have lost income due to COVID-19.
Flagler County officials are asking residents with spare personal protection equipment (PPE) to donate the items at a drive-up collection site located at Rymfire Elementary School in Palm Coast on Wednesday and Thursday. They are specifically looking for masks, surgical gowns, and gloves.
County health officials said they will only have 150 tests to start out.
Parents who still want their kids to have play dates should arrange them with a small group of families who are also following guidelines, and who communicate frequently.
The Daytona Beach Fire Department is using its motor medic team to respond to calls during Bike Week.
Gilbert, 62, was driving on Deleon Avenue last week when two cars began shooting at each other. He was caught in the crossfire. A teenager inside one of the cars involved in the shooting had minor injuries.
Officials in Flagler County said there are no confirmed cases of coronavirus in the county and no individuals were being monitored as of Wednesday.