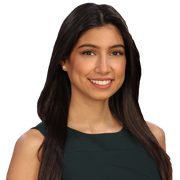 Samantha Sosa joined the FOX 35 team in November 2018.
Samantha is a Miami native, so she's no stranger to Florida's warm weather and beaches. She is a bilingual reporter who seeks to empower young women of all backgrounds.
Samantha is a proud graduate of the University of Florida, where she earned a Bachelor of Science in Telecommunications and a certificate in International Relations.
Before moving to Orlando, Samantha was a general assignment reporter at WFTX Fort Myers, Florida, where she covered several elections, environmental issues, presidential rallies, and major storms including Hurricane Irma and Matthew. Samantha also has experience as a digital producer at WSVN Miami.
When she is not reading or reporting news, she likes to travel, discover new restaurants, spend time with family, and hit the Orlando theme parks.
The latest from Samantha Sosa
Flagler County Sheriff Rick Staly says school resource officers will wear ankle medical kits every day while on duty so they can provide immediate care in case of a traumatic injury.
Tammy Davis said she received a phone call Thursday morning from the person who boards her horse Hotrod, saying the horse was attacked and died.
The Florida Department of Transportation on Wednesday announced the suspension of lane closures along Interstate 4, which have been part of the I-4 Ultimate construction project.
An Ocala man is facing felony child neglect charges after investigators say he locked a child in a room with no food or access to a bathroom.
Officials are warning people about USB charging stations at malls and airports.
A Florida woman is facing animal cruelty charges after police say she nearly drowned a cat.
The City of Ocala has been the target of an email spear-phishing campaign, resulting in a yet to be determined net financial loss to the city, officials said in a news release on Friday. Email spear phishing involves an email targeted at a specific individual or business and appears to be from a trusted source.