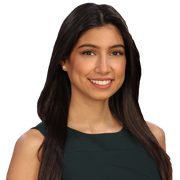 Samantha Sosa joined the FOX 35 team in November 2018.
Samantha is a Miami native, so she's no stranger to Florida's warm weather and beaches. She is a bilingual reporter who seeks to empower young women of all backgrounds.
Samantha is a proud graduate of the University of Florida, where she earned a Bachelor of Science in Telecommunications and a certificate in International Relations.
Before moving to Orlando, Samantha was a general assignment reporter at WFTX Fort Myers, Florida, where she covered several elections, environmental issues, presidential rallies, and major storms including Hurricane Irma and Matthew. Samantha also has experience as a digital producer at WSVN Miami.
When she is not reading or reporting news, she likes to travel, discover new restaurants, spend time with family, and hit the Orlando theme parks.
The latest from Samantha Sosa
Protests were held in Cocoa on Wednesday, where participants demanded more information in the fatal shooting of two teenagers by a Brevard County sheriff's deputy.
Restaurant employment levels continued to rise last month but have reached a slowdown, according to the National Restaurant Association.
A number of Orange County parents are speaking out about the challenges ESE (exceptional student education) students are facing because of COVID-19.
With the widespread effects of Tropical Storm ETA, post-hatchling sea turtles are being washed in along Brevard County beaches.
The Bureau of Alcohol, Tobacco, Firearms and Explosives, and the National Shooting Sports Foundation is offering a reward of up to $5,000 for information that will help arrest five people who stole guns from a shop in Apopka.
Republicans had a good night in Florida Tuesday, due to a massive turn out and some gains for the party in key groups.
A Disney World visitor was charged with carrying a concealed firearm after bringing a gun to the park entrance.
A total of 8 mothers were removed from the meeting. Some of them were issued trespass violations.