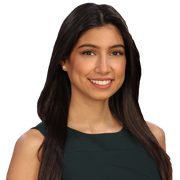 Samantha Sosa joined the FOX 35 team in November 2018.
Samantha is a Miami native, so she's no stranger to Florida's warm weather and beaches. She is a bilingual reporter who seeks to empower young women of all backgrounds.
Samantha is a proud graduate of the University of Florida, where she earned a Bachelor of Science in Telecommunications and a certificate in International Relations.
Before moving to Orlando, Samantha was a general assignment reporter at WFTX Fort Myers, Florida, where she covered several elections, environmental issues, presidential rallies, and major storms including Hurricane Irma and Matthew. Samantha also has experience as a digital producer at WSVN Miami.
When she is not reading or reporting news, she likes to travel, discover new restaurants, spend time with family, and hit the Orlando theme parks.
The latest from Samantha Sosa
Residents in one Port Orange neighborhood are begging the city to do something about a rat infestation. It all started at an abandoned house and they are spreading everywhere.
More than one thousand pages of documents detail the investigation by the Osceola County Sheriff's Office into Nicole Montalvo's murder.
The family of Sade Subbs, 15, is still stumped about how she ended up at Orlando International Airport and managed to pass through security, with no ticket, ID, or money.
Detectives with the Orange County Sheriff's Office say they have located a woman who appeared to be forced by a man out of an Orlando-area Denny's restaurant at gunpoint. Video of the incident was released by Sheriff's Office early on Wednesday.
Carolyn Bourland, a former Rockette with an affinity for spreading some holiday cheer, creates an elaborate holiday display at the Village on the Green senior living community in Longwood.
Flagler County Sheriff Rick Staly says school resource officers will wear ankle medical kits every day while on duty so they can provide immediate care in case of a traumatic injury.