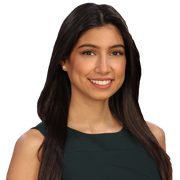 Samantha Sosa joined the FOX 35 team in November 2018.
Samantha is a Miami native, so she's no stranger to Florida's warm weather and beaches. She is a bilingual reporter who seeks to empower young women of all backgrounds.
Samantha is a proud graduate of the University of Florida, where she earned a Bachelor of Science in Telecommunications and a certificate in International Relations.
Before moving to Orlando, Samantha was a general assignment reporter at WFTX Fort Myers, Florida, where she covered several elections, environmental issues, presidential rallies, and major storms including Hurricane Irma and Matthew. Samantha also has experience as a digital producer at WSVN Miami.
When she is not reading or reporting news, she likes to travel, discover new restaurants, spend time with family, and hit the Orlando theme parks.
The latest from Samantha Sosa
With summer school just two weeks away, parents who enroll their students in the Orange County School District's extended school year say re-opening procedures have not been clear enough.
Many of the new cases have been back to bars and events during Memorial Day weekend, health officials said.
Protestors made their voices heard on the streets of Kissimmee on Monday. A daytime protest drew crowds of hundred.
Wednesday's scrubbed launch brought some customers back to Cape Canaveral restaurants.
Some students have experienced issues submitting Advanced Placement exam responses after the exams had to be administered virtually.