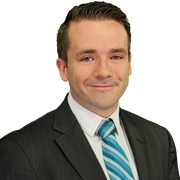 Brian joined the FOX 35 team in March 2017.
During his time at the News Station, Brian has become a staple in the field across Central Florida – breaking down and covering the latest breaking news and the events of the day that matter to you.
He is best known for his passion though: telling the stories of Central Florida. Brian has become known for his award-winning features, tech, and health reports that showcase the people of the Sunshine State and the amazing things they are doing every day.
Before coming to Central Florida Brian spent more than four years as a multimedia journalist at NBC 5 News in Dallas-Fort Worth, TX. He also spent close to five years reporting throughout Iowa and Southern Minnesota; working with KIMT in Mason City and then KGAN in Cedar Rapids.
Before going professional, Brian grew up in the suburbs of Minneapolis, MN where he developed his love for journalism and met his future wife, Amber. He graduated cum laude from St. Cloud State University in 2008 with a bachelor's degree in Television Broadcasting and Interpersonal Communications.
Brian's been honored with several awards throughout his career including from the Society of Professional Journalists, the Iowa Broadcast News Association's Best Reporter award, and has contributed to several Emmy and Edward R. Murrow awarding winning newscasts and stories throughout his career.
Outside of work, Brian is a family man first, spending time exploring Central Florida with his wife Amber, son Lincoln, and daughter Shayna; with their dog Maximus tagging along for the ride as well.
 
The latest from Brian Scott
Union leaders said they're still negotiating with Disney after the company announced it will soon furlough large numbers of Disney World employees.
The city asks that if you are using items other than toilet paper in the restroom, please do not flush them.
Central Florida counties are asking their residents to "see something, say something," when it comes to COVID-19 dangers.
Dr. Daniela Tello grew up in Orlando but has spent the past four years as a resident of internal medicine working at four different hospitals in America's largest city; the city that's now America's COVID-19 epicenter.
As so many industries struggle with the economy sliding and COVID-19 running its course, there may be at least one industry really hitting its stride: the app-based delivery business.
Volunteers in Flagler County are trying to gather things like gloves, masks, and protective gowns to help local first responders weather the Covid19 crisis.
Friday night's WWE Smackdown may have been one of the company's most different they've ever put on as the coronavirus scare forced the superstars to duke it out in an empty Orlando arena.