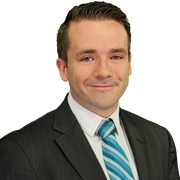 Brian joined the FOX 35 team in March 2017.
During his time at the News Station, Brian has become a staple in the field across Central Florida – breaking down and covering the latest breaking news and the events of the day that matter to you.
He is best known for his passion though: telling the stories of Central Florida. Brian has become known for his award-winning features, tech, and health reports that showcase the people of the Sunshine State and the amazing things they are doing every day.
Before coming to Central Florida Brian spent more than four years as a multimedia journalist at NBC 5 News in Dallas-Fort Worth, TX. He also spent close to five years reporting throughout Iowa and Southern Minnesota; working with KIMT in Mason City and then KGAN in Cedar Rapids.
Before going professional, Brian grew up in the suburbs of Minneapolis, MN where he developed his love for journalism and met his future wife, Amber. He graduated cum laude from St. Cloud State University in 2008 with a bachelor's degree in Television Broadcasting and Interpersonal Communications.
Brian's been honored with several awards throughout his career including from the Society of Professional Journalists, the Iowa Broadcast News Association's Best Reporter award, and has contributed to several Emmy and Edward R. Murrow awarding winning newscasts and stories throughout his career.
Outside of work, Brian is a family man first, spending time exploring Central Florida with his wife Amber, son Lincoln, and daughter Shayna; with their dog Maximus tagging along for the ride as well.
 
The latest from Brian Scott
A promising new vaccine could one day be a flu shot against breast cancer.
Rising rent is forcing a Vietnam veteran out of his Orlando apartment. Steve Wickersham says affordable spots in the city all have waiting lists. In the meantime, he is living in a Salvation Army shelter.
Backers of a proposed constitutional amendment that would increase Florida's minimum wage have submitted more than 750,000 valid petition signatures to the state and are nearing a key threshold to get on the November 2020 ballot.
The woman told her children that "the devil can't hurt you, he only hurts bad people. You have the light of Jesus in you and only Jesus can cure us" while traveling at a high rate of speed.