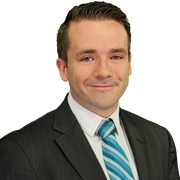 Brian joined the FOX 35 team in March 2017.
During his time at the News Station, Brian has become a staple in the field across Central Florida – breaking down and covering the latest breaking news and the events of the day that matter to you.
He is best known for his passion though: telling the stories of Central Florida. Brian has become known for his award-winning features, tech, and health reports that showcase the people of the Sunshine State and the amazing things they are doing every day.
Before coming to Central Florida Brian spent more than four years as a multimedia journalist at NBC 5 News in Dallas-Fort Worth, TX. He also spent close to five years reporting throughout Iowa and Southern Minnesota; working with KIMT in Mason City and then KGAN in Cedar Rapids.
Before going professional, Brian grew up in the suburbs of Minneapolis, MN where he developed his love for journalism and met his future wife, Amber. He graduated cum laude from St. Cloud State University in 2008 with a bachelor's degree in Television Broadcasting and Interpersonal Communications.
Brian's been honored with several awards throughout his career including from the Society of Professional Journalists, the Iowa Broadcast News Association's Best Reporter award, and has contributed to several Emmy and Edward R. Murrow awarding winning newscasts and stories throughout his career.
Outside of work, Brian is a family man first, spending time exploring Central Florida with his wife Amber, son Lincoln, and daughter Shayna; with their dog Maximus tagging along for the ride as well.
 
The latest from Brian Scott
A breakthrough in the mysterious epidemic of vaping-related illnesses and deaths in the United States could also be a big win for the vaping industry -- an industry some say has been badly damaged by the situation.
Cases of Hepatitis A is skyrocketing in Florida, as nearly 3,000 cases have been reported this year versus just 548 cases in 2018.
Researchers at the University of Central Florida are working on a new technology that enhances traditional night vision devices by adding layers of color. The team at the UCF NanoScience Technology Center has created a system that dips further into the infrared light spectrum to decipher different light signatures.
A Florida woman was arrested after abandoning a dog because a family member could no longer take care of it.
Intentional tampering of Halloween candy almost always is debunked as pranks or exaggerations.
Some describe the store as the 'Apple Store of medical marijuana dispensaries.'
Volusia County sheriff's deputies are training for active shooter scenarios with new state-of-the-art simulation technology. All deputies and school guardians will be required to regularly step into the VirTra simulator for training.