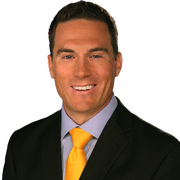 Adam Shadoff
Sports Anchor
Adam Shadoff is a sports anchor and reporter at FOX 35. He started in June of 2015.
Adam has worked at television stations across the United States, including stops in Sarasota, Albuquerque, New Mexico, Richmond, Virginia, El Paso, Texas, and Utica, New York.
In 2002, Adam earned his Masters Degree in Broadcast Journalism from the University of Miami. Before that, he earned his Bachelors Degree in Communications from Syracuse University.
Adam lives in Lake Nona. In his spare time, Adam gets crushed on the golf course by his wife Jodi, an LPGA Tour player. He also enjoys basketball, soccer, snow skiing (though not in Florida), the beach, watching sports, playing with his two dogs, and writing about himself in the third person.
Adan grew up in Albuquerque, New Mexico and his favorite teams are the Denver Broncos, Detroit Tigers, UNM Lobos and of course the mighty Syracuse Orange.
The latest from Adam Shadoff