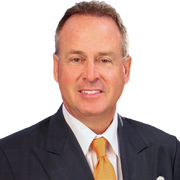 Glenn Richards
Chief Meteorologist
Glenn Richards is FOX 35's Chief Meteorologist.
Glenn received his B.S. degree in meteorology from Northern Illinois University and headed straight into the cornfields of Indiana at WLFI-CBS for his first job.
After working for three years as Chief Meteorologist, Glenn moved over to the morning news at WROC-CBS. He then moved to WFTV-ABC as the chief meteorologist for 10 years until making the change to WOFL-FOX as the Chief Meteorologist in 2003.
Glenn aims to keep his weather forecasts very easy to understand and very accurate so you are never surprised by our ever-changing Central Florida weather.
Glenn and his family have two dogs, Scooby and Jellie. He loves to play baseball, fish, swim, hike and pretty much anything that gets him outside in nature.
The latest from Glenn Richards
The recent rainfall was just a drop in the bucket with making up for our huge rainfall deficit. The KDBI (drought index) update shows very dry conditions expanding north into Orange and Brevard counties.
Dry air continues to ramp up our chance for additional wildfires.
A cold front will sweep a line of storms across Central Florida Tuesday with some wind gusts up to 40 mph, said FOX 35 Chief Meteorologist Glenn Richards.
The hottest March weather patteren will continue
El Nino has faded away with our hurricane season heating up
The heat is on....and will stay on!
The SuperStorm of 1993 blasted Central Florida with tornadoes, wind and snow.
Latest outlook brings in more warm air.
After a day of record-breaking heat, we now monitor a major drop in our temps during the next 24 hours.